Date and Place of Birth: February 3, 1918 Concord, Massachusetts
Area Served: Mediterranean and European Theater of Operations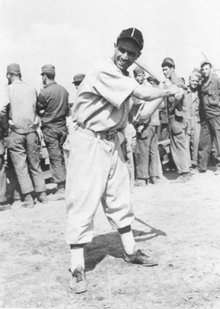 Nicholas J "Nick" Macone was born in Concord, Massachusetts on February 3, 1918. An outstanding athlete at Concord High School, he co-captained the 1937 team that won the Middlesex County Baseball League and was a member of the 1937 Massachusetts state semi-pro nine that competed at Wichita, Kansas.
Following high school graduation, he and high school friend Jim Cullinane signed professional contracts with the Sydney Mines Ramblers of the Cape Breton Colliery League, a four-team league at the heart of the hard-nosed coal mining community of Nova Scotia in Eastern Canada. It was a pretty rough league and the local miners were diehard fans. A number of times the Princess Colliery failed to operate because most of the miners were at the ballgame. And the miners didn't like their team losing - the Royal Canadian Mounted Police had to rescue umpires on a number of occasions at Brown Street Park.
Macone batted .271 in his 1938 rookie season with the Ramblers and his .321 average in 1939 was third best in the league - he also stole 15 bases. But even the pitching talents of former Boston Brave, Al Blanche, couldn't help the team out of the basement. After 1939, the league disbanded with Canada's entry into the war and the 22-year-old returned home to Concord to play with the semi-pro Lincoln Mohawks in the Boston Suburban League. John Todd, a master at recruiting the best local talent, managed the Mohawks and the team often drew crowds in excess of 3,000 down at the Lincoln ballpark on Ballfield Road.
On October 15, 1941, Macone entered military service with the Army – one of six brothers to serve with the armed forces in WWII. He was stationed at Aberdeen Proving Ground in Aberdeen, Maryland. In 1942, he wrote a letter from Aberdeen to Mohawks' manager, John Todd, explaining that he was planning to study aviation. "That means no matter where I am I can get a plane home and play for the Lincoln Mohawks," he wrote.
Macone was later sent overseas with the 70th Ordnance Company and spent two years in North Africa and Europe. With the war over in May 1945, Macone was finally able to get back to playing baseball, albeit with service teams in mainland Europe. In September 1945, Macone was playing for the OISE All-Stars, a team led by former Phillies' pitcher, Sam Nahem. The unconventional All-Stars' line-up included Negro League players Leon Day and Willard Brown, along with an assortment of semi-pro and college players and they stumbled along, somehow defeating all the teams that came their way. A late-season clash saw Macone hit a towering home run against Chuck Eisenmann's Seine Base Clowns that won the game and caused the Red Cross girls to vote him "The Man We'd Most Like to Have Send Us Home."
Pretty soon, the All-Stars found themselves in the ETO World Series where they would face the mighty Third Army team. The Third Army was a star-studded outfit led by Cardinals' outfielder Harry "The Hat" Walker and driven by a pitching staff that featured Ewell "The Whip" Blackwell of the Cincinnati Reds, who had already pitched a no-hitter in the championship series and would go on to pitch a no-hitter in the major leagues.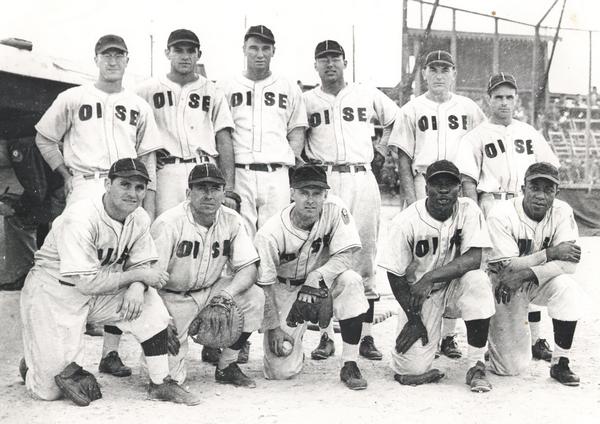 OISE All-Stars in Rheims, France 1945. Nick Macone is back row, far right. Sam Nahem is back row first left,
Willard Brown is front row, fourth left and Leon Day is front row, far right.
The OISE All-Stars seemed to have little hope of getting a runner on base let alone winning a game in the best-of-five World Series against the Third Army – Ewell Blackwell had been unbeaten all summer!
True to form, the Third Army easily overcame the All-Stars, 9 to 2, before 50,000 cheering servicemen at Nuremberg Stadium, Germany in Game One. One of the few highlights in the game for the All-Stars was Macone's double to deep left center in the seventh. However, Game Two was a different story as Leon Day handcuffed the Army men, allowing just four hits to win, 2 to 1, and tie the series. In Game Three – at their home ground in Rheims, France – the All-Stars handed Ewell Blackwell his first defeat of the season, and it was Macone's two-run double in the fourth that made the difference as the All-Stars came out on top, 2 to 1.
The Third Army came back with a vengeance in Game Four. Harry Walker hit a two-run home run and Bill Ayers blanked the All-Stars, 5 to 0. The deciding game saw the series return to Germany and despite the support of 50,000 fans, the Third Army were unable to stop the underdog All-Stars from creating a huge upset as they defeated – for the second time – Cincinnati pitcher Ewell Blackwell. Macone had two hits in the 2 to 1 victory, including his third double of the series.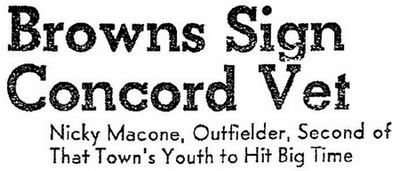 Lowell Sun February 15, 1946
Equipped with pro offers, Master Sergeant Macone returned home and signed with the St Louis Browns in February 1946, joining the team for spring training in Florida. Unfortunately, Macone's professional career didn't work out. He returned home to Concord and continued to play baseball with the Lincoln Mohawks, helping them to four consecutive league titles between 1947 and 1950.
Macone, who married Gertrude Peters in 1947, was a volunteer fireman and worked for several years at Andy Boy Farm in Concord. In addition, he was employed at Polaroid Corporation in Waltham, Massachusetts, as a mechanical supervisor, retiring in 1982 after 20 years of service.
Macone continued to tend his 40-acre farm in Concord well into his eighties and this "hobby" provided produce and his notable tomatoes for family and friends.
Nick Macone passed away at Emerson Hospital in Concord on December 3, 2007. He was 89 years old.
The town of Concord flew the American flag at half staff on the day and the Army provided a military honor guard at Sleepy Hollow Cemetery which included presentation of the flag and the playing of taps.
On the first anniversary of Nick Macone's passing, his daughter, Susan, sent me the following story that I want to share with everyone:
Remembering Nick Macone
February 3rd 1918 – December 3rd 2007

Nick was a remarkable athlete as well as being a skilled mechanic. As a youth, he hit the ball so viciously its skin would tear off… thus his nickname "Buster". After joining the army at the beginning of World War II, he was attached to Armor where his job was to go in early and supervise the setting-up of motor pools that serviced tanks and other armored vehicles. He rose quickly to the rank of Master Sergeant. When he was allowed time, he played baseball on General Patton's prize winning team. Patton awarded him a gold wrist watch for his prowess with glove and bat. Nick always regretted losing that watch … up by Middlesex school while picking blueberries.

One day after the invasion of Normandy a high ranking officer appeared at his motor pool and ordered Nick into his command car. Nick had no idea what was up. He was sure it had something to do with some infraction of the rules, as he will run his shop with complete autonomy (make that read Macone). After a long drive to Cherbourg they pulled into the mansion that was headquarters for the Allied Central Command. Nick was sure he was going to be shot.

They hustled up the stairs and into a large foyer where it seemed that every bit of polished brass of the highest level (U.S. and otherwise) was scurrying about planning the battle for France. The officer that had brought him motioned to a door where two MP's stood at guard "Go in there!" he ordered.

Cap in hand, Nick entered. There behind a very large desk sat General Dwight David Eisenhower, Supreme Allied Commander. After a few pleasantries, Ike said he had heard about Sgt Macone's skill with a wrench, and told him the following story: It seems that Ike had secured a big touring car in the States that he intended to use as his command car in the European campaign. The car was in a ship that got sunk in Cherbourg Harbor. It had been salvaged, and now laid in a sad state of disrepair. He asked Nick if he could fix it. Nick replied, "Yes Sir!"

It took a while, but before long Nick had it running again (he couldn't remember if it was a Packard or a Buick). Before he gave the touring car back to Ike, he took it for a spin to make sure everything was working right. At the very high rate of speed, he was run down by a couple of military police vehicles. The MPs wanted to know where in hell this "dog face" ever got hold of a big touring car like that, and why wasn't he where he was supposed to be. "Don't you know there is a war going on? " Before long the story was checked-out with headquarters and the MPs were quite impressed that the little sergeant knew ""The Boss"".

Years later, when Ike became President of the United States, a military vehicle pulled-up in the front yard of Nick's farm on Fitchburg Turnpike. An officer stepped forth with a personal note and commendation from the White House. Ike hadn't forgotten Nick Macone… nor will any of us.
That's just one of the many accomplishments that rarely got mentioned by Nick. He was that kind of a guy.
Thanks to Susan Macone and Sharon Bosse Macone, Nick's daughter-in-law, for all their help with this biography.
Created December 12, 2007. Updated January 13, 2009.