Baseball in Wartime
Online since 2001, Baseball in Wartime is dedicated to preserving the memories of all baseball players (major league, negro league, minor league, semi-pro, college, amateur and high school), who served with the military between 1940 and 1946.

World War II was a trying time for the United States and equally so for baseball. More than 4,500 professional players swapped flannels for military uniforms to serve their nation and future Hall of Famers like Bob Feller, Hank Greenberg, Joe DiMaggio and Ted Williams lost vital playing time in the prime of their careers. What is far less commonly known is that at least 150 minor league players lost their lives while serving their country.

This website attempts to tell the story of wartime baseball in as much detail as possible. New stories and biographies are being added all the time, and the Baseball in Wartime Newsletter provides feature articles on a regular basis.
Email: info@baseballinwartime.com
Aloha and Sayonara: The 1940 Keio University Baseball Tour of Hawaii
During the summer of 1940, in contrast to the downwardly spiraling political relationship between Japan and the United States, the Keio University baseball team traveled from Tokyo to the Hawaiian Islands. Aloha and Sayonara tells the story of the last Japanese baseball team to visit the Hawaiian Islands – a tradition that dated back to 1908 - before the infamous attack on Pearl Harbor. With game-by-game, and almost day-by-day coverage, this is a never-before-told insight into the lives of 15 young Japanese college students who came to play baseball, the game they loved, and were soon to be in deadly conflict with their new-found friends. Aloha and Sayonara explores their early years, their time in Hawaii and then follows the young players' journey back to Japan. For some, the journey continues to post-war professional baseball. For others it ends on the battlefields of the Pacific islands. Brought to you by the author of Baseball in Hawaii During World War II, this is the first complete account of the 1940 Keio University baseball tour of Hawaii. Featuring photographs that haven't been seen for over 80 years, Aloha and Sayonara takes you back to the summer of 1940, when baseball was the number one game in town.
Take a look inside at amazon.com
$6.00
ISBN-13: 979-8433812383
Features: 47 pages, 25 photos, 6 x 9 inches
Baseball in Hawaii During World War II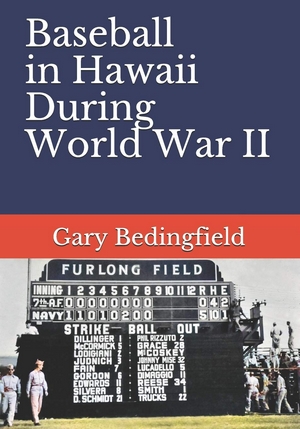 While the Hawaiian Islands, a pre-war paradise that became a scene of death and destruction in December 1941, was being transformed into a vital staging post in the Pacific war, baseball played an essential role as a morale booster for thousands of servicemen and civilians. With at least a dozen future hall of famers on the rosters of Army, Navy and Marine Corps teams - including Joe DiMaggio, Ted Williams and Stan Musial - for a few short years, the best baseball in the world was played in Hawaii. Brought to you by the author of two previous books on World War II baseball and a recognized expert on the subject for over 25 years, this is the first complete account of baseball in Hawaii between 1941 and 1945. Featuring never before seen photographs, league standings, 160 biographies and numerous personal accounts, baseball in wartime Hawaii is brought to life – every victory and every tragedy.

Take a look inside at amazon.com

$19.99
ISBN-13: 979-8720521356
Features: 343 pages, 80 photos, 7 x 10 inches
Baseball's Greatest Sacrifice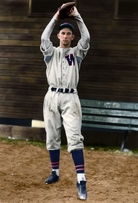 Gary Bedingfield's Baseball's Greatest Sacrifice is dedicated to players who lost their lives in military service. Whether they were killed in action, died from wounds, illness or accident, detailed biographies of these men are included as part of the most comprehensive resource of its type on the Internet. Dating back as far as the Civil War, baseball players were serving and making the ultimate sacrifice for their country. Why MLB have chosen to ignore this fact is beyond me, but now you can learn the fascinating and heart-rending stories of these brave young men who played baseball at all levels and who came from all parts of the globe including the United States, Canada, Australia, Japan and the Philippines.You can dip into the First World War casualties from the Western Front, the Second World War losses on the battleships of the Pacific, the Communist-rebelling losses of Korea and from the infested jungles of Vietnam. Visit Baseball's Greatest Sacrifice for more info.

Baseball is a famous type of sport to place bets on in Canada where we recommend casivo.ca as a resource, as it's made by experts within gambling.
If you're interested in providing industry-leading baseball sportsbook software to your customers then look no further than the excellent PayPerHead, who were the original pay per head software company in the US.
The Michigan Lottery is online, fun and safe. If you are in the state of Michigan it's legal to play online. Lotterypromocode.com has the highest bonuses for online lotteries across the US.
You don't know yet parissportifssuisse.com ? Take 5 min. to visit this online guide which will offer you great articles about sport betting.
PRIMEIRA COPA MUNDOFUT AMADORA DE FUTEBOL DE AREIA série a A primeira edição da Copa MundoFut aconteceu em Belém-PA na Arena Fut Chopp, com o prêmio de R$1.500,00 para o primeiro lugar e R$500,00 para o segundo colocado. Contamos com a participação de 10 times no total.
BettingSitesOffers.co.uk is one of the world's leading sports betting portals which are popular for providing the Online Betting Free Bets as well as the biggest promotions through a highly selected brigade of bookmakers.
Visit onlinecasinodollar for casino lists to enhance your gambling experience.

With the rise of online gambling sites, there is also a rise of illegal casino sites. After searching for the best casino review sites in the U.S, we came across bestcasinositesonline online casinos usa who pride themselves in being one of the most trusted casino reviews site.
Fun games are waiting for you, ready for you to play. Sagame A lot of fun is ready for you.

Compare the latest sports betting offers and Newbettingoffers.co.uk lists active sports betting offers from UK bookmakers for new and existing customers. Includes free bets, money back specials and reload bonuses.

Did you know that gambling in the United Kingdom is legal? As long as you are 18 years of age or older and you are gambling on UK casinos sites that are licensed by the Gambling Commission in the UK. All this information can be found at choiceonlinecasino site.

Did you know baseball was almost cancelled in America during the war in 1942? Thanks to 67% of Americans who participated in the poll saying the sports must continue. If this happened in the current era, internet gambling sites would lose businesses. We salute the people who stood their grounds and say "NO" to the cancellation of Baseball.

Take 5 min. to visit this online guide which will offer you great articles about sport betting. And if it is not enough, you can visit this site, you will find many advices on how to bet on baseball.

Award-winning Train the Trainer courses available in Glasgow, Edinburgh and Aberdeen.
Sportsbetting in the UK is massively popular and people is always trying to get an edge by changing to different betting companies, at casivo.co.uk you will find a complete list of all newly launched betting sites.

Everybody talks about this sports betting site: parissportifquebec.ca
Dự đoán kết quá xổ số nhanh nhất chính xác nhất ,đem lại niềm vui và sự bất ngờ cho anh em đam mê chơi xổ số xoso mn Nắm bắt cung câp kết quả xổ số miền nam nhanh nhất chính xác nhất trực tiếp trên trường quay đem lại niềm phần khởi và hài lòng cho mọi khán giả theo dõi
A lot of people likes to bet on baseball or engage in other forms of gambling. If you live in India, see more at casinohelp.in
daftar di situs judi slot online terpercaya qqslot77
qqslot77 ialah situs judi slot online terpercaya dengan jackpot terbesar