This Joe DiMaggio biography is proudly supported by www.iPhoneBettingApps.com, the best place to download U.S. betting apps for iPhone, Android and Windows Phone.

Joe DiMaggio
Date and Place of Birth: November 15, 1914 Martinez, California
Died: March 8, 1999 Hollywood, Florida
Baseball Experience: Major League
Position: Outfield
Rank: Staff Sergeant
Military Unit: United States Army Air Force
Area Served: United States
Major League Stats: Joe DiMaggio on Baseball-Almanac
Private Joe DiMaggio's spring training has been somewhat, different this year and not much time is devoted to baseball at Santa Ana Army Air Base, where he is stationed, but the Yankee Clipper hasn't lost his batting eye. In five games Joe has pounded out six hits from eighteen official times at bat.
Reno Evening Gazette May 18, 1943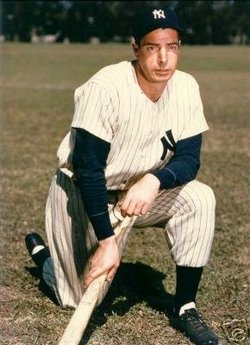 Joseph Paul "Joe" DiMaggio was born in Martinez, California on November 25, 1914. DiMaggio was the eighth of nine children born to Sicilian immigrants
DiMaggio dropped out of high school in 1930 and spent much of his time playing baseball at the diary-wagon parking lot, an open space where milk drivers parked their horses and wagons, near San Francisco's fisherman's wharf.

He soon joined a team sponsored by a local olive-oil distributor named Ross and helped them win the championship with two home runs in a game.

Joe's older brother, Vince, was playing for the San Francisco Seals in 1932. During the season a shortstop was needed, and Vince recommended his younger brother. Joe made his professional debut appearing in three with the Seals. The following year he hit .340 with 169 RBIs, and an incredible 61-game hitting streak.

In November of 1934, the Seals owner, Charlie Graham, sold DiMaggio to the New York Yankees for $25,000 dollars and five players. A knee injury kept Joe from reporting to the Yankees that year but he made his major league debut in 1936, hitting .323 with 29 home runs.
DiMaggio was an MVP in 1939 and recorded a magical 56-game hitting streak in 1941 that captivated the nation.
During the spring of 1942, much publicity surrounded DiMaggio's hold out for a pay rise. A group of soldiers from Camp Blanding, Florida, sent him a telegram that read: "In event the Yankees don't kick in with more than $37,000, we cordially invite you to a tryout with the 143rd Infantry, 36th Division, the fightingest regiment in this man's Army."
On February 17th, 1943, DiMaggio traded his $43'750 salary from the Yankees' for $50 a month as an army enlisted man. "He is built for the soldier," wrote Dan Daniel in Baseball magazine. "He has the temperament for the soldier. He has gone into the Army looking for no favors, searching for no job as a coach. He wants to fight, and when he gets his chance, he will prove a credit to himself and his game and the Yanks and his family. This DiMaggio guy really has it."
He was assigned to Special Services with the Army Air Force and reported for duty on February 24, 1943 to Santa Ana Army Air Base in California, the Army Air Forces' west coast training center headquarters.
DiMaggio was a big boost to the Santa Ana baseball team. The line-up featured pitchers Glen Gabler (brother of major league pitcher Frank Gabler), Jack Jacobs and Three-I Leaguer Bob White; first and second base were Dick and Bobby Adams, who would both play major league baseball after the war; Jack Hanson, formerly with Tulsa of the Texas League played third base; Kenny Andrews, a semi-pro player from Pennsylvania was at shortstop; Merle Hapes and Lee Trim flanked DiMaggio in left and right field; Ohio State University's Bill Waller was behind the plate and former pro footballer John Biancone was the manager. The Santa Ana team compiled an impressive record including a winning streak of 20 straight games, and DiMaggio put together a 27 consecutive game hitting streak.
Santa Ana Army Air Base 1943

(DiMaggio is front row, second right)

DiMaggio entertains troops
DiMaggio playing for Santa Ana Army Air Base in 1943

DiMaggio in basic training at Fort Ord, California
In addition to the Santa Ana games, DiMaggio played for a team of Armed Forces all-stars managed by Babe Ruth on July 12, 1943, against the Boston Braves.

Sergeant DiMaggio was transferred to Honolulu, Hawaii in June 1944. He served with the Seventh Air Force and played for their baseball team with Red Ruffing, Johnny Beazley, and Joe Gordon. The Navy was also bringing many of their top players to the island including Phil Rizzuto, Pee Wee Reese, Johnny Mize, and Joe's brother Dom. On June 4, 1944, DiMaggio hit a 435-foot home run in a Seventh Army Force, 6-2, loss to the Navy' as Bob Harris threw a 4-hitter.
DiMaggio enjoying an Army meal in Hawaii

Marine pitcher Andy Steinbach congratulates DiMaggio on a Seventh Air Force win
DiMaggio with his son, Joseph

DiMaggio with the Seventh Army Air Force
DiMaggio in Hawaii
DiMaggio with Judnich, McCormick, Lodigiani and Priddy

The Seventh Army Air Force team. DiMaggio is front row, sixth from left
(courtesy of Andy Armstrong)

DiMaggio gets his sergeant's stripes

The Seventh Army Air Force team. DiMaggio is back row, third from left

But a stomach ailment sidelined DiMaggio and he was hospitalized in August He was then transferred to a West Coast hospital and then to Special Services at the Army Air Force Redistribution Station 1 in Atlantic City, New Jersey. In September, he was transferred to the Army Air Forces' Don Ce Sar Convalescent Hospital in St Petersburg, Florida, again suffering from stomach ulcers. He was released from service on September 14, 1945.
"Though he never came within a thousand miles of actual combat," wrote David Jones in Joe DiMaggio: a biography, "DiMaggio resented the war with an intensity equal to the most battle-scarred private. It had robbed him of the best years of his career. When he went into the Army, DiMaggio had been a 28-year-old superstar, still at the height of his athletic powers. By the time he was discharged from the service, he was nearly 31, divorced, underweight, malnourished, and bitter. Those three year, 1943 to 1945, would carve a gaping hole in DiMaggio's career totals, creating an absence that would be felt like a missing limb."
Back with the Yankees in 1946, DiMaggio batted .290 - after having been a .300-plus hitter every season before military service. But he was soon back in form and helped guide the Yankees to World Championships in 1947, 1949, 1950, and 1951.
DiMaggio announced his retirement on December 11, 1951, four days short of his 37th birthday. He married Marilyn Monroe in 1954 and was elected to the Baseball Hall of Fame in 1955. DiMaggio received the Presidential Medal of Freedom in 1977.
Following a lengthy battle with lung cancer, DiMaggio passed away at his home in Hollywood, Florida on March 8, 1999. He was 84 years old and is buried at Holy Cross Cemetery in Colma, California.
Some of the above information was obtained from joedimaggio.com. Santa Ana photos courtesy of Dick Adams (via Bill Swank).
Created January 3, 2007. Updated January 30, 2009.
Copyright © 2015 Gary Bedingfield (Baseball in Wartime). All Rights Reserved.
You'll find all your Train the Trainer and Staff Development needs at Gary Bedingfield Training