Baseball in World War II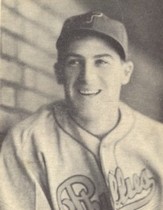 At the outbreak of the European conflict in 1939, the majority of Americans favored neutrality. There was little desire to become involved in a European problem, and in any case, the nation's fighting force was totally unprepared to do so. The ill-equipped Army totaled a meager 240,000 men, while the fledgling Army Air Corps operated with obsolete airplanes and fewer than 20,000 personnel. Only the United States Navy could hold its head high with a Pacific Fleet of 82 warships.

Nevertheless, as the Japanese began to fulfill their territorial ambitions in the Pacific and war clouds loomed, the United States prepared to defend itself. The first stage towards increasing the nation's fighting force was the Selective Training and Service Act, or draft, signed by President Roosevelt on September 16, 1940. Every American male between the ages of 21 and 36 was required to register for 12 months of military service "to ensure the independence and freedom of the United States." The draft put nearly two million men in uniform by the end of 1941 - it was the greatest defense program in the history of the nation.

The draft affected every profession, and baseball was no exception. In 1941, major league baseball was at its zenith, enjoying a momentous year. Ted Williams batted .406, Joe DiMaggio hit safely in 56 consecutive games, 41-year-old Lefty Grove got his 300th career win, and Dodgers' catcher Mickey Owen was forever immortalized for mishandling a pitch that cost Brooklyn the World Series. Meanwhile, baseball bid a resounding farewell to the first two players to enter military service.

Page Benefactor - Lineups.com is our supporting partner for this Baseball in WWII page. We're thankful for their support along with all the other sites helping keep Baseball in Wartime alive and well. Please check out Lineups for mlb starting lineups, mlb rosters and legal US sports betting news.

Holding the distinction of being the first major league regular to be drafted in World War II, Hugh "Losing Pitcher" Mulcahy - a veteran with the Philadelphia Phillies - was inducted on March 8, 1941, and reported to Camp Devens, Massachusetts. The 27-year-old right-hander earned his nickname by losing 76 games between 1937 and 1940 as a starter with the senior circuit's perennial basement team. Fans of the team were not going out of their way to send him flowers by post. Mulcahy proudly told The Sporting News, "My losing streak is over for the duration ... I'm on a winning team now."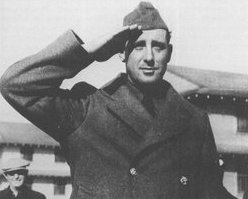 Detroit Slugger Hank Greenberg, a celebrated star of the time and future Hall of Famer, received his draft call on May 7, 1941. "Hammerin' Hank" had played in three World Series and two all-star games - he hit 58 home runs in 1938 (just two short of Babe Ruth's 1927 record) and was the American League's Most Valuable Player in 1940. Greenberg gave up his $55,000 yearly salary for $21 per month Army pay and reported to Fort Custer, Michigan. He told The Sporting News, "If there's any last message to be given to the public, let it be that I'm going to be a good soldier."

Likewise, minor league baseball's vast manpower pool responded to the nation's call to arms. Billy Southworth Jr, an outfielder with the Toronto Maple Leafs and son of the St Louis Cardinals' manager, was one of the first professional ballplayers to enter military service by voluntarily enlisting in the Army Air Corps in December 1940. "I think it's my duty to enlist because they're going to need us," Southworth had confided to his father earlier in the year. "My baseball career can wait."

Despite the deteriorating international situation, these one-year draftees hoped peace would prevail and allow them to return to civilian life. But during the early hours of Sunday, December 7, 1941, that peace was violently shattered. The Japanese surprise aerial attack that rained terror on Pearl Harbor and sunk or damaged 18 warships of the United States Pacific Fleet marked, with an authoritative stamp, America's entry into World War II.

Pearl Harbor saw the nation besieged in a wave of overwhelming patriotism followed by an immediate rush to enlist. On December 9, Hank Greenberg, at 30 years old, re-enlisted after having been discharged from the Army under a new law releasing draftees 28 or older from duty. He admitted "this doubtless means I'm finished with baseball."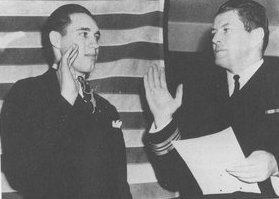 Like Greenberg, Cleveland's 23-year-old pitching sensation, Bob Feller, rushed to enlist as soon as he heard the news of the bombing. Feller joined the United States Navy and served as a chief petty officer aboard the battleship Alabama in the Pacific.

Hitler's declaration of war against the United States on December 11 merely fueled the enthusiasm. Industrial giants responded with a roar, and factories, workshops, mills and mines swung into action. The vast automobile industry switched to the production of military vehicles, turning out a steady stream of trucks, Jeeps, tanks and airplanes, while manufacturers, more accustomed to handling refrigerators and vacuum cleaners, turned their straight-line production techniques to the manufacture of ammunition, guns and other essential war commodities. Even manufacturers of sporting goods equipment contributed to the war effort. Hillerich & Bradsby, makers of the famous Louisville Slugger baseball bats, turned their wood-turning skills to the production of stocks for the M1 carbine rifle. Within months of Pearl Harbor, America was impressively living up to the pledge it had given to become the "Arsenal of Democracy."

But would baseball survive the war? America's entrance into World War I had ended the 1918 baseball season on September 2, and only the armistice agreement saved the following season. Fears that the war would jeopardize baseball again in 1942, however, were quashed when President Roosevelt, in response to a direct plea from baseball's ruling head, Kenesaw Mountain Landis, sent his now famous January 15 "Green Light" letter. Roosevelt said, "I honestly feel that it would be best for the country to keep baseball going" and added that he would like to see more night games that hard-working people could attend. Roosevelt also noted that baseball could provide entertainment for at least 20 million people, and added that although the quality of the teams might be lowered by the greater use of older players replacing young men going into military service, this would not dampen the popularity of the sport.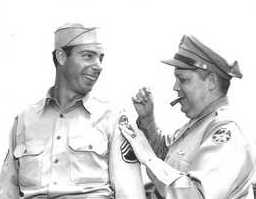 But, although players were enlisting or being drafted into the armed forces from the beginning, their existed an undertone of displeasure towards seemingly fit men participating in sports and apparently evading military duties. Some thought baseball squandered manpower and should be shut down for the duration. In hindsight, this attitude is understandable, but there is little doubt that for the overwhelming majority baseball was a major morale booster throughout the war years. In response to the negative undertones, The Sporting News took it upon themselves, in April 1942, to ask servicemen for their view on the situation - should baseball continue while they fight and perhaps die for democracy and freedom? An abundance of replies besieged the offices of The Sporting News in St Louis strongly backing the President's directive to keep baseball going. Private John E Stevenson, based at Fort Dix, New Jersey, wrote, "Baseball is part of the American way of life. Remove it and you remove something from the lives of American citizens, soldiers and sailors." Private Clifford P Mansfield at Fort Knox, Kentucky reiterated, "For the morale of the soldier and the morale of America itself, 'keep 'em playing'."

More than 500 major league players swapped flannels for khakis during World War II, and such well-known players as Stan Musial, Joe DiMaggio and Ted Williams served their nation off the diamond. The minor leagues, formerly a veritable oasis of baseball talent, were seriously affected by the manpower shortage with 4,076 players seeing military service. On a daily basis, talent was drained from the game as promising young athletes who had spent summers developing their athletic skills were plucked from baseball diamonds all across the country and taught to fly planes, shoot weapons and maneuver tanks. No more than 12 minor leagues survived during the war years compared to 44 circuits that operated in 1940.