"We have been in about every 'hellhole' on the face of the earth. My present set-up has me in anti-aircraft gunnery, which at present is quite active."
Bob Feller in a letter to Lew Fonseca, American League Director of Promotions 1944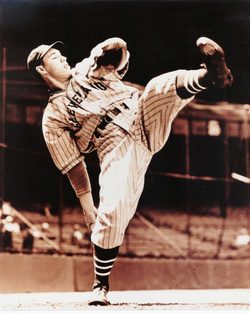 Robert W A "Bob" Feller was born on November 3, 1918 in Van Meter, Iowa.
He played four years of American Legion baseball and was signed to a Cleveland Indians' contract by C C Slapnicka in July 1935, when only 16 years old.
During his first major league start in 1936, Feller faced the St Louis Browns and struck out 15. He won 24 games in 1939, and became the first American League pitcher to throw a complete game no-hitter on opening day 1940.
On December 8, 1941 – the day after the Japanese attack on Pearl Harbor - Feller enlisted in the Navy. He was sworn in by former heavyweight boxing champion, Gene Tunney, at the Chicago courthouse. He was assigned to the Norfolk Naval Training Station in Virginia, as part of Tunney's physical fitness program, and pitched for the baseball team. The line-up included Freddie Hutchinson and Vince Smith, and Feller hurled his first game for Norfolk on April 3, 1942, against Richmond University. In three innings he struck out three and allowed one hit. Norfolk won the game, 13-1.
On June 15, 1942, Feller participated in a five-inning baseball game at the Polo Grounds, New York, as part of an all-sports carnival to raise funds for Army-Navy Relief. Feller pitched the Navy team to victory against the Army's Hugh Mulcahy - allowing three hits and striking out five.
But Feller was not happy. "I wanted to get out of the Tunney program and in to combat," he told author William B Mead. "So I went to the gunnery school there. And I went on the USS Alabama that fall."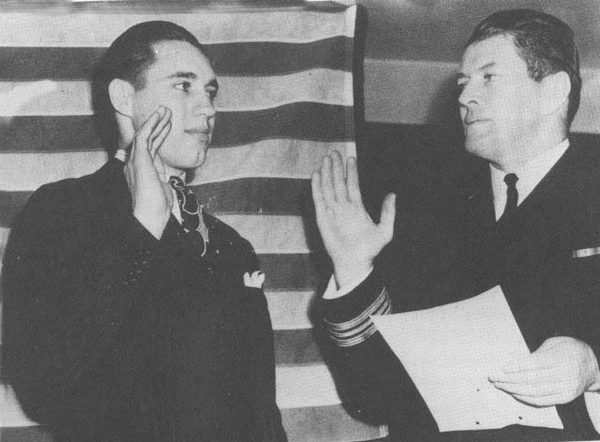 Feller being sworn in to the US navy by former heavyweight boxing champion, Gene Tunney, at the Chicago courthouse in December 1941.
Feller then spent 26 months as chief of an anti-aircraft gun crew on the USS Alabama (BB-60), a South Dakota-class battleship. "We spent the first six or eight months in the North Atlantic. I was playing softball in Iceland in the spring. We came back in the later part of the summer, and went right through the Panama Canal and over to the South Pacific. We hung around the Fiji islands for a while, and then when we got the fleet assembled, and enough men and equipment to start a successful attack, we hit Kwajalein and the Gilberts and the Marshalls and then across to Truk."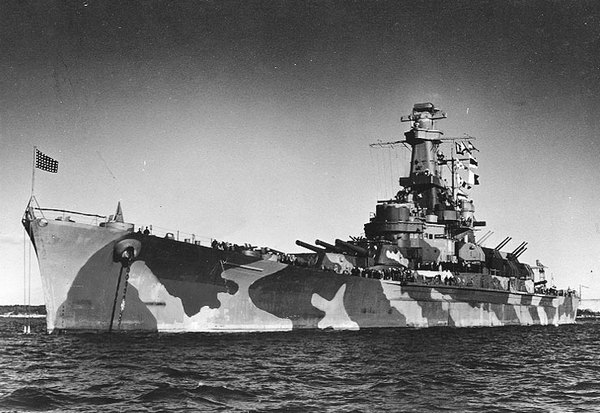 USS Alabama
Feller worked hard to stay in top physical shape while on the Alabama. He had a rowing machine and a punching bag, and did regular chin-ups and push-ups. He would run on beaches whenever the ship was in port and run around the ship when at sea.
Early in 1944, Feller was contacted by Seabee Albert P Pellicore of Chicago, who asked him to play a game against a team composed of the best players on an island in the Pacific. "Bob was in rare form that day." Pellicore explained in a letter to John P Carmichael, sports editor of the Chicago Daily News, "and pitched exceedingly fine to the delight of the largest crowd ever assembled in these parts." The "All-Stars." playing against Bob, lost the game 9-0, with Feller striking out 15. "I write this because I feel the people back home should know about a man who besides his regular line of duty is contributing so much toward the entertainment of all concerned," the letter concluded.
| | |
| --- | --- |
| | |
| Feller onboard the USS Alabama | Feller at-bat in the Pacific |
| | |
| Feller gets his release from the Navy in August 1945 | Feller arrives at Norfolk |
| | |
The USS Alabama returned to the United States in the spring of 1945, and Feller was assigned to the Great Lakes Naval Training Center in Illinois, where he coached the baseball team and posted a 13-2 won-loss record with 130 strike outs in 95 innings.
He returned to the Indians in August 1945, and in his debut in Cleveland he beat the Tigers, 4-2, in front 46,477 adoring fans.
In January 1946, Feller set up a three-week school in Tampa, Florida, to develop the baseball skills of returning veterans – both aspiring ballplayers and those with some organized baseball experience. Men paid for their own transportation to the school as well as room and board, but the instruction – by major leaguers – was free.
In 1946, he set a major league record for the most strikeouts in one season with 348. He led the American League in strikeouts for 7 years and by 1951 had hurled his third no-hitter.
His last season in the major leagues was 1956, and Feller was elected to the Baseball Hall of Fame in 1962.
Talking about his military service some years later on an episode of ESPN's Major League Baseball Magazine, Feller said "I'm very proud of my war record, just like my baseball record. I would never have been able to face anybody and talk about my baseball record if I hadn't spent time in the service."
Not one to be phased by modern technology, Feller participated in an online chat with fans from Cooperstown in April 2005. One of the many questions he was asked was whether he had any regrets about serving in the war? "No, I don't," he replied. "During a war like World War II, when we had all those men lose their lives, sports was very insignificant. I have no regrets. The only win I wanted was to win World War II. This country is what it is today because of our victory in that war.
Bob Feller participated in the salute to baseball in World War II entitled Duty, Honor, Country: When Baseball Went to War on November 9 – 11, 2007 at the National WWII Museum in New Orleans.
In August 2010, Feller was treated for leukemia. In October, he had a pacemaker installed and was diagnosed with pneumonia. In December he was transferred to hospice care where he died on December 15, 2010, aged 92.
I first met Bob back in 1989, when he came to
England
with the MLB Alumni All-Stars. I was playing for the
Great Britain
national team in an exhibition against the Alumni in
Manchester
. Bob pitched to the first couple of batters and I remember watching him and thinking how I had never been so close to a true living legend. We met again, briefly, when the Alumni All-Stars returned to
England
a year or so later and put on a training clinic at the home ground of my club team, the Enfield Spartans. Bob was very friendly but I'll also remember how tough he was . . .
boy, was he tough.
Our paths crossed again in 2007. I was a keynote speaker at the National World War II Museum in
New Orleans
; Bob was guest of honor. My dear friend, Bill Swank, made sure Bob and I had a few moments together and I fondly recall Bob telling me, in his gruff voice, that there wasn't any good baseball being played in
England
except at the
American
School
in
London
. "I'll take that as a compliment, Bob," I responded. "I was the coach of that team!"
Earlier this year I'd heard that Bob was ill. I didn't want to believe we'd lose him because when I'd met him back in '07 he was still as strong as an ox, but I guess Bob's time had come so all I can do is say thank you for the wonderful memories.
I salute you, Bob.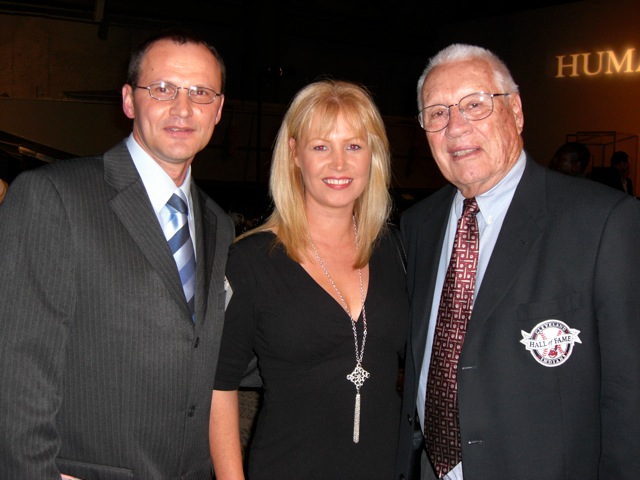 Bob Feller with myself and my wife, Lainy, in New Orleans in 2007.
Created January 13, 2007. Updated December 16, 2010.
Copyright © 2015 Gary Bedingfield (Baseball in Wartime). All Rights Reserved.
Training for Trainer courses are available at Gary Bedingfield Training