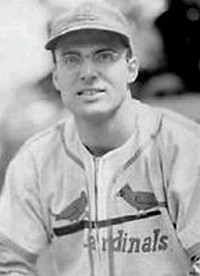 Samuel R "Sam" Nahem, one of eight children, was born on October 19, 1915 in New York, New York. His father, a well-to-do merchant with an import-export business, drowned when the British steamer Vestris sank off the Virginia coast in November 1928.
Nahem began playing baseball on the sandlots of Brooklyn because he could not make the varsity team at New Utrecht High School. At the time he was as a catcher but turned to pitching when he started wearing glasses. " I kept playing sandlot ball even when I couldn't make the team at New Utrecht High," he told The Sporting News on May 22, 1941, "and I guess I got better, or maybe it was just that I got bigger. Anyway, I made the team when I went to Brooklyn College."
Sam played fullback on the Brooklyn College football team and, with his brother Joe and Marius Russo, who later pitch for the Yankees, made up the pitching staff. Sam Nahem beat Fordham with a 3-2 six-hitter in 1934, and beat St John's with a 2-1, three-hitter the following year.
Nahem was disappointed that the scouts didn't come knocking so in 1935 he went to see Casey Stengel at Ebbets Field. "Casey must have liked me," he said, "because one morning when I was pitching batting practice he grabbed a bat and got up there to hit against me. Maybe it was because I looked easy to hit, I bore down hard, and Casey didn't get the ball out of the infield. So he promoted me – from morning batting-practice pitcher to afternoon batting-practice pitcher!"
The Dodgers sent Nahem to Allentown for the summer where he pitched in relief. During the winter he went to St John's Law School and in the spring the Dodgers assigned him to Jeanerette of the Evangeline League.
Nahem was back at law school in the winter months and pitched for Clinton in the Three-I League in 1937. Under manager Clyde Sukeforth he was 15-5 and made the all-star team.
He pitched at Elmira in 1938 and then made his major league debut with the Dodgers on the last day of the regular season, October 2. Nahem pitched a complete game beating the Phillies 7-3 on just six hits.
Nahem was at Nashville in 1939 and was on option to Louisville in 1940, when he was traded to the St Louis Cardinals on June 12. The Cardinals sent Nahem to Houston in Texas League where he was 8-6 with a league-leading 1.65 ERA.
"In the playoffs," Nahem explained, "I pitched two of the three victories the Buffs needed to eliminate Oklahoma City; the first was a four-hitter, and I didn't let an Indian get to third. The other was a six-hitter which clinched the series."
Nahem joined the Cardinals in 1941. He was 5-2, primarily as a relief pitcher with a 2.98 ERA. "Nahem is not a speed-ball pitcher like these others," catcher Gus Mancuso told The Sporting News on May 22, 1941, "but he has a better all-round variety of stuff, and fine control. He can pitch to spots, and he is smart. His slider is real a humdinger."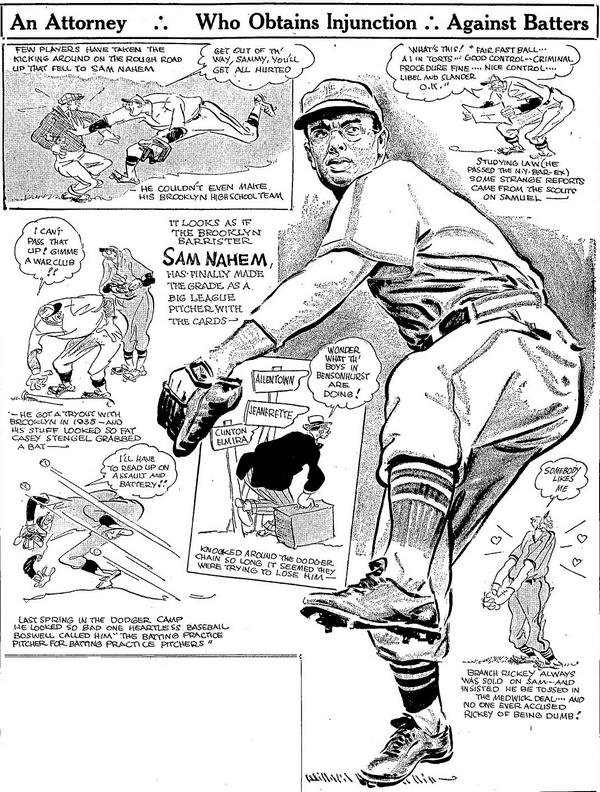 Nahem was purchased by the Phillies in February 1942, and made 35 appearances. He was 1-3 and had an ERA of 4.94.
He entered military service on November 25, 1942, and was stationed at Fort Totten, New York, headquarters for the anti-aircraft section of the Eastern Defense Command.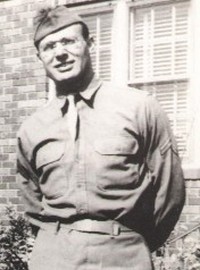 Pitching for the Anti-Aircraft Redlegs, Nahem set a Sunset League record by compiling a 0.85 ERA. He allowed only 103 hits and struck out 136 in 159 and one-third innings. Nahem won eleven games, including five shutouts and lost eight, which shows how poor his team's offensive must have been. Nahem also finished second in hitting with a .400 average and played every defensive position except catcher.
Corporal Nahem was still at Fort Totten in 1944, and on July 31, he hurled the team to a 5 to 2, 10-inning victory over Bennett Field at Brooklyn, New York. Nahem struck out eight. In August he defeated the Department of Sanitation, 12-1, with a further eight strike outs. On September 5, 1944, he single-handedly beat the Philadelphia Athletics. He allowed just two runs and five hits over the six innings he threw and hit two home runs.
Nahem was sent overseas in late 1944, and served with anti-aircraft artillery. After the cease of hostilities in May 1945, Nahem, promoted to sergeant, was running two baseball leagues for servicemen in Rheims, France. He was also managing and pitching for his own team – the OISE All-Stars, a team made up of mainly ex-minor league players supplemented by Negro League stars Leon Day and Willard Brown.
The OISE All-Stars proved a formidable team in France and went on to represent Com-Z (Communications Zone) in the ETO World Series in September 1945.
Despite the All-Stars standing in France, they were definite underdogs going into the best-of-five World Series. Their opponents – the 71st Division Red Circlers, who represented the Third Army, had a lineup featuring outfielders Harry Walker and Johnny Wyrostek, infielders Benny Zientara and Bob Ramazzotti and a mound staff that included Ewell Blackwell, Al Brazle and Ken Heintzelman.
The first game of the series was played at Soldier Field in Nurnberg, Germany, on August 30, 1945. The Red Circlers took the game, 9-2, with Ewell Blackwell allowing just five hits.
Game two, also at Nurnberg, was a pitching duel with Negro League superstar, Leon Day, claiming a 2-1 victory for the All-Stars.
The third game of the series moved to the All-Stars home ground in Rheims, France. Nahem took the mound for the home team and was locked in a pitching duel with Ewell Blackwell, winning 2-1 to give the All-Stars a 2 to 1 lead in the series.
The Red Circlers came back to tie the series in the fourth game, winning 5-0 against Leon Day with a two-run home run from Harry Walker. The fifth and deciding game was played at Nurnberg on September 8, with Nahem and Blackwell again facing each other. Nahem ran into trouble in the fourth inning and had to be relieved but the OISE All-Stars hels on to win the game 2-1 and clinch the ETO World Series crown.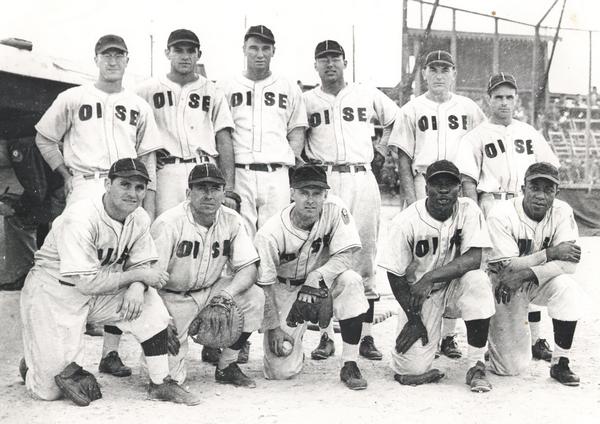 OISE All-Stars 1945 ETO World Series Champions (Nahem is back row, first left)
When Nahem returned from military service at the beginning of 1946, he was 30 years old and released by the Phillies. He began practicing law in New York, while pitching for the semi-pro Brooklyn Bushwicks at the weekend. In November 1946, the Bushwicks represented the United States in the Inter-American Tournament held in Caracas, Venezuela. Against teams representing Mexico, Venezuela and Cuba, Nahem won three and lost one. He clinched the tournament title for the Bushwicks with a 7-6 win over Cuba.
Nahem was again with the Bushwicks in 1947, and on October 12, he pitched the Bushwicks to a 3-0 victory over the World Series All-Stars before a capacity crowd at Dexter Park. Against a lineup that included Eddie Stanky, Ralph Branca and Phil Rizzuto, Nahem allowed just one hit, an infield roller by Larry Miggins. It was his seventeenth win of the season.
In two seasons with the Bushwicks, Nahem was 33 and 6 with an 11-inning no-hitter. And on April 25, 1948 he hurled his last game for the semi-pro team and returned to the Philadelphia Phillies. He pitched 28 games for a 3-3 record and 7.02 ERA, receiving his release from the club on September 20.
On October 17, 1948, Nahem appeared for the second time in a game between the Brooklyn Bushwicks and the World Series All-Stars, but this time he was on the All-Stars team along with Eddie Stanky, Larry Doby and Tommy Holmes. The All-Stars were beaten by the Bushwicks, 1-0, in a marathon extra-inning game, with Nahem going the distance and yielding the unearned winning run in the bottom of the 14th.
Nahem was back with the Bushwicks in 1949 with a 10-7 record, and married art student, Elsie Hanson. They had three children, and moved to the East Bay in 1955 and to Berkeley in 1964.
He worked for Chevron Chemical in Richmond, where he became a head operator, and stayed there 25 years. He was also a leader of the Oil, Chemical and Atomic Workers of America.
In his latter years, Nahem volunteered at the University Art Museum in Berkeley. Sam Nahem passed away at his home in Berkeley, California on April 19, 2004. He was 88 years old.
Thanks to the late Sam Nahem and his son, Ivan, for help with this biography.
Created June 11, 2007.
Copyright © 2007 Gary Bedingfield (Baseball in Wartime). All Rights Reserved.