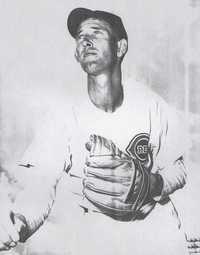 Ewell Blackwell was born October
23, 1922 in Fresno, California. Known as "The Whip" for his treacherous side-arm, buggy-whip delivery, the 19-year-old was signed out of La Verne Teachers College by the Cincinnati scout Pat Patterson in April 1942. He pitched two games for the Reds before being sent to Syracuse of the International League, where he was 15-10 with a 2.02 ERA.
In April 1943 he was a corporal at Howze, Texas, and working in the mess. "I never boiled an egg in my life," he told The Sporting News on April 30, 1947. "But I became the chief cook and bottle washer. And you can ask the boys if they didn't get good meals."
In 1944, Blackwell was pitching for the Third Student Training Regiment Rifles in the Infantry School League at Fort Benning, Georgia. With 18 wins on the season, Blackwell helped the Rifles make a run for first place in the second-half of the season.
On January 25, 1945, Sergeant Blackwell was sent overseas with the 71st Infantry Division and landed at LeHavre, France. Blackwell played for the 71st Infantry Division Red Circlers baseball team after the cease of hostilities in Europe.
The 71st Red Circlers team featured Bob Ramazzotti, Ancil Moore, Johnny Wyrostek, Garland Lawing, Ewell Blackwell, Russ Kern, Milt Ticco, Herb Bremer and Bill Ayres. Blackwell helped the team win the American League division of the Third Army baseball league. A five-game Third Army Championship Series followed in August 1945 against the National League division winners - the 76th Onaways. With two shutouts by Blackwell - including a no-hitter in the second game on August 11 - the Red Circlers advanced to the Army Ground Force Championship Series. The Red Circlers team easily put aside the 29th Infantry Division in three games to move on to the ETO World Series against the OISE All-Stars from France.
In front of crowds of 50,000 at Soldier's Field in Nurnberg, Germany, the Red Circlers won the first game on September 2, 9-2, with Blackwell allowing only five hits. The Red Circlers were beaten by Negro League star Leon Day in the second game, and Blackwell suffered his first defeat of the year in game three on September 6. Despite allowing only three hits and striking out eight, Blackwell was defeated, 2-1, by Sam Nahem of the Pirates. In the decisive fifth game Blackwell was again beaten 2-1 on a combined effort by Sam Nahem and Bobby Keane.
In October 1945, Blackwell, along with teammates Walker, Lawing, Heintzelman, Maurice Van Robays and Benny Zientara joined the OISE All-Stars to play the Mediterranean champions in Leghorn, Italy.
In October, a baseball instructional clinic, sponsored by the 71st Infantry Division newspaper, The Red Circle News, was held at Augsburg in Germany for boys from 8 to 15 years of age. More than 350 kids turned out for the week long clinic with Blackwell, along with Harry Walker, Maurice Van Robays and Ken Heintzelman helping out as instructors.
Blackwell was discharged on March 19, 1946. He was 9-13 and an all-star when he returned in 1946 and won 16 games in a row for the Reds in 1947. That year he also came within two outs of throwing back-to-back no-hitters. In ten seasons he was an all-star on six occasions. On April 12, 1955, Blackwell, pitching in relief, helped the Kansas City Athletics clinch their first game at home with a 6-2 win over the Tigers.
Blackwell retired, aged 32, following injuries that included a kidney operation, an appendectomy, and an arm injury.
He was inducted into the Cincinnati Reds Hall of Fame in 1960.
Ewell Blackwell was 74 when he passed away on October 29, 1996 in Hendersonville, North Carolina.
Created June 4, 2007.
Copyright © 2015 Gary Bedingfield (Baseball in Wartime). All Rights Reserved.