Date and Place of Birth: November 9, 1919 Los Angeles, California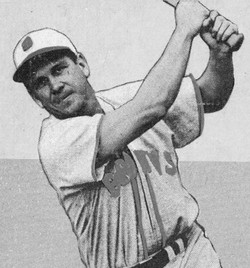 Gerald E "Jerry" Priddy was born on November 9, 1919 in Los Angeles, California. He was signed by the New York Yankees organization in 1937 and played for Rogers of the Arkansas-Missouri League his rookie year, batting a league second-best .336 with 83 RBIs and a league-leading 109 runs scored.
The 18-year-old second baseman advanced to Norfolk of the Class B Piedmont League in 1938, where he teamed up with shortstop Phil Rizutto, and batted .323 with a league-leading 36 doubles. In 1939 and 1940, Priddy was with Kansas City of the American Association and was called up by the Yankees in 1941, playing 56 games as a utility infielder. He played 59 games with the Yankees in 1942 in the same role and was sold to the Washington Senators in 1943.
Priddy flourished in Washington as the club's starting second baseman. In 149 games he batted .271, hit 31 doubles and drove in 62. At the end of the year, on December 15, 1943, Priddy was called into military service. After being processed at Fort MacArthur, California, he was assigned to the Army Air Force at McClellan Field on January 14. Later that year Private Priddy was sent to Hawaii where he played baseball alongside Joe DiMaggio for the 7th Army Air Force Flyers, and also appeared in the Army-Navy Service World Series in October 1944.
Priddy was discharged from service on January 15, 1946, having played winter ball for the semi-pro Rosabell Plumbers in South Pasadena, California. He was back with the Senators in 1946, but after his average slumped to .214 in 1947, he was traded to the Browns where he enjoyed two strong seasons before moving on to the Detroit Tigers. Priddy broke a leg sliding into second base during 1952. It marked the end of his career and he retired after the 1953 season.
Priddy played and managed a couple more years in the Pacific Coast League. He later became a golf pro on the PGA tour and a public relations man. In 1973, he was accused of trying to extort $250,000 from a steamship company by threatening to put a board aboard one of its vessels. He was convicted and sentenced to nine months in prison and was released after he had served half of his term.
On March 3, 1980, Jerry Priddy suffered a fatal heart attack at his home in North Hollywood, California. He was 60 years old.
Created April 23, 2008.