George Zuverink
Date and Place of Birth: August 20, 1924 Holland, Michigan
Baseball Experience: Major League
Position: Pitcher
Rank: Unknown
Military Unit: 93rd Airdrome Squadron USAAF
Area Served: Pacific Theater of Operations
George Zuverink, a 21-year-old pitcher from Michigan, was signed by the Cardinals on the basis of a letter president Sam Breadon received from a scout who saw him hurl in the Philippines. Zuverink is a former semi-pro, standing six feet three inches. He will report to Houston of the Texas League.
The Sporting News February 28, 1946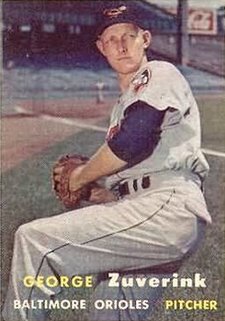 George Zuverink was born in Holland, Michigan on August 20, 1924. He played semi-pro baseball in Michigan until entering military service in March 1943.
"I'm sorry to say that I did not have the interesting and heroic career that my brother Gord did," said Zuverink in response to my question about his military service. "I was drafted at age 18 and chose the Army Air Corps over the Navy as I could not swim that well in case my ship was sunk."
Zuverink went on to explain, "I was with the 93rd Airdrome Squadron and was in the South Pacific for about two years being stationed at Townsville, Australia in 1944; Nadzab, New Guinea and the Philippines in 1945. Our squadron took care of the planes behind the front lines. My job was driving gas and oil trucks for refueling. Not too exciting but I did my job - someone had to do it!"

Zuverink still had time for athletic pursuits. "I played a lot of volleyball, basketball and baseball to keep occupied." In summing up his military career, Zuverink says, "I was no Sergeant York! I did put my time in and still am proud to have served my country."
But Zuverink's athletic abilities while playing in the Philippines got back to the United States without his knowledge. A scout who saw him pitch wrote to Cardinals' president Sam Breadon, and when Zuverink left military service in January 1946, he was approached by the St Louis club.
The 21-year-old right-hander signed a contract with the Cardinals and reported to the Houston Buffaloes of the Texas League. Zuverink was optioned to Fresno Cards in the California League in May where he finished the season strongly.
Somewhat surprisingly - but probably due to their vast numbers of pitchers in the organization - the Cardinals released Zuverink to the Cleveland Indians before the 1948 season. The Indians sent him to the Spartanburg Peaches in the Tri-State League where he won 18 and lost 12. In 1949 he won 16 and lost seven at Oklahoma City in the Texas League in 1949, and was 20-14 with San Diego in the Class AAA Pacific Coast League in 1950. "I was surprised," Indians' coach Red Ruffing told The Sporting News on February 28, 1951, "to learn that Zuverink ever lost a game in the Coast League. I don't know how anyone can hit his stuff."

At 26, he joined the Indians in 1951, making 16 relief appearances with no decisions. Zuverink enjoyed his best success with the Baltimore Orioles during the mid-1950s. In 1956 he led the American League with 62 appearances and 16 saves. In 1957 he led the league with 56 appearances and posted an excellent 2.48 ERA. He remained in the major league with Baltimore until 1959.
George Zuverink now lives in retirement in Tempe, Arizona.
Thanks to George Zuverink for help with his biography. Thanks also to Robert Dykstra for his help.
Created February 4, 2007.
Copyright © 2013 Gary Bedingfield (Baseball in Wartime). All Rights Reserved.