Benny Zientara
Date and Place of Birth: February 14, 1918 Chicago, Illinois
Died: April 16, 1985 Lake Elsinore, California
Baseball Experience: Major League
Position: Second Base
Rank: Staff Sergeant
Military Unit: 71st Infantry Division US Army
Area Served: European Theater of Operations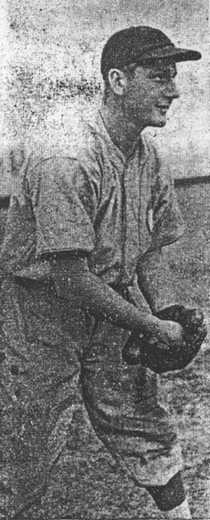 Zientara with the 71st Infantry Division team in Europe 1945
Benedict J "Benny" Zientara was born in Chicago, Illinois on February 14, 1918. Grammar school education.
Zientara signed his first professional baseball contract in 1938 with the Bassett Furnituremakers of the Bi-State League. By 1940, he was with the Indianapolis Indians and the leading defensive second baseman in the American Association.
The 5-foot-9 infielder remained with Indianapolis in 1941 but was called up by the Cincinnati Reds at the end of the season and made nine appearances.
Zientara was expected to give Lonny Frey a run for his money at second base, but all that changed when he entered military service with the US Army at Fort Sheridan, Illinois on December 2, 1941.
Zientara was stationed at Fort Knox, Kentucky in 1942, and was at Fort Benning, Georgia the following year. He played baseball for the Academic Regiment Profs, who were Fort Benning's intra-mural baseball league champions in 1943. The line-up included minor leaguers Herb Moore and Rudy Rundus. He also played for Benning's Infantry School All-Stars.
Staff Sergeant Zientara remained at Fort Benning until late 1944, when he was shipped to Europe with the 71st Infantry Division. Following the surrender of Germany in May 1945, Zientara played for the 71st Division Red Circlers ball team. The Red Circlers, with major league talent including Ewell Blackwell, Ancil Moore and Johnny Wyrostek were Third Army Champions. In late August 1945 they went on to defeat the 29th Infantry Division to earn the title of Ground Forces champions. In October they faced the OISE All-Stars in the ETO World Series where their winning streak came to an end at the hands of Negro League pitching ace Leon Day and Pirates' veteran Sam Nahem.
Zientara was back with the Reds for spring training in 1946, having missed four complete seasons. The 27-year-old split the second base job with Bobby Adams and batted a respectable .289 in 78 games. In 1947 he played 117 games for Cincinnati and hit .258, but in 1948 his batting average slumped to .187.
Cincinnati optioned the weak-hitting infielder to Syracuse of International League in April 1949. He remained with the Chiefs until 1955, serving as a player-coach in later seasons.
In 1956, he took his first managing job, leading the Mattoon Phillies of the Midwest League. In 1957 he was at the helm of the Moultrie Phillies in the Georgia-Florida League and went to Brunswick when the Moultrie franchise moved mid-season. In 1958, the 40-year-old became manager of Olean Oilers in New York-Penn League, and the following year he began a long association as a coach with the Buffalo Bisons of the International League.
In the 1960s, Zientara became a scout for the Cleveland Indians and in 1965, he was part of the National Association of Professional Baseball Players contingent that was sent to Mexico to work with the Mexican League teams. He continued to work in baseball as a scout into the 1970s.
Benny Zientara passed away in Lake Elsinore, California on April 16, 1985. He was 67 years old and is buried at Riverside National Cemetery. He was survived by his wife Arline and two sons David and Robert.
Thanks to Emily Gerstbacher, Branch Manager at Lake Elsinore Library, California, for help with this biography.
Created March 10, 2007. Updated April 20, 2007.
Copyright © 2013 Gary Bedingfield (Baseball in Wartime). All Rights Reserved.