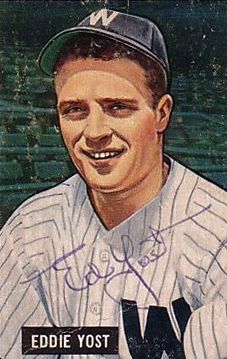 Edward F J "Eddie" Yost was born on October 13, 1926 in Brooklyn, New York. At the age of 17 he attended a two-week trial with the Red Sox. Boston liked what they saw and manager Joe Cronin presumed that general-manager Eddie Collins had put the youngster under contract but that was not the case and Yost signed with Washington Senators' scout Joe Cambria shortly afterwards.
Without playing a game in the minor leagues and still just 17 years old, Yost made his major league debut with the Senators on August 16, 1944. He appeared in seven games before the season concluded getting two hits in 14 at-bats (.143).
Yost entered military service with the Navy on January 26, 1945 and was stationed at Sampson Naval Training Station, New York, where he played baseball throughout the summer months.
When Yost returned from military service on July 23, 1946, he asked baseball commissioner Happy Chandler for exemption from the rule that every returning war veteran must be retained by his former team for two years because it stood in the way of him developing his skills in the minors. But Chandler refused, saying one exemption would lead to others and he was determined to protect jobs for returning servicemen.
He played just eight games during the tail end of 1946 but became the Senators starting third baseman in 1947 – a position he retained through 1958. During that time Yost led the American League in base on balls on four occasions, led the league in doubles in 1951 with 36, and was an all-star in 1952
.
He was traded to the Tigers in 1959 where he played two seasons before joining the Los Angeles Angels in 1961, where he ended his career the following season.
After 18 seasons in the major leagues in which he played 2,109 games and batted .254, Yost was a coach with the Angels, Senators, Giants and Red Sox from 1962 to 1984. In 1963 he was manager with Washington for one game.
Created April 28, 2008.