Date and Place of Birth: July 19, 1922 New Orleans, Louisiana
Died: January 26, 2002 Metairie, Louisiana
Baseball Experience: Major League
Position: Pitcher
Rank: Sergeant
Military Unit: Headquarters Company, Fleet Marine Force, Pacific US Marine Corps
Area Served: Pacific Theater of Operations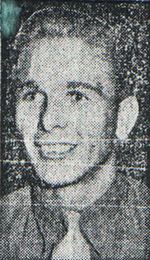 Raymond A A "Ray" Yochim was born in
New Orleans, Louisiana
on July 19, 1922.
Ray was a top high school pitcher at S J Peters and an American Legion player. In 1941, Cardinals' general manager Branch Rickey invited Yochim, along with high school teammate Mel Parnell (who later pitched for the Red Sox), to pitch batting practice for the Pelicans. At that time, New Orleans was part of the Cardinals' farm system and the sessions led to a chance for Yochim to pitch professionally.
Yochim began his pro career with Fresno in the California League where he was 2-1 before joining Springfield in the Western Association where he was 7-7 with a 5.29 ERA.
In 1942, Yochim was 3-15 with the Columbus Red Birds in the South Atlantic League and 2-0 with a 3.81 ERA for the New Orleans Pelicans in the Southern Association.
Yochim, 20, entered military service with the Marine Corps early in 1943. He never completed boot camp as the Marine Corps baseball team in San Diego needed a pitcher!
Under the guidance of coach Captain Charles Church (former Long Beach Junior College coach), Yochim quickly established himself as one of the best servicemen pitchers on the West Coast. In 1944, with the team managed by Dee Moore of the Phillies and Harry Hughes – former pilot of the Atlanta Crackers – along with teammates Joe Gautreaux (pitcher with Waycross of Georgia-Florida League) and Ray Minor (pitcher with Mayfield of the Kitty League, the San Diego Marine Corps Base clinched the 11th Naval District championship in a three-game playoff with the Naval Training Center. Yochim won 22 games against just five losses. He later recalled how one of his most frightening experiences was pitching to Joe DiMaggio. "I didn't think anything about pitching to DiMaggio until I looked up and saw him straddled at the plate with that bat in his hand," Yochim told a hometown newspaper while on furlough in November 1944. "Then suddenly I got the shakes. I had never pitched to a big league batter before and here was the great DiMaggio in front of me. I took a windup and threw a side arm curve and believe it or not the ball took a turn and went behind DiMaggio. Imagine that. Well, I didn't have any trouble with him after that. He probably figured I was some crazy kid that didn't know where I was throwing, but I fed him curveballs the rest of the game and he didn't hit a ball out of the infield."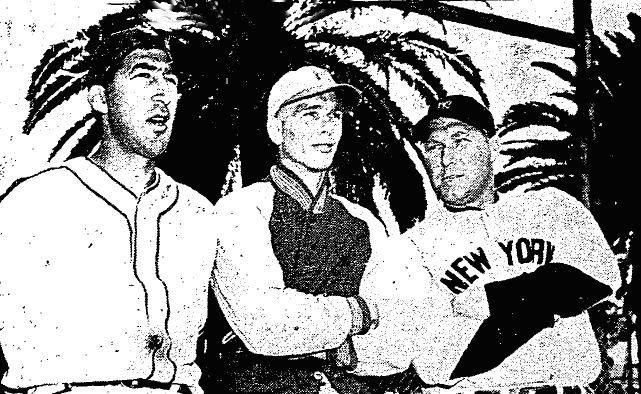 Ray Yochim (center) with Harry Danning and Red Ruffing in 1943
Yochim also recalled what was on the line for each game. "The Marines had the winning spirit from the commanding officers down, he said. "Any time I lost a game I had a lot of explaining to do, even though the team we played, like the Ferry Command from Long Beach had Red Ruffing, Gerald Priddy, Max West, Nany Fernandez and those big-time players. The Marines just aren't supposed to lose in baseball or war."
In 1945, Corporal Yochim was with the Fleet Marines baseball team in Hawaii, where he continued to enjoy success. The team was managed by Dee Moore, who had also skippered the San Diego Marines team, and Yochim's teammates included Boots Poffenberger (formerly with Brooklyn), Aubre Epps (former Pirates' catcher) Oren Baker (Los Angeles Angels), Bob Green (ex-Dartmouth College star), Calvin Medley (Negro League Homestead Grays) and Bob Revels (Wellsville of PONY League).
Yochim set an unusual record during the season by walking three men in an inning and not allowing a runner to reach second base. Catcher Epps picked one man off first and Yochim trapped two others off the bag.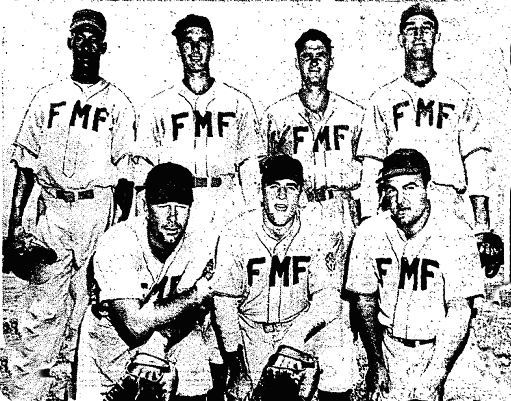 Fleet Marines (Hawaii) 1945. Ray Yochim is back row, second left
On April 19, 1945, The Sporting News reported that Ray Yochim, along with Harry Hughes had been killed in action on Iwo Jima. This came as quite a shock to everyone who knew Ray – especially those who were his teammates on the Fleet Marines baseball team and could swear that he was alive as they were playing on the same ballfield as him!
The Sporting News apologized for the error the following week. It appears the ship that had transported the players to Hawaii had later been sunk at Iwo Jima and someone had put two-and-two together and come up with five!
Yochim returned to the Cardinals' organization in 1946 and pitched for Rochester in the International League. In 1947 he was 14-15 with the Red Wings and made his major league debut with the Cardinals on May 2, 1948, pitching the last inning and allowing no runs in a 14-3 loss against the Cubs. He made a further three appearances for the Cardinals in 1949 but spent most of the season with Columbus in the American Association, where he suffered a double fracture of the jaw bone when he was hit by a pitch from Kansas City's Frank Hiller on June 30. Columbus went on to win the game 16 to 1.
Yochim never returned to the major leagues after 1949 but continued to pitch in the minors (he was 15-10 with Birmingham in the Southern Association in 1950) and also in the Cuban Winter League. He turned his hand to managing in the 1950s and managed the New Orleans Pelicans in 1958, replacing the team's manager late in the season.
Yochim was the founder of the Diamond Club of Greater New Orleans in 1959 - an organization of former players and coaches. He served as its first president from 1959 through 1961.
Ray's brother, Lenny, also pitched professionally. He was in high school when Ray was in the service and was a 20-game winner in his rookie season with New Iberia of the Evangeline League in 1947. Lenny pitched for the Pittsburgh Pirates in 1951 and 1954. "Ray loved baseball very much," recalls Lenny. "He worked very hard at it. I wish I had the same intensity or desire or work ethic that he had. I'd have been a better pitcher."

Following a long illness, Ray Yochim passed away at the Veterans Affairs Medical Hospital in Metairie, Louisiana on January 26, 2002. He was 79.
I had the pleasure of meeting with Ray's younger brother Lenny Yochim at the Duty, Honor, Country: Baseball Goes to War conference in New Orleans in November 2007. Lenny had never seen the Sporting News article that claimed his brother, Ray, had been killed in action and it was a pleasure to present him with a copy 60 years after the event.
Lenny also told me that a photo of a Navy team was taken during the war and every player was wearing a cap with an "N" on the front except Ray. Why? Because he had sent it home to his kid brother!
Gary Bedingfield