The Birdhouse @ www.thestlcardinals.com the online leader for exclusive, objective and independent coverage of the St. Louis Cardinals, providing the ultimate fan experience through community interaction with our team of experts, writers and reporters.
Ray Mileur, Founder & Publisher

Johnny Wyrostek
Date and Place of Birth: July 12, 1919 Fairmont City, Illinois
Died: December 12, 1986 St Louis, Missouri
Baseball Experience: Major League
Position: Outfield
Rank: Corporal
Military Unit: US Army
Area Served: European Theater of Operations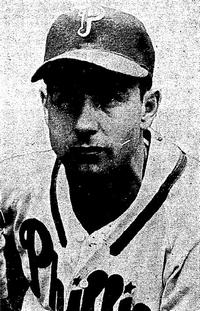 John B "Johnny" Wyrostek was born on July 12, 1919 in Fairmont City, Illinois. He was signed out of high school by St Louis Cardinals' scout, Charley Barrett, in 1937.
He spent his first professional season at Kinston in the Coastal Plain League and batted .332 in 50 games. He returned there in 1938 when he hit .333. That moved him up to Rochester but they farmed him out to Houston and he then played at Springfield. In 1940 he was back with Houston and batted .305 as the club won the pennant.
Wyrostek was at spring training with the Cardinals in 1941, but spent the season at Rochester and New Orleans. The Pittsburgh Pirates purchased him from New Orleans and the end of the season and he played at Toronto in 1942, hit 18 home runs, and made his major league debut with the Pirates on September 10. The 22 year-old outfielder played nine games and got four hits in 35 at-bats.
In 1943 he played 51 games but a dislocated shoulder suffered while attempting a diving catch in center field, meant he finished the year with a lowly .152 batting average. In September 1943, Wyrostek was traded back to the Cardinals who sent him to Columbus while he was waiting for his call to military service. But Wyrostek did not let the threat of service get in his way as he unleashed a superb season and batted .358 to lead the American Association.
He entered military service with the Army in August 1944 and served with the 71st Infantry Division in Europe.
Wyrostek played for the 71st Infantry Division Red Circlers baseball team after the cease of hostilities in Europe.
The 71st Red Circlers team featured Ewell Blackwell, Ancil Moore, Garland Lawing, Ewell Blackwell, Russ Kern, Milt Ticco, Herb Bremer and Bill Ayres. The Red Circlers clinched a five-game Third Army Championship Series in August 1945 against the National League division winners - the 76th Infantry Division Onaways - to move on to the ETO World Series against the OISE All-Stars from France.
In front of crowds of 50,000 at Soldier's Field in Nurnberg, Germany, the Red Circlers won the first game on September 2, 9-2. The Red Circlers were beaten by Negro League star Leon Day in the second game, and lost 2-1 in game three on September 6. In the decisive fifth game the Red Circlers were again beaten 2-1 on a combined effort by Sam Nahem and Bobby Keane.
Wyrostek returned to professional baseball in 1946 but was purchased from the Cardinals by the Philadelphia Phillies in February. He played 145 games for Philadelphia and batted .281. He had another steady season for the Phillies in 1947 and was traded to the Cincinnati Reds in February 1948. Wyrostek played four-and-a-half years with the Reds. In 1950, he had a very solid season, hitting .285 with 8 home runs and 76 RBIs. On September 4, 1950, Wyrostek drove in eight of the Reds' 13 runs in a doubleheader sweep of the visiting Cardinals. The Reds won 5-4, and then 8-4. In 1951 his batting average jumped to a career-high .311. He was a National League all-star in 1950 and 1951.
Wyrostek finished his major league career with the Phillies in 1954. He was released by the Phillies in April 1955. In 11 seasons he played over 1200 games, had 481 RBIs and batted .271.
Wyrostek initially went into the construction business back home in Fairmont City, Illinois. He later became deputy sheriff of St Clair County, Illinois and commissioner of junior baseball at Fairmont City, before becoming active in local politics. He served as mayor of his hometown from 1967 until he passed away from cancer in a St Louis hospital on December 12, 1986.
Created June 7, 2007.
Copyright © 2013 Gary Bedingfield (Baseball in Wartime). All Rights Reserved.