Gene Woodling
Date and Place of Birth: August 16, 1922 Akron, Ohio
Died: June 2, 2001 Barberton, Ohio
Baseball Experience: Major League
Position: Outfield
Rank: Unknown
Military Unit: US Navy
Area Served: Pacific Theater of Operations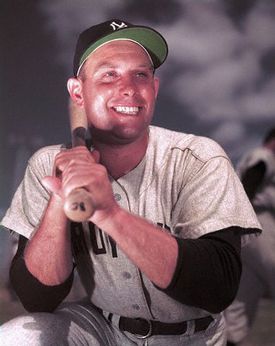 Eugene R "Gene" Woodling was born in Akron, Ohio, on August 16, 1922. He started playing baseball with Akron East High School. He joined the Goodyear Rubber semi-pro team while still in school and played the outfield with the team from 1937 to 1939.
Woodling soon attracted the attention of Cleveland Indians' scout, Bill Bradley, and the youngster signed to play at Mansfield in the Ohio State League. The 5-foot-9 170-pound outfielder had an outstanding rookie season in 1940, leading the league with a .398 batting average and getting picked for the all-star team.
The following year he led the Michigan State League with a .394 average. With Wilkes-Barre in 1942, Woodling's season came to an early end when he broke his leg sliding home in June. Back with Wilkes-Barre in 1943, he remarkably led the Eastern League with a .344 mark and joined the Indians in September.
Woodling got into eight games with Cleveland before the year was out and collected eight hits in 25 at-bats. He was just 21 years old.
Woodling joined the Navy in October 1943. "I was drafted into the Navy in the fall of 1943 and sent to Great Lakes," Woodling explained. "I was just going through regular basic training, and word had gotten out that I was a professional ballplayer. So they called me over to mainside.
"A fellow named Tom Hinkle, who was quite a basketball coach at Butler, was the athletic director at Great Lakes. He asked me if I would like to stay the next year in ship's company, as they called it, and play for Great Lakes. Well, would I like to! Yeah! And that was not realizing the type of ball club we were going to have. My Lord, all the great ones were there."
Woodling played baseball under Lieutenant Commander Mickey Cochrane in 1944. With a line-up that included Billy Herman, Al Glossop, Schoolboy Rowe and Si Johnson, the Great Lakes Blue Jackets were a formidable team that compiled one of the most impressive records of all service teams in 1944, 48 wins in 50 games, including a number of major league teams among its victims. Surprisingly, Woodling had the lowest batting average among the regulars at .342 (Whitey Platt led the team at .428).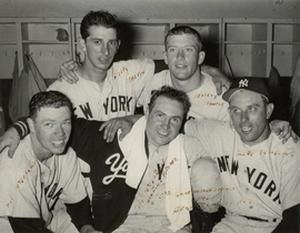 Gene Woodling with the Yankees (far right)
Woodling was sent to Hawaii in February 1945, and then embarked on the Navy's Pacific Tour with the Third Fleet team, taking in the Marshalls, Guam, Saipan and Leyte. When the tour came to an end, Woodling was assigned to Saipan where he helped organize athletics for the servicemen.
Woodling was discharged from the Navy in January 1946. He played 61 regular season games for the Indians but batted a disappointing .188, and was traded to Pirates in December. He made
Woodling played 17 seasons in the majors and batted .300 or better five times. His last season was 1962 when he was 39 years old.
Woodling coached the Orioles from 1964 to 1967, before retiring from baseball to run a horse farm in Ohio. He also and worked for numerous corporations including Eaton, Diebold and Dayton Lock.
Gene Woodling suffered a crippling stroke in 1997 and passed away in Barberton, Ohio on June 2, 2001. He was 78 years old.
Thanks to Don W Wolfe and Alan Struble for help with this biography.
Created April 19, 2007.
Copyright © 2013 Gary Bedingfield (Baseball in Wartime). All Rights Reserved.