Vic Wertz
Date and Place of Birth: February 9, 1925 York, Pennsylvania
Died: July 7, 1983 Detroit, Michigan
Baseball Experience: Major League
Position: Outfield
Rank: Unknown
Military Unit: US Army Air Force
Area Served: Pacific Theater of Operations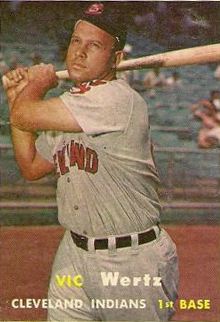 Victor W "Vic" Wertz was born on February 9, 1925 in York, Pennsylvania. He was signed by the Detroit Tigers in 1942 and played his rookie season with the Winston-Salem Twins of the Piedmont League where he batted .239 in 63 games.
In 1943, Wertz was impressive during spring training at Evansville, Indiana with the Tigers and was assigned to the Buffalo Bisons of the Class AA International League. But after playing in 18 games he was inducted by the Army on June 30, 1943. Wertz was initially based at Camp Davis in Wilmington, North Carolina but later served in the Pacific. Limbering up for his unit team in the Palau Islands, Wertz was told that he would be benched in favor of a more experienced outfielder in one particular game. At the time, he was the only player in the Palau Islands with professional experience.
Staff-Sergeant Wertz was discharged in December 1945 and returned to the Buffalo Bisons in 1946 where he batted .301 in 119 games with 19 home runs. The 22-year-old joined the Tigers in 1947 and batted .288 his rookie year. The four-time all-star played 17 seasons in the majors also with the Browns, Orioles, Indians, Red Sox and Twins. In the 1954 World Series with Cleveland, it was off the bat of Wertz that Willie Mays made his famous back-to-the-plate game-saving catch.
Starting with the 1955 season he had to wear a leg brace to offset a physical degeneration caused by polio and switched to first base in 1954. Wertz was 38 when he retired following the 1963 season.
Vic Wertz died during surgery on July 7, 1983 as surgeons at Harper Hospital, Detroit, attempted to perform a coronary bypass and replace a valve in his heart. He had suffered a heart attack June 23 and was admitted to the hospital, where he suffered a second heart attack on July 6. He was 58.
Created August 25, 2008.
Copyright © 2008 Gary Bedingfield (Baseball in Wartime). All Rights Reserved.