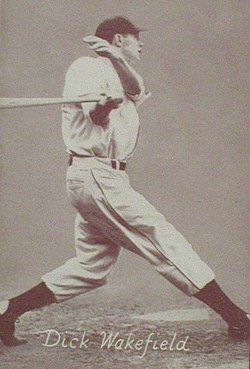 Richard C "Dick" Wakefield was born on May 6, 1921 in Chicago, Illinois. One of four sons of John Wakefield, a turn-of-the-century American League catcher, Dick graduated from the University of Michigan and was baseball's first bonus baby signing with the Detroit Tigers in 1941 for $52,000 and an automobile.
Immediately joining the Tigers, the 20-year-old outfielder appeared in seven games – six as a pinch hitter – before being assigned to Winston-Salem of the Piedmont League where he batted an even .300 in 55 games.
Wakefield spent 1942 with Beaumont of the Texas League where he led the league with a .345 average, 192 hits and 44 doubles. Not surprisingly, Wakefield was a Tiger regular tin 1943. He played 155 games and batted .316, leading the American League with 200 hits and 38 doubles. He was also the league starting left fielder in the all-star game and went 2-for-4 with a double and an RBI.
On October 15, 1943, Wakefield entered military service and attended the Navy's Iowa Pre-Flight School at Iowa City. But because of a decreased need for flyers, only half of the graduating class was retained for air service and Wakefield was discharged in July 1944.
"I'll probably go back into the service," he said upon his return to Detroit. "I've already reported back to my draft board and I've applied for a commission in the Navy. It might be five or six weeks before I get a call. Meanwhile, I could be playing with the Tigers – if they want me."
The Tigers did not intend to look a gift horse in the mouth. Wakefield played 78 games and batted an outstanding .355 with 12 homers and 53 RBIs, as he helped his team to within one game of the American League pennant. Despite only playing half the season, Wakefield was even in the running for league MVP.
Wakefield rejoined the Navy November 30, 1944. Following induction in Detroit as an apprentice seaman, he was sent to Great Lakes Naval Training Station for boot training. In the New Year, he was assigned to Bainbridge, Maryland, where he began training in the physical instructor's school and playing baseball for the formidable Bainbridge Commodores ball team alongside Stan Musial. Wakefield summer an injury to his foot during the early summer months which interfered with his swing, made his average take a nose-dive, and, almost unbelievably, saw him riding the bench at times.
In June 1945, Wakefield left Bainbridge for Hawaii and was stationed at Aiea Hospital where he continued to play ball. He also spent time at Shoemaker Field in California before receiving his discharge in January 1946. All four Wakefield boys had served in the military during the war. Bob was with the Marines at Iwo Jima, Jack was a captain with the Infantry in Texas, and Jim served with the Navy.
Dick Wakefield played four post-war years with the Tigers but failed to match his pre-war performance. He suffered a broken arm when he crashed into the grandstand at Fenway Park while chasing a foul ball in July and his batting average slumped to .268. His best year after military service was 1947, when he hit .283 in 112 games. He was traded to the Yankees in 1950 but spent most of the season with Oakland of the Pacific Coast League and ended his playing days, aged just 31, with Minneapolis of the American Association in 1952.
Wakefield returned to the Detroit area following his retirement and worked in a variety of jobs, including public relations for a food manufacturer and as a probate appraiser.
Dick Wakefield died of cancer on August 26, 1985 in Detroit, Michigan. He was 64.
Created April 3, 2008. Updated April 23, 2008.