Maurice Van Robays
Date and Place of Birth: November 15, 1914 Detroit, Michigan
Died: March 1, 1965 Detroit, Michigan
Baseball Experience: Major League
Position: Outfield
Rank: Unknown
Military Unit: 1st Infantry Division US Army
Area Served: European Theater of Operations
Van Robays is a definite case of what might have been. Here was an outstanding hitter who had the odds stacked against him. Firstly he suffered, a two year illness that nearly took his life. Then failing eyesight meant he had to wear glasses and he then he missed two seasons of major league baseball through military service.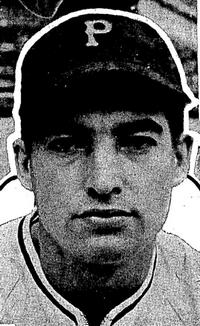 Maurice R Van Robays was born on November 15, 1914 in Detroit, Michigan. At just 16, he was playing semi-pro baseball for Tivolis of Detroit representing the Tivoli Brewing Company. Wish Egan, Tigers' scout, signed Van Robays in 1934 and he played for the Grand Rapids Tigers in the short-lived Central League. Later in the year he played for Charleroi in the Penn State League.
But in 1935, Van Robays fell ill. A case of influenza turned into a life-threatening case of pneumonia. It took him until the following year to recover. He had been released by the Tigers and did not start playing baseball again until the end of 1936 when he picked up with a semi-pro team in Detroit. "I was through school at the time," he told The Sporting News on August 22, 1940, "and decided to give baseball one more trial before I would go into something else. Besides, there weren't too many jobs open for a young fellow and I always loved to play ball."
He was advised by a friend to go along to Ogdensburg, New York, where the local professional team was looking for players. Van Robays tried out with the Ogdensburg Colts and went on to have a memorable season. Playing leftfield he led the league with 43 home runs and was tops in runs scored with 135, RBIs at 150, hits with 159, extra base hits, total bases, doubles and batting average at .368. Despite the Colts finishing fourth, they went on to clinch the league play-offs in a seven-game series against Gloversville. Van Robays was 12 for 28 during the series with two doubles, two triples and four home runs.
He was sold in September 1937 to the Montreal Royals of the International League, who optioned him to Knoxville in the Southern Association for the 1938 season. Van Robays hit 23 home runs, batted .307 and led the league in RBIs with the Smokies. In February 1939, Hector Racine, president of the Montreal club sold Van Robays to the Pittsburgh Pirates but got him back on option the same day.
By August 1939, he was batting around .320 for Montreal and was called up to Pittsburgh. In his major league debut he got three hits and scored the winning run against the Reds on September 7, 1939. He finished out the season playing 27 games and hitting .314 with a .457 slugging percentage. It was a great season for the 24 year-old and on November 25 he married Miss Mary Fraeyman.
In 1940, Van Robays was a regular, playing 145 games for the Pirates and batting .273 with 11 home runs and 116 RBIs, which was third best in the National League and earned him the nickname "Bomber.". In 1941, he batted .282 with 78 RBIs.
Eye trouble caused him to start wearing glasses in 1942. His average slumped dramatically to .232 and he hit just one home run in 362 plate appearances.
Van Robays was sent to Toronto in 1943 in the hope that he would regain his form. He did sufficiently well for the Pirates to recall him, playing 69 games at the major league level and batting a very respectable .288.
On September 18, 1943, Van Robays reported for his Army induction in Detroit. He served in Europe with the 1st Infantry Division. Van Robays played for the 71st Infantry Division Red Circlers baseball team after the cease of hostilities in Europe.
The 71st Red Circlers team featured Ewell Blackwell, Ancil Moore, Johnny Wyrostek, Garland Lawing, Ewell Blackwell, Russ Kern, Milt Ticco, Herb Bremer and Bill Ayres. The Red Circlers clinched a five-game Third Army Championship Series in August 1945 against the National League division winners - the 76th Infantry Division Onaways - to move on to the ETO World Series against the OISE All-Stars from France.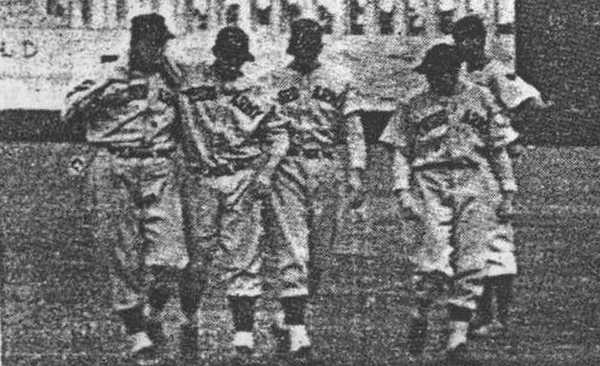 Van Robays being helped off the field after suffering a wrenched
knee in the first game of the ETO World Series in 1945.
In front of crowds of 50,000 at Soldier's Field in Nurnberg, Germany, the Red Circlers won the first game on September 2, 9-2. The Red Circlers were beaten by Negro League star Leon Day in the second game, and lost 2-1 in game three on September 6. In the decisive fifth game the Red Circlers were again beaten 2-1 on a combined effort by Sam Nahem and Bobby Keane.
Van Robays also pitched for his armored infantry battalion softball team in France.
Van Robays was back with the Pirates in 1946. He was now 31 years old and played 59 games. A batting average of .212, with 12 RBIs and one home run signified the end of his major league career. Van Robays joined Casey Stengel's Oakland Oaks of the Pacific Coast League in 1947 and batted .295. He hit .313 the following year and ended his playing days in 1949, batting .298 with the Oaks.
Pneumonia came back to haunt Maurice Van Robays in the 1960s and he passed away at Doctors Hospital in Detroit on March 1, 1965. He was just 50 years old.

Created June 7, 2007.
Copyright © 2008 Gary Bedingfield (Baseball in Wartime). All Rights Reserved.