Bobby Thomson
Date and Place of Birth: October 25, 1923 Glasgow, Scotland
Date of Death: August 16, 2010 Savannah, Georgia
Baseball Experience: Major League
Position: Outfield
Rank: Unknown
Military Unit: USAAF
Area Served: United States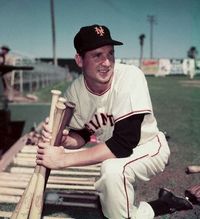 Robert B "Bobby" Thomson was born at Townhead in Glasgow, Scotland on October 25, 1923. Thomson's father, a cabinet maker by trade, was a physical instructor in the British Army during World War I. The family moved to the United States when Bobby was two. He was a standout athlete in baseball and soccer at Curtis High School in Staten Island, New York, and was signed by New York Giants' scout George Mack for $100 a month the day after he graduated in June 1942.

The 6-foot-2 third baseman played at Bristol in the Appalachian League in 1942, before being sent to Rocky Mount in the Bi-State League where he made little impression, hitting .241 in 29 games.


On December 5, 1942, Thomson entered military service with the Army Air Force. "I went into the Air Corps from 1943 through 1945," Thomson explained in a 1996 interview. "There are no war stories. I ended up a bombardier, but I never got overseas. And it wasn't because I was playing baseball either. It was just a series of things that went on."

Thomson earned his Army Air Force bombardier's wings at Victorville, California. "My smattering of professional ball in that 1942 summer was a pretty much forgotten part of my life," he told The Sporting News on June 18, 1947. "For almost three years I didn't play any ball. But in 1945, I got back into the game, playing semi-pro ball around San Diego [while awaiting his Army discharge], and found out I could go fairly well. The Giants' Pacific Coast representatives kept their eyes on me, and … I was sent to Jacksonville, Florida, to train with the Jersey City and Jacksonville Sally League clubs."


Playing third base for Jersey City in 1946, he set a club record with 26 home runs, and batted .290 with 88 RBIs. His first game with Jersey City was a significant event in baseball history as the team played the Montreal Royals, who had a debutant of their own. Jackie Robinson was playing his first game in Organized baseball.

Thomson was called up to the Giants at the end of 1946. He made his major league debut on September 9, and batted .315 with two home runs in 18 games.

Blessed with great speed, the "Flying Scot" was easily the fastest Giant at spring training in Phoenix, Arizona in 1947. He played 138 games for the team that year and batted .283. His 29 home runs was fifth best in the National League.

Thomson's one weakness was his defensive capabilities. He played third base when he came up to the Giants in 1946. He started 1947 at second base but then moved to the outfield where he played the majority of his major league career.

Thomson achieved celebrity status in 1951 for hitting a game-winning home run in a playoff game, off of Brooklyn Dodgers pitcher Ralph Branca, to win the 1951 National League pennant. The home run, known simply as the "Shot Heard 'Round the World," is possibly the most famous in baseball history.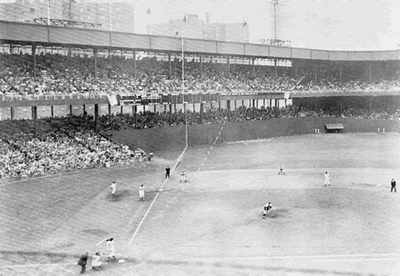 Thomson played 15 seasons in the major leagues with the Giants, Braves, Cubs, Red Sox and Orioles. The three-time all-star had eight 20-plus home run seasons and four 100-plus RBI seasons.
His career ended in 1960 when he was 36 years old, and he later worked for a paper company.
Bobby Thomson, who was living in Savannah, Georgia, passed away on Monday August 16, 2010, aged 86.
Bobby Thomson is naturally an important part of this project because he was born in Glasgow, where I now live. In fact, I live about five miles from the "Flying Scot's" birthplace.
Bobby very kindly gave me details about his military service back in 1996. He was in Scotland in 2003 to attend his induction into the Scottish Sports Hall of Fame at the Royal Museum in Edinburgh, and to attend the opening of Bobby Thomson Field – home of the Edinburgh Diamond Devils Baseball Club. Unfortunately, I was still in London at the time, moving to Scotland in 2004. What a missed opportunity!
Created May 29, 2007. Updated August 18, 2010.
Copyright © 2010 Gary Bedingfield (Baseball in Wartime). All Rights Reserved.