Hank Thompson
Date and Place of Birth: December 8, 1925 Oklahoma City, Oklahoma
Died: September 30, 1969 Fresno, California
Baseball Experience: Major League
Position: Second Base
Rank: Sergeant
Military Unit: 1695th Engineer Combat Battalion US Army
Area Served: European Theater of Operations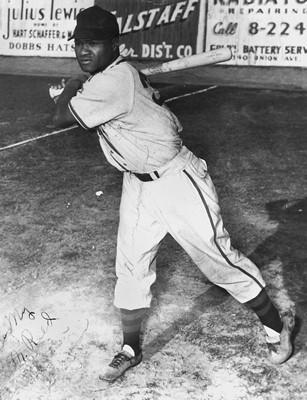 Henry C "Hank" Thompson was born on December 8, 1925 in Oklahoma City, Oklahoma but grew up in Texas. His parents separated when he was very young and he lived with his mother who worked long hours. "My sister Florence was supposed to watch me," he explained. "but I would sneak off and play ball. All I wanted was to play ball. They made me go to school, but I played hooky."
He was arrested twice as a teenager - once for jewelry theft, and later for truancy – and spent six months at Gatesville Reform School, near Dallas, where he played on the first organized baseball team he had ever seen. He got out of Gatesville at age 15, and began drinking but also played baseball for a local black team. In 1943, at 17, he joined the Kansas City Monarchs.
Thompson entered military service in March 1944. He served with the 1695th Combat Engineers, in which all the soldiers were black and most of the officers white Southerners. This often led to racial tension within the unit. Thompson was also drinking more during this time and occasionally ended up in the stockade.
In late 1944, the 1695th were sent to Europe and Thompson manned a machine gun during the Battle of the Bulge.

Thompson was discharged from the Army in June 1946. He rejoined the Monarchs and helped them to the Negro League World Series where they were beaten by the Newark Eagles.
In early 1947, Thompson's contract, along with teammate Willard Brown, was sold to the St. Louis Browns. On July 17, Thompson became the third Negro League player to play in the Major Leagues. Thompson was with St. Louis a little over a month and hit .256 in 78 at bats, playing in 27 games mainly at second base. On August 23, he was released and he rejoined the Monarchs through the 1948 season.
In April 1948, as Thompson was traveling to the Monarchs' spring training camp in San Antonio, he stopped at his sister's in Dallas. On April 3, he shot and killed former sandlot ballplayer, Buddy Crow. He turned himself in to the police the next day and was arrested for murder. Thompson pleaded not guilty, was released on bond, and joined the Monarchs. Two years later the case was dismissed.
On February 1, 1949, the New York Giants purchased Hank Thompson from the Monarchs, paying him a $2,500 signing bonus. On July 4, 1949 the New York Giants called him and Monte Irvin up from the Giants' Jersey City farm club. He made his first appearance with the Giants on July 8 against the Dodgers.
The left-handed hitter enjoyed his best season in 1953 when he hit .302 with 24 home runs. But by July 1956 he was on the bench and at the end of the year the Giants sold him to Minneapolis of the American Association. In 1957 he was plagued by injuries. Batting only .243, Thompson decided retired before the season was out. He was just 31.
After leaving baseball, Thompson met with many difficulties. He was convicted of armed robbery in Texas in 1963 and was sentenced to 10 years in prison. He was paroled after serving four years.
In 1968, Thompson visited his mother in Fresno, California. He decided to stay in the area and got a job as a playground director. In 1969 he played in the Giants' old-timers game in San Francisco. But on September 30, 1969, Thompson collapsed and died after suffering a seizure at home. He was 43 years old.

Created February 10, 2007.
Copyright © 2018 Gary Bedingfield (Baseball in Wartime). All Rights Reserved.