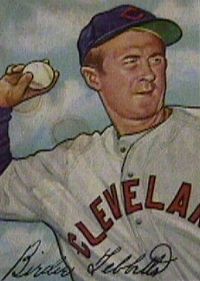 George R "Birdie" Tebbetts was born in Burlington, Vermont on November 10, 1912. His father, Charles, worked as a shipping clerk for Swift & Company and had moved from New Hampshire the year before Birdie's birth. A couple of months after his birth the family moved back to New Hampshire and settled in Nashua.
Tebbetts was a star athlete at Nashua High School playing football, basketball and baseball. He was signed by the Detroit Tigers who paid his way through Providence College. He graduated with a degree in philosophy in 1934 and played for New Bedford, Springfield and Beaumont before joining the Tigers in 1936. He spent the next seven seasons with Detroit and made the American League all-star team twice.
Tebbetts entered military service with the Army Air Force in 1942. He was assigned to Waco Army Flying School in Texas and graduated as a second lieutenant in March 1943. For the next two seasons Tebbetts was player-manager with the Waco Army Air Field Wolves. His lineup included Sid Hudson, Bruce Campbell, Hoot Evers and Buster Mills.
In November 1943, Tebbetts was selected to the All-Army team by Army Times publication. The Wolves were the Houston Post's semi-pro champions in 1943 and 1944. They were 88 and 16 over two seasons and won 16 straight games in June 1944.
Tebbetts was philosophical about servicemen ballplayers and felt that only pre-war major leaguers would be in the right shape to play major league baseball after the war. "These boys are full of talent, but will get no chance to develop it because of the pressure of Army work," he told The Sporting News on July 15, 1943. "War physical training programs may be a boon to football, boxing wrestling and other sports, which do not require sensitive training of particular muscles, but rather depend upon the strength of the entire body."
He was transferred to Hawaii in March 1945 and managed the Hickam Field Bombers that year. He also conducted a baseball clinic in May of that year for young Hawaiians aged 8 to 18 at Honolulu Stadium. Around 1,000 youngsters attended.
In July 1945, Tebbetts was in the Marianas Islands where the three team Marianas League was formed. The 73rd Wing Bombers were managed by Buster Mills, Tebbetts managed the 58th Wingmen and Lew Riggs managed the 313th Flyers. Tebbetts' 58th Wingmen included Enos Slaughter, Joe Marty, Don Lang, Joe Gordon and Chubby Dean.
On August 26, 1945, the teams played an American League and National League all-star game on Tinian with Tebbetts behind the plate for the American Leaguers. The American League won, 3-to-2. On September 2, another game was played at Higashi Field on Iwo Jima. This time the National League won, 5-to-1.
There is a story that one day when Tebbetts came to bat on the island of Saipan he thought he heard the sound of a fan who used to get on him every time he came to bat when the Tigers were in Cleveland. When Tebbetts came to bat in the seventh inning he spotted the fan in the crowd and hollered back to the bench: "That fellow," he said, pointing, "has followed me all the way from Cleveland to give me the works." Sure enough it was the same fan. He was now an Air Force pilot.
Tebbetts had attained the rank of captain by the time he was discharged from military service in February 1946. He returned to the Tigers that season and batted .243 in 87 games. In 1947, Tebbetts got off to a slow start. After 20 games he was batting just .094 and was traded to the Red Sox on May 20. The move did the 34-year-old catcher the power of good as he hit .299 in 90 games for Boston.
Tebbetts was an all-star selection the following two seasons and ended his playing career with the Indians in 1952, aged 39.
He began his career as a manager the following season accepting an assignment with Indianapolis. In 1954, Tebbetts accepted his first major league managerial assignment, taking over the Cincinnati Reds from Rogers Hornsby. He spent five years at Cincinnati and later managed the Braves and Indians until 1966. Tebbetts later worked as a scout and minor league manager for the New York Mets, New York Yankees, and Baltimore Orioles until his retirement in 1992.
Birdie Tebbetts passed away on March 24, 1999 at the Rehabilitation Center in Bradenton, Florida. He was 86 years old.
Created December 8, 2007.