Date and Place of Birth: June 16, 1922 Central Falls, Rhode Island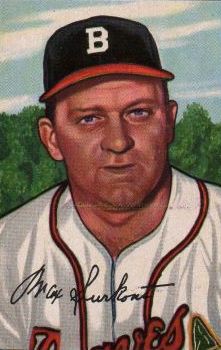 Matthew C "Max" Surkont was born in Central Falls, Rhode Island on June 16, 1922. At 16, he signed with the St Louis Cardinals in 1938 and played for the Cambridge Cardinals of the Eastern Shore League his rookie year. He was 9-10 that year and advanced to the Portsmouth Red Birds of the Mid-Atlantic League in 1939 where he had a 14-13 record and a 3.63 ERA.
He was the ace of the Decatur Commodores (Three-I League) pitching staff in 1940. He won 19 and lost 5, led in ERA with 2.50 and had 212 strikeouts. With the Rochester Red Wings of the International League in 1941 he had a 2-hit, 9-inning shutout of Toronto in which only 27 batters faced him on May 21, and on August 20 he pitched a 7-inning no-hitter against Jersey City.
Still with Rochester in 1942, Surkont was 10-18 and entered military service with the Navy in the fall. He served in the Pacific aboard a tank landing ship (LST-459) as a gunner's mate, participating in many landings and not throwing anything but a softball for two years. "We've hauled many Jap prisoners back to our advanced bases," he explained in a letter to National League president Ford Frick in 1944. "I started a conversation with one who talked fairly good English. I mentioned baseball and he was all smiles. He said he attended many games in Tokyo before the war and misses the game very much. They are interesting people to talk to when you can find one who can speak English."
Petty Officer Second-Class Surkont was at Norfolk NTS in 1945, ostensibly to board a destroyer, but was asked to join the baseball team. He became a gunner's mate instructor and lived in the trainer's room underneath the grandstand of the ballfield.
A tank landing ship in WWII. Surkont served as a gunner's mate on LST-459 in the Pacific
Surkont was back with the Rochester Red Wings in 1946 and remained with them until drafted by the Chicago White Sox in November 1948. He made his major league debut with Chicago on April 19, 1949 and was 3-5 in 44 appearances as a relief pitcher. The White Sox assigned him to Sacramento of the Pacific Coast League for 1950 where he won 18 games before being purchased by the Boston Braves. Spending the next five seasons with the Braves, Surkont won a career-high 12 games in 1951 and again in 1952. In 1953, while pitching for the Milwaukee Braves, he struck out eight consecutive batters against the Cincinnati Reds, a record since surpassed by Tom Seaver. He continued to pitch in the major leagues through 1957 with the Pirates, Cardinals and Giants. He ended his minor career in 1963 after five seasons with the Buffalo Bisons of the International League.
Max Surkont, who owned Surkont's Cafe in Pawtucket, Rhode Island, for 21 years before retiring in 1984, passed away in Largo, Florida on October 8, 1986, aged 64.