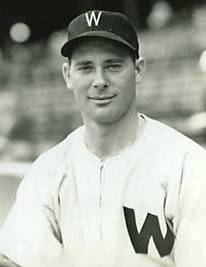 Stephen R "Steve" Sundra was born on March 27, 1910 in Luxor, Pennsylvania. His father was a coal miner and moved the family to Cleveland in 1926. Sundra began playing semi-pro ball with the Holececk Meat team in 1927 and also played for Quaker Sugars and Fisher Foods. He attracted the attention of Billy Evans, then general manager of the Cleveland Indians, who signed him to a New Orleans contract in late 1931.
Sundra pitched for the Quincy Indians of the Three-I League and the Burlington Bees of the Mississippi Valley League in 1932. In 1933 he was 14-12 with the Zanesville Greys of the Mid-Atlantic League and had a 7-7 record with the Toledo Mud Hens of the American Association the following year.
The Indians traded Sundra to the New York Yankees organization in 1935 and he made his major league debut on April 17, 1936. Sundra remained with the Yankees through 1940, enjoying his best season in 1939, when he was 11-1 with a 2.76 ERA and pitched in the World Series against the Cincinnati Reds.
The Washington Senators purchased Sundra from the Yankees in March 1941 and he was traded to the St Louis Browns in June 1942. At 33, he won a career-high 15 games (15-11) in 1943 and had a 3.25 ERA. Sundra won his first two starts of 1944 - allowing just three hits in a 3-1 win over Detroit on April 19 – but was called to military service on May 9.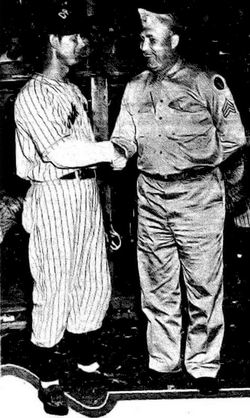 Sundra (left) with Sergeant Red Ruffing in 1945
Sundra was in the armv transportation corps and made four trips to the British West Indies. On returning to the States, he was a physical instructor at Camp Patrick Henry at Newport News, Virginia. He hurled Camp Patrick Henry to a 6-4 victory over Norfolk Naval Training station on August 6, 1945, and on the 8th, while playing right field, he singled in the 11th to help his team to another triumph over the Tars.
Private Sundra was discharged from service in February 1946 and rejoined the Browns. But after just two relief appearances – in which he allowed nine runs over four innings – he was released by the club on May 29.
Sundra brought suit against the Browns under the GI Bill of Rights, claiming he should have been retained for a year. He asked for $5,413.40, the difference between what he had been paid and his $8,000 salary, but Federal Judge Roy W Harper, in a decision handed down at St Louis, on December 13, 1949, denied the claim.
Sundra, working in the construction business and living in Atlantic City, New Jersey, fell ill during March 1950. He was later diagnosed with an incurable case of cancer of the rectum. By January 1952, his weight had dropped from 200 pounds to 130.
Mounting doctor's bills left Sundra's finances near rock bottom and a benefit basketball game was held in the Atlantic City high school on March 1, 1952, by which time his weight had dropped to 75 pounds. A week later he moved to Cleveland to live with his father, Michael, and passed away on March 23, 1952, aged 41.
Created September 3, 2008.