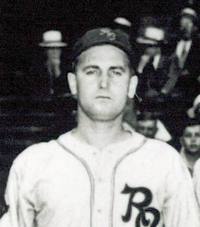 John P J "Johnny" Sturm was born on January 23, 1916 in St Louis, Missouri. He signed with the New York Yankees in 1936 and played his rookie year with the Joplin Miners of the Western Association. He batted .325 in 139 games and advanced to the August a Tigers of the South Atlantic League in 1937.
By 1939, the 6-foot-1, left-handed hitting first baseman was with the Kansas City Blues of the American Association. After batting .309 in 1939 and .312 in 1940, Sturm joined the Yankees in the spring of 1941 and made his major league debut on April 14. In 124 games he batted .239 but added six hits in 21 at-bats against Brooklyn in the World Series.
Sturm entered military service with the Army on January 13, 1942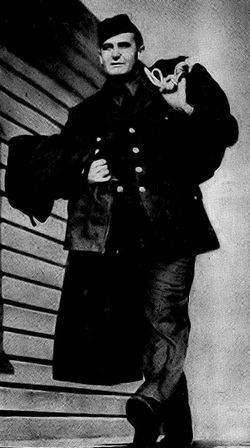 – the first married major leaguer to be drafted. Based at Jefferson Barracks in Missouri with the 33rd Training Group, he was a physical training instructor and assistant to the athletic director. On July 7, 1942, Sturm was selected for an All-Service team that played against an American League all-star squad at Cleveland's Municipal Stadium. Before 62,059 fans, the American League beat the servicemen, 5-0.
In 1944, he transferred to the Army Air Force and served at Kearns Field in Utah, where he not only excelled in baseball but was also named to the Utah all-state team in soccer.
Sturm later served in the Pacific and was with the 313th Bombardment Wing Flyers ball club that played in the Mariana Islands as part of the 20th Air Force Tour. Managed by Lew Riggs, the team lineup included Max West, Walt Judnich and Stan Goletz.
Sturm never made it back to the majors after his military service although he remained with the organization. He played for Kansas City in 1946. In 1947, he was player-manager with the Ventura Yankees in the California League and held the same position with the Joplin Miners of the Western Association in 1948 and 1949.
In 1949, Sturm got a call from Mickey Mantle's father, asking that he give his son a tryout. Sturm obliged and persuaded Yankees officials to take a look, leading to Mantle signing with the team.
Johnny Sturm died at home in St Louis, Missouri, of congestive heart failure on October 8, 2004. He was 88.