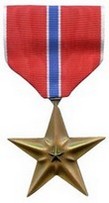 Steve Souchock
Date and Place of Birth: March 3, 1919 Yatesboro, Pennsylvania
Died: July 28, 2002 Westland, Michigan
Baseball Experience: Major League
Position: First Base
Rank: First Sergeant
Military Unit: Company B, 691st Tank Destroyer Battalion 87th Infantry Division US Army
Area Served: European Theater of Operations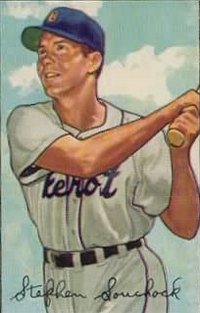 Stephen "Steve" Souchock was born on March 3, 1919 in Yatesboro, Pennsylvania. He was working on the assembly line at the Ford factory and playing semi-pro football for the Dearborn Club in 1938. But it was his baseball playing that was attracting the most attention. He was scouted by New York Yankees' scout Bill Skiff, and signed by the club in June 1939. He played at Greenburg in the Class D Penn State Association that year, finishing the season with the Yankees' farm team at Easton.
In 1940 he was with Akron where he hit 25 home runs and by 1941 he had advanced to Norfolk of the Class B Piedmont League in 1941, and was playing Class A baseball with Binghamton of Eastern League in 1942. That year, Souchock was the Eastern League MVP and won league batting title with a .315 average.
The Yankees' were looking at Souchock as being a possible replacement for Buddy Hassett at first base in 1943, but he entered military service in January of that year. He trained at Camp Lexington, Louisiana during 1943 and 1944, playing just 15 games for the camp team before being sent overseas to Europe with Company B of the 691st Tank Destroyer Battalion. He spent 16 months in France, Luxembourg, Belgium and Germany.
First Sergeant Souchock earned a Bronze Star in Europe as commander of the five-man crew in an M36 tank destroyer, knocking out a couple of German tanks with their 90mm gun.
He returned home with five battle stars late in 1945. "The war cost me three important years," said Souchock, "as it did many ballplayers."
Souchock was discharged from military service on December 6, 1945, at Indiantown Gap, Pennsylvania. He made his major league debut with the Yankees on May 25. He played 47 games with New York that year and batted .302 with two homeruns.
During an eight-season major league career he also played for the White Sox and Tigers. In 1953, he batted .302 in 89 games with 46 RBIs and 11 home runs. A broken wrist in 1954 ended his effectiveness.
Steve Souchock passed away on July 28, 2002 in Plantation, Florida. He was 83 years old.
Created June 10, 2007. Updated September 30, 2008.
Copyright © 2008 Gary Bedingfield (Baseball in Wartime). All Rights Reserved.