Duke Snider
Date and Place of Birth: September 19, 1926 Los Angeles, California
Died: February 27, 2011 Escondido, CaliforniaCalifornia
Baseball Experience: Major League
Position: Outfield
Rank: Fireman, Third Class
Military Unit: US Navy
Area Served: Pacific Theater of Operations
Our hero and pride and joy, Mr Duke Snider, just reached his 17th birthday and therefore will have a pretty good athletic future before the war guides his destiny.
Long Beach Independent, December 5, 1943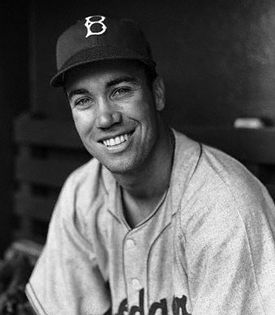 Edwin D "Duke" Snider was born on September 19, 1926, in Los Angeles, California. "My Dad started to call me Duke when I was just five years old," he told The Sporting News on July 27, 1949. "But he never did tell me why. I guess it was just one of those things that stick."
Snider was a gifted all-around athlete. At Enterprise Junior High School, which he entered in 1937, he was a pitcher on the softball team and helped them win the league championship three straight years. The team failed to win when he was in eleventh grade, however. Three of the teams best hitters were Japanese boys and when the war started they were sent to internment camps in the Midwest.
In the fall of 1942 he entered Compton High School and played tailback on the football team. The following spring he pitched a 6-0 no-hitter against Beverly Hills in his initial prep league appearance, and led the Compton Tarbabes to a second place finish in the Bay League and runner-up honors in the Pasadena Southern California baseball tournament, batting .411.
In June 1943, Snider's baseball coach at Compton, Bill Schleibaum, wrote to Branch Rickey of the Brooklyn Dodgers informing him of the baseball talent under his supervision. "During the past ten years, I have been directly connected with coaching," Schleibaum wrote, "and it is my belief that Duke Snider is one of the finest baseball prospects that I have ever seen."
The Dodgers were hot on his tail and while playing summer baseball with the Montebello Merchants, he was invited to a tryout camp at Long Beach in September by Brooklyn scout Tom Downey. The Dodgers were keen to sign the youngster but had to wait until his graduation the following February. "Scouts from the Cardinals and Reds also had talked to me," Snider told The Sporting News on November 19, 1952, "and I didn't make up my mind until Downey came to my house a few days after I graduated."
Snider accompanied the Dodgers to their Bear Mountain training camp in New York. "During our stay at Bear Mountain we played the Army varsity team a couple of times," he recalled. "I replaced Dixie Walker in the fourth inning one day and hit a homer over Glenn Davis' head."
Snider was 17 years old when he reported to the Montreal Royals of the International League in April 1944. He made just a couple of appearances with the Royals and played the remainder of the season with the Newport News Dodgers in the Piedmont League. Snider got off to a great start at Newport and was hitting .342 in his first 19 games. He was later hit on the elbow by a pitched ball and finished the season with a .295, which was still fourth best in the league.
He returned home to California after the season, turned 18 on September 19, and reported to the pre-induction center in the Watts section of Los Angeles for his military physical on October 19.
"They checked us just enough to make sure we were warm and upright," he explained in his autobiography The Duke of Flatbush, "and a guy handed me some papers I didn't want to know about and screamed 'NAVY!' in my face at the top of his lungs. I was headed for he high seas. I wondered why they took me if they thought I was deaf."
Snider served as a fireman, third class on the submarine tender USS Sperry at Guam. Snider used to win bets against other sailors and servicemen by throwing a baseball the length of submarines that arrived at Guam, that's about 300 feet. "I'd throw the ball the length of their sub, my crewmates would win $300 or so, and I'd pick up my guarantee - $50," he recalls.
"We played lots of baseball and basketball on Guam. Pee Wee Reese was stationed there, too, but I never bumped into him." Snider moonlighted for the 2nd Marine Division team while on Guam as well as playing for the USS Sperry team.
In between playing baseball, Snider's main duty on the USS Sperry was dishwashing detail. "There was a porthole behind the sink and any time we came across a chipped glass or dish that wouldn't come clean in less than a second we fired the sucker into the Pacific Ocean."
Snider felt he had a very comfortable and safe war while his father - also serving with the Navy - was involved in many of the island invasions in the Pacific. "There was one close call when it looked as if I was going to find myself in combat after all," he explains in The Duke of Flatbush. "I was on watch duty on the number one 5-inch gun when we sighted an unidentified shop ahead. The command came down from the bridge to load the gun with a star shell that would be fired if the ship did not respond to our signal requesting identification.
"No World Series moment ever scared me as much. I was no authority on loading or firing shells. All I had been told in our drills was that you press this lever, a shell comes up, you put it in and press another lever, and the shell goes 'Boom!' I pressed the first lever, the shell came up, and I put it into the loading chamber. I was actually shaking while waiting for the command to fire. Two ships might start firing at each other in the middle of the Pacific Ocean as a small part of World War II, and I was going to be the one to start the firing.
"Seconds before the command to fire would have come, the other ship identified itself as friendly. I needed an immediate change of underwear."
Snider was later stationed at Long Beach Army Air Base in California, and while playing for the base team Babe Herman offered him $13,000 to sign with the Pirates, but Snider had his Brooklyn commitment to fulfill.
After 19 months of military service Snider returned to the Dodgers' organization in June 1946 and played for the Fort Worth Cats of the Texas League. He played 68 games and got off to a slow start but made Branch Rickey sit up and take notice when he hit a home run that cleared the clock in center field at Fort Worth, 430 feet from home plate. Snider began 1947 with Brooklyn but was sent to the St Paul Saints of the American Association on July 4, where he batted .316 with 12 home runs in 66 games and got a late-season recall to Brooklyn. He started 1948 with Montreal and after batting .327 with 17 home runs he was called up to Brooklyn mid-season, appearing in 53 games and batting .244.
The following season The Duke of Flatbush was in the starting line-up for good. He hit .292 that year with 23 home runs, raising that figure to 31 in 1950 along with 107 RBIs.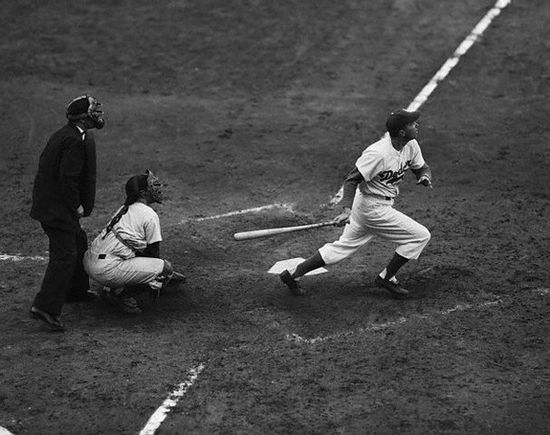 The fleet-footed, left-handed swinging power-hitter patrolled centerfield for the Dodgers for the next 12 seasons. In an 18-year major league career that ended in 1964, Snider batted .295 with 407 home runs and 1,333 RBIs in 2,143 games, was an eight-time all-star and appeared in six World Series.
Duke Snider scouted for the Dodgers and Padres and managed in the minor leagues before becoming a popular play-by-play announcer for the Montreal Expos from 1973 to 1986. He was inducted into the Baseball Hall of Fame in 1980.
Duke Snider, who passed away on February 27, 2011 at the Valle Vista Convalescent Hospital in Escondido, California, lived in Fallbrook, where he continued to root for the Dodgers.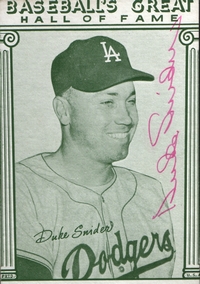 I had the pleasure of meeting Duke Snider and his wife Beverly, in London in 1980. I was 17 years old at the time, playing baseball with one of Britain's most successful baseball teams, and had written to Duke asking him for hitting tips. A couple of months later the phone rang at our house and my mother answered. She said, "Gary, somebody named Duke Snider is on the phone for you." Not for one minute did I believe her. It had to be one of my friends messing around.
"Hello, this is Duke Snider, is that Gary?" said the voice at the other end when I picked up the phone. I couldn't believe it. It really was Duke Snider. He and Beverly were in London on vacation and wanted to meet with me to talk about baseball and hitting techniques. I jumped at the opportunity and met with them the following day. Beverly and Duke were wonderful. They bought me lunch and Duke talked about hitting and his days with the Dodgers. He also signed a photo for me, although the only pen available was his wife's pink Sharpie!
At the end of our meeting, Duke said that if I could ever get over to Montreal he would arrange a trial for me with the Expos. I made it to the States the following year (visiting New Hampshire, Connecticut, New York and Massachusetts, where I met George Brett, Hal McRae and Ron Luciano) but I never did make it to Canada. Thanks, Duke, for taking time out of your vacation to indulge this British baseball enthusiast.
(Gary Bedingfield)
Some of the above information was obtained from Snider's autobiography - The Duke of Flatbush - written with Bill Gilbert.
Created May 18, 2007. Updated February 27, 2011.
Copyright © 2011 Gary Bedingfield (Baseball in Wartime). All Rights Reserved.