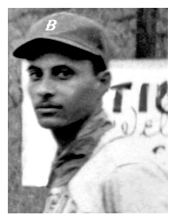 Hubert V "Bert" Simmons was born on May 19, 1924 in Tarboro, North Carolina. He entered service with the Army on April 21, 1943 at Fort Bragg, North Carolina. After being discharged at the end of the war he earned a degree in Business Administration from North Carolina A&T College, in Greensboro.

An outstanding ballplayer in college, Simmons signed with the Baltimore Elite Giants of the Negro Leagues in 1950. After retiring from baseball in 1952, he became a teacher in the Baltimore City School System for 30 years and retired in 1984. For more than 40 years, he coached baseball at the little league, high school and college levels.

After his retirement, Simmons opened a small retail store, Simmons, Inc, which sold customized clothing and uniforms for teams, churches, schools and fraternal organizations.

Bert Simmons was inducted in the North Carolina A&T State University Sports Hall of Fame in 1978.

He was "drafted" by the Baltimore Orioles in the Negro Leagues Player Draft, held prior to the Major League draft at Disney's Wide World of Sports Complex in Lake Buena Vista, Florida on June 5, 2008. Each Major League club drafted a surviving former Negro Leagues player, who represented every player who did not have the opportunity to play baseball in the major leagues.