Johnny Sain
Date and Place of Birth: September 25, 1917 Havana, Arkansas
Died: November 7, 2006 Downers Grove, Illinois
Baseball Experience: Major League
Position: Pitcher
Rank: Unknown
Military Unit: US Navy
Area Served: United States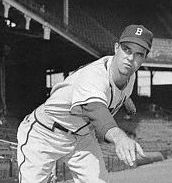 John F "Johnny" Sain was born on September 25, 1917 in
Havana, Arkansas
. He first played professional baseball in 1936 with Osceola in the Northeast Arkansas League following a trial with Doc Prothro of Little Rock. Sain gave up a home run to the first man he faced but went on to win that game, 3 to 2, and finished the year 5-3 with a 2.72 ERA.
The following year with Osceola he was 5-8, and then joined Newport in the same league – a Tigers' farm club. Sain was 16-4 in 1938 and 18-10 the following year along with a .315 batting average. However, his career appeared to be stagnant. Sain had been in the same league for four seasons despite having won 44 games against just 25 losses.
In the spring of 1940, Sain was begrudgingly preparing for his fifth campaign in the Northeast Arkansas League when he suddenly found himself a free agent. Baseball commissioner Kenesaw Mountain Landis released 91 players from the Tigers' organization. In the opinion of Landis, these players had been kept in "cold storage" on farm teams from Shreveport to Seattle. One team with which Detroit had a secret deal was Hot Springs in the Cotton States League, which found itself left with only one player after the commissioner's ruling.
Sain found himself without a team and was advised to go and see Larry Gilbert of Nashville in the Southern Association. Gilbert liked what he saw and Sain joined the team for spring training in Sanford, Florida. He went 8-4 with Nashville that year and was 6-12 in 1941 as well as hitting .320 as a part-time outfielder.
In 1942, Sain was invited to spring training by the Boston Braves and the major league team was quick to offer him a contract. He made 40, primarily relief, appearances for the Braves and finished the year with a 4-7 record and 3.90 ERA.
But Sain's baseball was put on hold when he entered military service with the Navy on August 21, 1942. Together with Ted Williams, Johnny Pesky, Joe Coleman and Buddy Gremp, he was learning to be a naval aviator at the Chapel Hill Naval Pre-Flight School based at the University of North Carolina. With so many notable major league players in one location, it was inevitable that Chapel Hill would have a competitive baseball team and the Cloudbusters were among the finest servicemen teams of 1943.
In July 1943, the Cloudbusters played a Red Cross benefit game against Babe Ruth's Yank-Lands team – a combination of Yankee and Indian ballplayers. Sain got to pitch to the Babe when he came in as a pinch hitter and drew a walk.
After Chapel Hill, Sain was assigned to NAAS Waldron Field at Corpus Christi in Texas. One afternoon in 1944, Waldron Field received a tornado warning. All planes were ordered off on a fly-away. Sain went to Dallas, Texas, where he met Doris McBride. He was soon making weekly trips to Dallas and they were married in October 1945.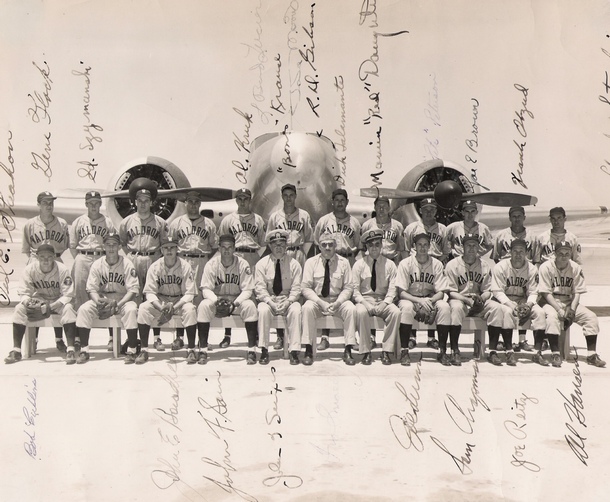 NAS Waldron in 1944 (Johnny Sain is front row, fourth from left)
Between flying duties, Sain had time for baseball and played with the Corpus Christi All-Stars servicemen team. In the summer of 1944, the All-Stars played a series of games against NAS Pensacola – a team that featured Ted Williams, Buddy Gremp and Bob Kennedy. With Sain on the mound, the All-Stars defeated the star-studded Pensacola team, 2 to 1. Sain allowed just four hits – none to Williams, Gremp or Kennedy. The following day, Pat McGlothin – who would pitch briefly for the Dodgers after the war – turned in an iron man performance, pitching 19 innings, and Sain's last-inning lead-off single (he was playing right field) and subsequent run won the game 5-4.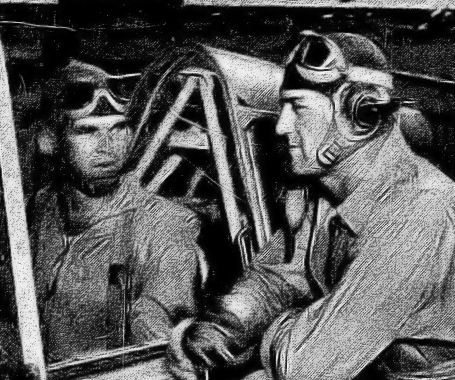 Lt Sam Chapman (right) instructs Johnny Sain in the cockpit of a Navy fighter plane at NAS Corpus Christi

Sain was discharged from military service on November 25, 1945. He firmly believed that his time with the Navy helped his baseball career. "I think learning to fly an airplane helped me as much as anything," he said. "I was 25 years old. Learning to fly helped me to concentrate and re-stimulated my ability to learn."

Sain returned to the Braves in 1946 and was an instant success. Despite having missed three full seasons, he was 20-14 with minuscule 2.21 ERA. What followed was a further three 20-win seasons, all-star selection, World Series appearances and a partnership with Warren Spahn that made up one of baseball's most fabled pitching tandems.

When Sain's playing days ended in July 1955, he had played for the Yankees and Athletics in addition to the Braves and had 139 wins under his belt. Sain became a highly successful pitching coach who helped develop 20-game winners Jim Kaat and Mudcat Grant in Minnesota, Wilbur Wood with the Chicago White Sox, Mickey Lolich and Denny McLain in Detroit and Whitey Ford with the Yankees. "He got pitchers to believe in themselves," said former big league pitcher Jim Bouton.

Johnny Sain passed away on November 7, 2006 at Rest Haven West Nursing Center in Downers Grove, Illinois. He was 89 and is buried at Walker Cemetery in Havana, Arkansas.

Created December 13, 2007. Updated April 18, 2008.

Copyright © 2008 Gary Bedingfield (Baseball in Wartime). All Rights Reserved.