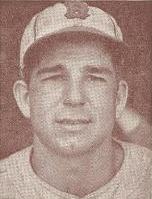 Carvel W "Bama" Rowell was born on January 13, 1916 in Citronelle, Alabama. He attended Louisiana State University on a football scholarship and
began his professional baseball career with Cordele in the Georgia-Florida League in 1937.
The 23-year-old outfielder played 21 games with the Boston Braves in 1939. The following year, moving to second base, he batted .305 in 130 games and batted .267 in 1941.
Rowell was inducted in the Army at Fort McClellan, Alabama, on December 5, 1941, just two days before the Japanese attack on Pearl Harbor. He was sent to Fort McPherson, Georgia, and by January he was serving at Edgeworth Arsenal in Maryland with Company C, 1st Chemical Warfare Service Training Battalion. "This is an interesting game down here and I like it," he told sports writer Hugh Fullerton Jr on January 13, 1942, "But I sort of miss those big steaks."
On June 14, 1942, Rowell played for an Army team selected to face Bob Feller's Navy team in an all-sport's carnival at the Polo Grounds. Ken Silvestri, Steve Peek, Pat Mullin and Hugh Mulcahy were among the Army players who were defeated 4-0 by Feller's team.
In 1943, Rowell was at Camp Sibert in Alabama. The camp team, which included minor leaguers Spencer Smith and Hy Prosk, won the state semi-pro championship with Rowell hitting .411.
In October 1943, Sergeant Rowell joined a new physical education rehabilitation program designed for convalescent soldiers at Camp Grant, Illinois. The program included major leaguers Heinie Mueller and Euel Moore. In June 1944, the soldier-athletes were assigned to Billings Hospital, Indianapolis. Later in the year he was assigned to the 76th Infantry Division's combat training facility at Camp McCoy, Wisconsin, where he played baseball with the 76th Infantry Division team. Teammates included Cecil Travis and Bill Evans. The 76th Infantry Division captured the Wisconsin State semi-pro championship that year.
In 1945, Rowell was sent overseas to Europe. "Besides playing second base on the outfit's team," wrote The Sporting News on January 11, 1945, "Rowell has been handling athletic equipment, movies, radio programs, daily news bulletins and other morale builders."
After Germany surrendered in May 1945, Rowell served as player/manager with 76th Infantry Division Onaways baseball team with Bill Evans, Cecil Travis, Clarence Maddern and Ken Trinkle.
Rowell was honorably discharged in January 1946 after four years. The 30-year-old rejoined the Braves for spring training, he played 95 regular season games and batted .280. Despite hitting a colossal drive at Ebbets Field on May 30, 1946 that broke the famous Bulova clock above the right field scoreboard, Rowell was unable to regain his pre-war skills. In March 1948, he was traded to the Dodgers with Ray Sanders for Eddie Stanky. The Dodgers sent Rowell to Montreal but he made it back to the majors later in the year with the Phillies – it was his last season in the majors. Rowell played for the Minneapolis Millers of the American Association in 1949 and 1950. By 1953 he was player-manager with the Cocoa Indians in the Florida State League and the DeLand Red Hats the following year.
Interestingly, the Bulova Watch Company had promised a watch to anyone who hit the stadium timepiece, but it took 41 years – on Bama Rowell Day in Citronelle - before Rowell was able to collect his batting prize. Rowell's drive was to inspire the scene in Bernard Malamud's 1952 novel The Natural, in which Roy Hobbs hit a home run off the light tower.
Bama Rowell passed away at Citronelle, Alabama on August 16, 1993. He was 77 years old and is buried at the New Home Missionary Baptist Church Cemetery.
Thanks to Melissa McDuffie for correcting some of the information previously included in this biography.
Created February 24, 2007. Update February 12, 2013.
Copyright © 2013 Gary Bedingfield (Baseball in Wartime). All Rights Reserved.