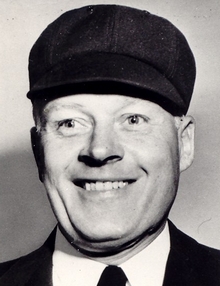 Douglas W "Scotty" Robb was born on September 23, 1906 in Hoffmanville, Maryland. After graduating from high school he went to work on the linotype machine at the Cedar Grove Observer weekly newspaper in New Jersey and pitched some sandlot and semi-pro baseball with the Little Falls Athletic Club and the Singac Red Sox.
A bad arm ended his playing days and in 1936 Robb attended George Barr's School for Baseball Umpires in Hot Springs, Arkansas. He received his first professional assignment in the Class D Cape Breton Colliery League in 1937. The four-team league, at the heart of the hard-nosed coal mining community of Nova Scotia, Canada was a baptism of fire for Robb, but he faithfully learned his trade for three tempestuous seasons.
"It was a pretty rough league," explains Robb's grandson Bruce Walko, "and the local miners didn't like their team losing. The Royal Canadian Mounted Police had to rescue him a few times."
The league disbanded after the 1939 season, and Robb umpired in the Northern College League the following year. He worked games in New Hampshire, Vermont and Maine that summer and returned to New Jersey to gain state-wide recognition handling scholastic and intercollegiate games for Rutgers, Seton Hall, Upsala College and Blair Academy.
In 1943, Robb substituted for an umpire who had been taken ill in the Class AA International League. It was meant to be a brief appointment but he performed well and was quickly offered a contract to remain in the league.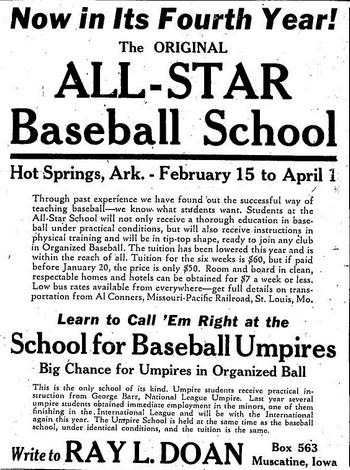 Robb was one step away from the major leagues but World War II was in full swing and despite being 37 and married with two daughters, he enlisted in the Navy in January 1944. "He could've been deferred at the time," recalls Robb's daughter, Peg Roberts, "being a father and of course no youngster at that age. Alta Robb, his wife, was visibly upset after he came home and told her he'd enlisted in the Navy. She could not believe what he'd done."
Printer Second Class Robb spent 19 months in service with the US Navy's Amphibious Forces, 15 of those in England and France as a special courier, frequently flying between the two countries.
While in England, Robb overheard some Canadian troops swapping baseball stories. They were talking about how, some years ago, they had taken pot-shots at a departing umpire's Studebaker because of a call he made that they disagreed with. The Studebaker had two bullet holes in the windshield and the driver had been Scotty Robb. Imagine his surprise at hearing this story clear around the world!
Robb found time while in England to keep his umpiring skills fresh, and one of his few requests from his wife was for her to mail him his rule book. Robb was very aware of the significance of distinguishing an umpire from the ballplayers and because everyone on the ballfields of England were mostly wearing military fatigues he needed to find an alternative. He found an English woman who had a navy blue coat and she fashioned a jacket out of it for him.
On June 10, 1945, Robb umpired an all-professional game held at Stamford Bridge soccer stadium in London, England. The two teams – the Whites and the Grays – were made up of minor league and major league players including Paul Campbell, Ted Kleinhans and Dan Carnevale.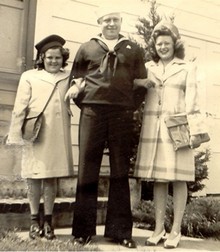 Scotty Robb in May 1944 with his daughters Peg and Louise
Robb left the Navy in November 1945 and returned to his winter printing job in Cedar Grove. He was back in the International League in 1946 and was umpiring at first base for Jackie Robinson's minor league debut with the Montreal Royals against Jersey City. Robinson hit a home run and three singles and drove in four runs.
On August 29, 1947, Robb joined the National League. "Robby's debut in the senior circuit found him a bit jittery," wrote Dan Feitlowitz in The Sporting News on November 19, 1947. "He opened at Philly, working on the bases, and then on his third day he was assigned to work behind the plate for a Giant-Dodger game. Scotty claimed that his knees rattled at a furious pace. But he did not have a single dispute."
In October 1947, a testimonial dinner was given for Robb in Cedar Grove. He was presented with a new car and more than 1,000 well-wishers were in attendance, causing Harold Hoffman, former governor of New Jersey, to quip: "I never knew an umpire could have that many friends."
Robb quickly became a well-respected umpire in the National League, working the 1950 and 1951 all-star games, and was slated to work the 1952 World Series. In a Sporting News article dated February 7, 1951, Robb named Brooklyn's Roy Campanella as the best catcher in the league and said that Red Munger of the St Louis Cardinals had the best fastball and best curve. He named Curt Simmons, Robin Roberts and Don Newcombe as the best pitchers and said Leo Durocher was the "sharpest man" in baseball.
But on April 22, 1952 in Cincinnati, his career turned upside down. In the third inning, Robb, working behind home plate, called Solly Hemus of the Cardinals out on strikes. Hemus protested and threw his bat toward the first-base grandstand. Robb ejected him from the game and manager, Eddie Stanky, rushed from the dugout protesting furiously. There are varying accounts of what happened next. Stanky claimed that Robb shoved him, while Robb insisted that he told Stanky to go away and when he reached across for his mask - which was under his arm - Stanky went down. "I don't think he would have actually pushed anyone," says Bruce Walko. "It was his sixth year in the major leagues and he had International League and the rough and tough Cape Breton league behind him."
National League president Warren Giles publicly reprimanded Robb a few days later. "For pushing manager Stanky, umpire Robb has been disciplined and fined an amount which, in my judgement, is commensurate with the act," Giles declared.
Robb's reaction to the fine – which was $100 – was to write a check for the amount, resign from baseball and return to his printing job in Cedar Grove.
Two days later he was offered a job by American League president Will Harridge. "We needed an umpire and we considered Robb a good one," Harridge told the Associated Press on May 8, 1952.
"I'm happy to be back in baseball," said Robb in response. "You can judge how happy I am when I say that when Mr Harridge approached me with an offer of the American League umpiring job, I was so choked up I couldn't talk for a minute or two."
Robb became one of the few umpires to work in both leagues and was back in 1953. But on June 28 - despite being only 46, an age when umpires are coming into their prime - he retired from baseball to devote his time to his printing business.
Bruce Walko is extremely proud of his grandfather's contributions to baseball. "The only way you can tell if the umpire did a good job is that no one noticed him. They do their job quietly and don't get much recognition, but baseball wouldn't be the same without them."
Scotty Robb passed away at Mountainside Hospital in Montclair, New Jersey on April 10, 1969. He was 62 years old.
Thanks to Scotty Robb's grandson, Bruce Walko, his daughters Peg Roberts and Louise Walko and his widow Alta Robb, who celebrated her 99th birthday on August 9, 2007.
Created August 8, 2007. Updated August 14, 2007.
Copyright © 2007 Gary Bedingfield (Baseball in Wartime). All Rights Reserved.