Don Richardson
Date and Place of Birth: 1917 Sears, Michigan
Died: 1996 Bay Pines VA Hospital, Florida
Baseball Experience: College
Military Service: 45th Infantry Division Div Arty, Field Operations Intelligence, Forward Observer; 5th Army CIC; Special Services
Area Served: European, Mediterranean and Pacific Theater of Operations
Donald W "Doc"
Richardson
played baseball with his brother Dean "Boney"
Richardson
and the Bowersox boys in Sears, Michigan. Dean was drafted as a left-handed pitcher by the Cleveland Indians - the brothers played for Evart High School and sandlot ball at Strawberry Lake.
Graduating from high school in 1935, Don was cutting stencils in a loft full of ladies in Flint, Michigan - Fisher Body - when Moe Berg came recruiting (see entry). Dad played for the Texas Land and Oil Company (probably the nickname of an Army Special Services team) after "a little light infantry training at Camp Meade."
The team played in Central and South America, Tokyo, and Yokohama. The catchers platooned (Morris Berg played on Army bases, Win Scott on Navy Bases). Mo took Bell & Howell 8mm footage of Tokyo Bay from the fourth floor roof of a hospital while Win and Don played. These films were later used for the Doolitle raid. Don went on to work as a clerk/typist for the Company in Madrid, Spain for Colonel William McFadden. Don could play baseball but couldn't type. After tapping the Wehrmacht cable in Madrid and compiling tactics of German 88mm artillery, Stukas, and Panzers he spent two weeks having toenails pulled by the Gestapo. Donald Richardson was exchanged for a single prisoner in December, 1938.
Volunteering for the Army in 1940, Don went to Fort Knox, OCS, Fort Sill, Artillery School, Fort Benning, Ranger training, and then Panama. The Special Observer Group had trained at Quantico, Virginia in 1941, Don came ashore ("It was hard to catch up to Patton in plain clothes.") from the HMS Seraph with Generals Mark Clark and Lyman Lemnitzer. The generals almost drowned in the surf returning to the sub in rubber rafts.
Don was General Eisenhower's "eyes and ears" in OSS. He made amphibious assaults in Sicily, Salerno and Anzio with the 45th Infantry in support of the 36th.
After returning to Fort Meade from Anzio with German prisoners, Don is seen at Yalta, Teheran, Cairo, and latter Potsdam.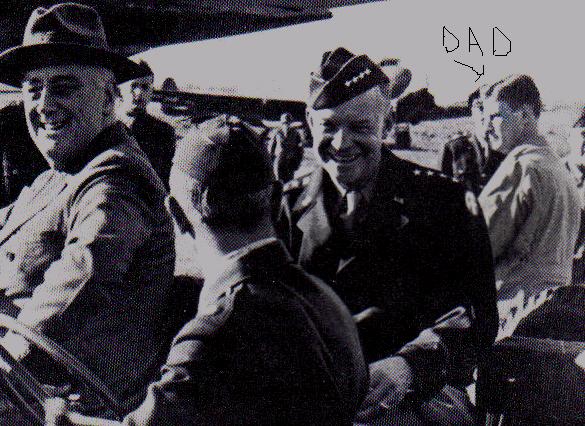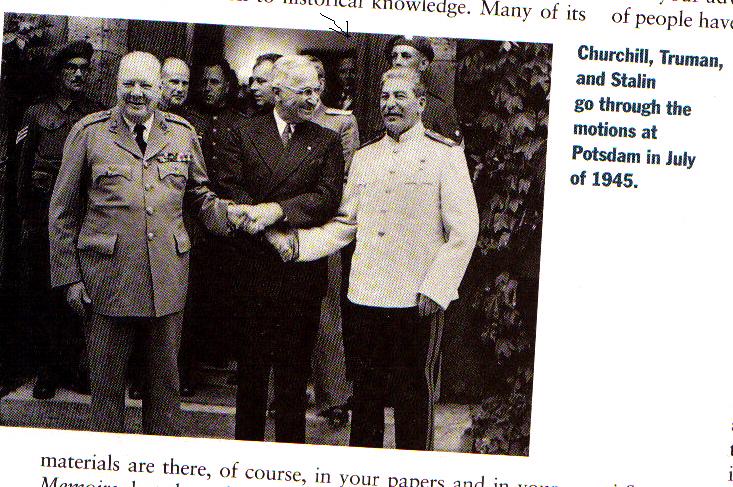 After Colonel Boris Pash, Morris Berg, Donald Richardson and 23 counterintelligence agents captured Werner Heisenberg and Otto Hahn and 136 pounds of weapons grade uranium at the Berlin Post Office, the atomic scientists were sent to London on a DC-4 (similar to the plane above which transported the President to Casablanca, Yalta, Teheran). Don came back on a B-29 to Wendover Air Base in Utah with the uranium. He then joined the composite bomb group as a security officer flying out of Batista Air Base in Cuba to Howard Field in Panama. They "practiced dropping pumpkins" before Don came with the second bomb to Tinian. He flew with General Sweeney over Hiroshima as an instrument plane, then Nagasaki in Bock's Car.
In fall, 1945, his mother met him at the train station, saying, "it's been decided, you'll go to Michigan State." Joining Sigma Xi and the Spartan baseball team, Donald Richardson played college ball at first base with Robin Roberts, a left-handed pitcher, and Jack Breslin, probably at short or second base. He married Phyllis Jean Rowe, married, moved to Wayne State University, completing his law degree.
Don served in Korea, 1951-1952 and when Ike was elected in 1952, he reported to Lemnitzer, Dulles, Nixon at the Executive Bldg. Don trained the amphibious force for the Bay of Pigs in Louisiana and ran an airbase in Guatemala with B-26's that transited Davis-Montham in Tucson painted "Mid Mountain Air", swapping the markings for those of the Cuban Air Force on arrival in Nicaragua/Guatemala.
With civilian jobs as lobbyist, Michigan State Tuberculosis Association, Highway Department, Abrams Aircraft, and others he retired from Army Reserve in 1973 when the backup catcher, Win Scott shot himself in the sternum with "his own 45" as Mexico City Station Chief.
The old Scottish-American first baseman said before he died, "it would have been better to die in battle with my men." On his Veterans' home wall were letters from General John Shalikashvili, then chairman of the Joint Chiefs of Staff (Bosnia) and General Sweeney, thanking him for his service.
Special thanks to John Richardson, MD, for this biography of his father.
Added September 21, 2006.
Copyright © 2007 Gary Bedingfield (Baseball in Wartime). All Rights Reserved.