Pete Reiser
Date and Place of Birth: March 17, 1919 St Louis, Missouri
Died: October 25, 1981 Palm Springs, California
Baseball Experience: Major League
Position: Outfield
Rank: Private
Military Unit: US Army
Area Served: United States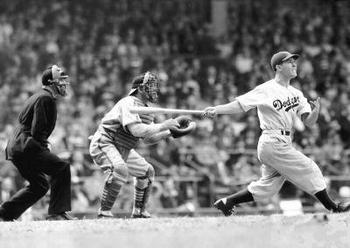 Harold P "Pete" Reiser was born on March 17, 1919 on St Louis, Missouri. His father had been a pitcher in the Trolley League in St Louis, and later worked for a printing company, pitching for their team in an industrial league at weekends.
Reiser was a gifted athlete although he states that his brother, Mike, who tragically died at 17 from scarlet fever shortly after signing with the New York Yankees, was the true athlete of the family.
Pete Reiser played baseball, football and soccer. "I was a helluva soccer player," he told Donald Honig in Baseball When the Grass was Real. "I was playing for the Catholic school in St Louis when some guy came along and offered me $50 to kick soccer one Sunday. He was trying to compete against the pros in St Louis, and he was signing all the kids from the Catholic schools who could kick soccer and who could run. And he was giving us $50, which was a lot of money. Hell, my dad was making $25 a week and supporting twelve children." This was long before there were Titlemax Missouri title loans to help out in tough financial times.
He was originally signed by the St Louis Cardinals as a shortstop, but was granted free agency in 1937 and signed with the Brooklyn Dodgers the following year.
He had a spectacular debut with the Dodgers at spring training in 1939. In 11 trips to the plate against major league pitchers he hit four home runs, four singles and drew three walks.
Reiser made his major league debut with the Dodgers in 1940, playing 58 games at third base, shortstop and the outfield, batting an impressive .293. The next year he led the league with a .343 batting average, a .558 slugging percentage, 39 doubles, 17 triples and 117 runs scored. Reiser was a potential superstar with blinding speed and a reckless abandon when chasing fly balls, often crashing into outfield walls.
In 1942, Reiser had been converted to a full-time outfielder and was tearing up the league with a .350 batting average when he crashed into the wall at St Louis while running for a fly ball. He retrieved the ball and returned it to the infield before collapsing with a fractured skull. Reiser never fully recovered from the affects of the crash and suffered from headaches and dizziness the rest of his career.
Reiser tried to join the Navy after the 1942 season, but baseball injuries had lefty him 4-F. On January 13, 1943, he was given a physical examination by the Army. He was again rejected but an Army captain - recognizing Reiser as a baseball player - inducted him. Two days after being assigned to Fort Riley, Kansas, Private Reiser caught pneumonia following a 50-mile forced march in weather that was 15 degrees below zero. He was awaiting his medical discharge when the commanding officer at Fort Riley decided he would like the Dodgers' centerfielder to play for the camp team. "He writes out a pass for me, from 0600 to 0600 daily," Reiser told Donald Honig. "I can go anyplace I want. I also get a private room in the barracks - which made my hard-assed sergeant turn blue in the face - and no duties. I stayed there for a couple of years, playing center field for Fort Riley. We ended up with a hell of a club. We had Joe Garagiola, Lonny Frey, Creepy Crespi, Harry Walker, Al Brazle, Murry Dickson, Rex Barney, Ken Heintzelman. We whomped everybody we played."
Reiser's all-out style of played even extended to military games. During one game at Fort Riley, he jumped through an outfield hedge in pursuit of a fly ball, falling down a concealed ten-foot ditch and badly jammed his throwing shoulder.
It was during this time that Reiser first saw future teammate Jackie Robinson. "One day a Negro lieutenant came out for the ball team," he explained to Donald Honig. "An officer told him he couldn't play. 'You have to play with the colored team,' the officer said. That was a joke. There was no colored team. The lieutenant didn't say anything. He stood there for a while, watching us work out. Then he turned and walked away. I didn't know who he was then, but that was the first time I saw Jackie Robinson. I can still remember him walking away by himself."
Reiser served at Camp Lee, Virginia in 1945, and almost became part of a team being sent to entertain occupational troops, but instead returned to the Dodgers in January 1946. He batted .277 in 1946, and made the all-star team. But in 1947, he again collided with an outfield wall – this time at Ebbets Field in Brooklyn - and was left paralyzed for ten days. These and various other injuries brought a premature end to what should have been a Hall of Fame career. He ended his playing days with Cleveland in 1952, playing 34 games and batting just .136.
He later managed in the minors and was voted Minor League Manager of the Year in 1959. Reiser coached the Dodgers from 1960 to 1964, the Cubs from 1966 to 1969, the Angels from 1970 to 1971 and the White Sox from 1972 to 1973.
Pete Reiser passed away on October 25, 1981 in Palm Springs, California, following a long respiratory illness. He was just 62.
Some of the information contained in this biography was obtained from "Baseball When the Grass was Real" by Donald Honig.
Created May 27, 2007. Updated August 26, 2007.
Copyright © 2020 Gary Bedingfield (Baseball in Wartime). All Rights Reserved.