Pee Wee Reese
Date and Place of Birth: July 23, 1918 Ekron, Kentucky
Died: August 14, 1999 Louisville, Kentucky
Baseball Experience: Major League
Position: Shortstop
Rank: Chief Petty Officer
Military Unit: US Navy
Area Served: Pacific Theater of Operations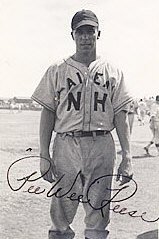 Harold H "Pee Wee" Reese was born in Ekron, Kentucky on July 23, 1918. He was signed by the Pittsburgh Pirates in 1938 and played with the Louisville Colonels in the American Association. When the Pirates' minor league agreement with the Colonels came to an end afetr the 1938 season, Reese was obtained by the Boston Red Sox, who sold him to the Brooklyn Dodgers for $35,000 and four players.
Reese made his debut with Brooklyn on April 23, 1940. He played 84 games his rookie season and batted .272, sharing the shortstop position with player-manager Leo Durocher.
By 1942, the 24 year-old was a National League all-star but that was to be his last season in the major leagues for the duration of the war as he joined the Navy. Reese was stationed at Norfolk Naval Air Station in 1943, where he regularly played baseball. In 1944, he was sent to Hawaii and played for the Aiea Hospital team.
He joined the Third Fleet team for the US Navy's Pacific tour and was then assigned to Guam where he was shortstop and assistant coach for the 3rd Marine Division baseball team.
Back with the Dodgers in 1946, Reese was named to the National League all-star team for nine consecutive seasons. Reese was instrumental in showing support for Jackie Robinson when he broke the color barrier in 1947. As Robinson was being heckled by fans in Cincinnati during the Dodgers' first road trip, Reese went over to Robinson and put his arm around his shoulder in a gesture of inclusion and support.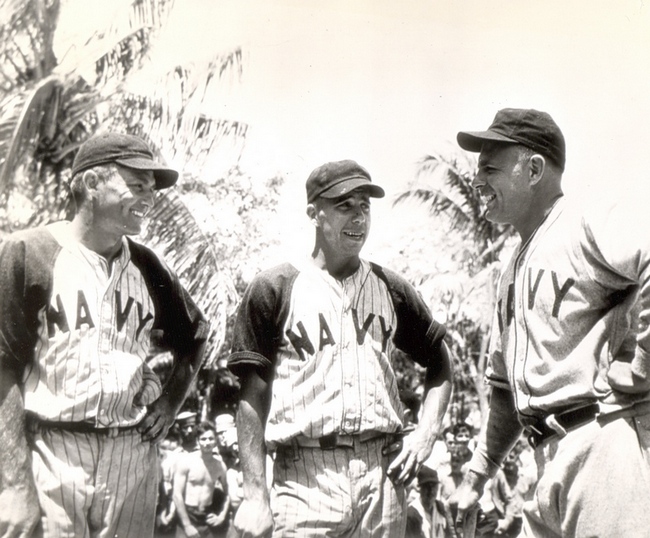 Pee Wee Reese (center) with Pink May and Johnny Vander Meer in the Pacific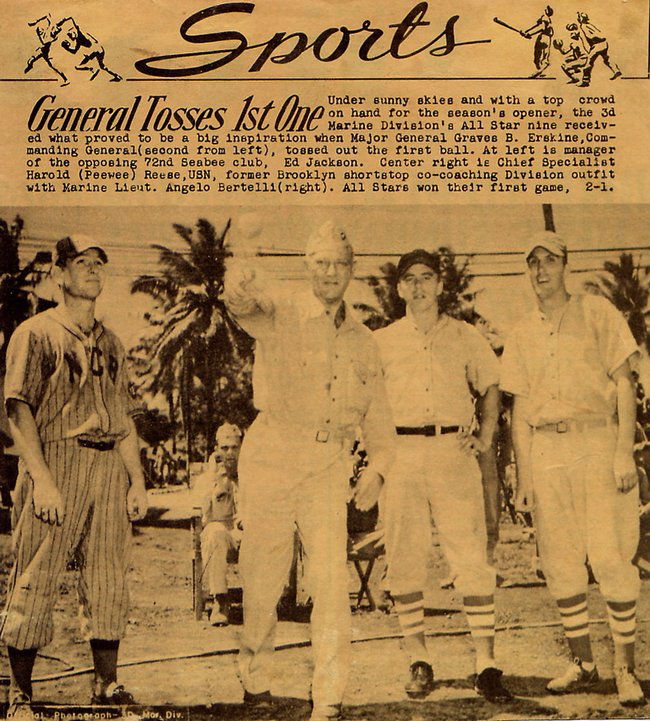 Pee Wee looks on (third from left) as Major General Graves B. Erskine throws out the first ball at the season opener for the Third Marine Division (courtsey: Jim Morris' WWII Scrapbook)
"I thought it was a very supportive gesture, and very instinctive on Pee Wee's part," Mrs Jackie Robinson later recalled. "You shouldn't forget that Pee Wee was the captain, and he led the way. When Jack first entered [the Major Leagues], there were still a lot of people who didn't know if it was the right thing to do. Pee Wee used all of his leadership skills and sensitivity to bring the team together ... Pee Wee was more than a friend. Pee Wee was a good man."
After his playing career ended in 1958, Reese worked as a broadcaster with CBS, NBC and the Cincinnati Reds. He later became director of the college and professional baseball staff at Hillerich & Bradsby, maker of Louisville Slugger bats.
Pee Wee Reese was inducted into the Baseball Hall of Fame in 1984. He passed away in Louisville, Kentucky on August 14, 1999, aged 81.
In front of the main entrance into Louisville Slugger Field, home of the Louisville Bats of the International League, stands a statue of Pee Wee Reese.
Thanks to the late Pee Wee Reese for help with his biography.
Created May 13, 2007. Updated January 30, 2009.
Copyright © 2009 Gary Bedingfield (Baseball in Wartime). All Rights Reserved.