Bob Ramazzotti
Date and Place of Birth: January 16, 1917 Elanora, Pennsylvania
Died: February 15, 2000 Altoona, Pennsylvania
Baseball Experience: Major League
Position: Infield
Rank: Staff Sergeant
Military Unit: 71st Infantry Division US Army
Area Served: European Theater of Operations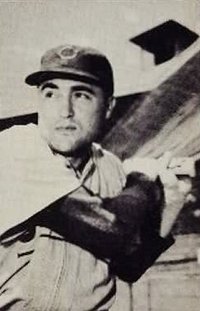 Robert L "Bob" Ramazzotti was born on January 16, 1917 in Elanora, Pennsylvania. He graduated from Altoona High School in 1936 and was signed off the Altoona sandlots by Brooklyn scout Bill Killefer in 1940. The diminutive infielder played with the Johnstown Johnnies of the Penn State Association that year.
In 1941 he was with the Durham Bulls of the Piedmont League and his progress through the Dodgers' farm system would have taken him to Montreal in the International League had it not been halted in March 1942, when he entered military service with the Army. Ramazzotti served with the 71st Infantry Division and was stationed in Europe.
Ramazzotti played for the 71st Infantry Division Red Circlers baseball team after the cease of hostilities in Europe.
The 71st Red Circlers team featured Ewell Blackwell, Ancil Moore, Johnny Wyrostek, Garland Lawing, Ewell Blackwell, Russ Kern, Milt Ticco, Herb Bremer and Bill Ayres. The Red Circlers clinched a five-game Third Army Championship Series in August 1945 against the National League division winners - the 76th Infantry Division Onaways - to move on to the ETO World Series against the OISE All-Stars from France.
In front of crowds of 50,000 at Soldier's Field in Nurnberg, Germany, the Red Circlers won the first game on September 2, 9-2. The Red Circlers were beaten by Negro League star Leon Day in the second game, and lost 2-1 in game three on September 6. In the decisive fifth game the Red Circlers were again beaten 2-1 on a combined effort by Sam Nahem and Bobby Keane.
Ramazzotti joined the Brooklyn Dodgers after military service in 1946. He made his major league debut on April 20 and appeared in 60 games. The 29 year-old rookie batted just .208 while splitting time between third base and second base. However, while replacing the injured Eddie Stanky at second base during one stretch in July, he responded with nine hits in 16 at-bats for a .563 average.
Ramazzotti was farmed out to the St Paul Saints of the American Association for 1947 where he suffered a broken bone in his wrist when he was struck by a pitch from Red hardy of Minneapolis. He was out of the lineup for six weeks and had only been back a month when he was beaned by Otey Clark of Columbus. The near fatal blow caused a triple fracture to his skull and he remained hospitalized for two weeks. In January a blood clot formed and Ramazzotti returned to hospital where a hole was drilled in his skull to eliminate the blood clot and a silver alloy plate was placed in his head.
He was back with St Paul in 1948 and made three more appearances with the Dodgers for the year was out. In May 1949, Ramazzotti was traded to the Chicago Cubs and played 65 games but batted just .179
In 1950 he played 61 games and batted a much better .262, and contributed a .247 average in 73 games the following year.
The 1952 season with the Cubs could have been something special for Ramazzotti. He broke into the starting lineup on opening day as a replacement for the injured Eddie Miksis. By May 19, he had played all 30 games and was batting a sensational .309. But injury was to strike again, this time in the form of a severe right knee problem. Ramazzotti ended the season with 50 appearances and a .284 batting average. On September 6, he underwent an operation at Illinois Masonic Hospital in Chicago for the removal of a torn cartilage in his right knee.
Ramazzotti returned to the Cubs' lineup in 1953 and played 26 games but suffered a broken finger and batted .154. He was released at the end of the season.
Ramazzotti joined the Havana Sugar Kings for 1954, a new entry in the International League, but voluntarily retired in June and went to work for his father-in-law, Samuel G Levy, vice president of the Warren W York Company, an investment securities business in Johnstown, Pennsylvania. But he spent most of his post-baseball working life at SKF Industries, a Swedish ball bearing manufacturer that had a plant in Altoona. He worked there as an inspector, retiring in 1979 after 20 years of service
Bob Ramazzotti passed away on February 15, 2000 at Altoona, Pennsylvania. He was 83 years old.
Created June 7, 2007.
Copyright © 2015 Gary Bedingfield (Baseball in Wartime). All Rights Reserved.