Go on, why not sponsor this page for $5.00 and have your own message appear in this space.


Click here for details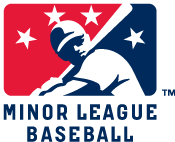 Al Pirtle
Position: Right Field
Born: October 11, 1924 Granite City, Illinois
Died: March 1, 1986 Palatka, Florida
Military Service: 1942 to 1945 USAAF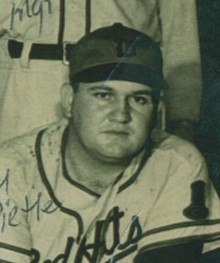 He was one of the most feared hitters in the Florida State League in 1949 and led the league with a whopping .383 batting average. But Al Pirtle never made it to the major leagues, perhaps because of the three years he lost to military service.

Vernon Aldean "Al" Pirtle was born in 1924 and grew up in Granite City, Illinois. His dad was a baseball coach and the game was in his blood. But in April 1943, at the tender age of 18, he was drafted by the military. Private Pirtle served in the Army Air Force and at one time had the opportunity to play alongside Hall of Famer Enos Slaughter. Pirtle would serve in India and Burma as a cook and yet baseball was never far from his mind. On one occasion he traded a pair of boots just to get his hands on a ball glove and be able to play catch.

Baseball remained his first love. He returned home in 1945 and in 1947 his exceptional talent was spotted by John Toncoff - a catcher who had once gone as far as spring training with the Boston Braves and was now managing the Palatka Azaleas in the Florida State League (FSL).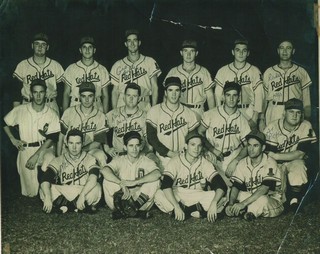 Pirtle was a stocky right fielder who tore up the FSL pitching. He soon earned the nickname "Tree Knocker" for his habit of hitting balls into the trees beyond the Azalea Bowl. Pirtle became a local celebrity, but when the season was over he would return home to Granite City to work in the glucose factory alongside his father.
The following season he was traded for four ball players to the Gainesville G-Men and went on to set a FSL record for most doubles in a season - a record that would stand for ten years.

Pirtle also played with the DeLand Red Hats and in 1950 he was called up to the Atlanta Crackers but chose to return to Palatka to be with his wife and new baby.
"Back then it wasn't all about money," recalled his wife, Helen, recently. She remembered how fans used to pass the hat when a player hit a home run or hold special nights for players and give them the money collected. "You'd sometimes get $100-$200."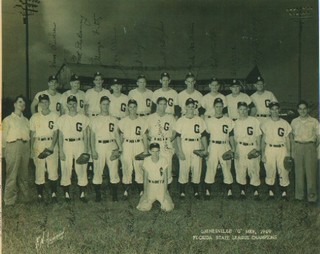 On one occasion Pirtle bought his wife three new dresses from his pay. "Before that everything I wore Mama made when we were growing up," says Helen.
When Pirtle's child reached six he knew it was time to settle down. He and Helen went to work for an oil distributorship and later opened a successful feed store.
In 1983, Al was diagnosed with "Lou Gehrig" disease. The following summer an all-day barbecue was held at the Pirtle home in Palatka where many of his old Florida State League buddies gathered to reminisce about the old days and wish Al the best.
On March 1, 1986, at the age of 61, Al Pirtle, baseball slugger, ex-serviceman, husband and father, passed away peacefully.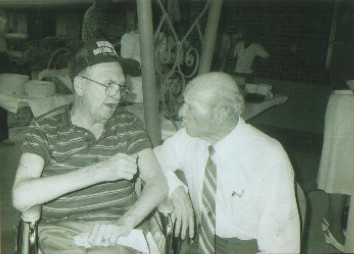 "Uncle Al crossed paths with some of the greats in baseball and had wonderful stories," recalls his niece, Katie Mazzi.


(Thanks to Helen Pirtle and Katie Mazzi for help with this biography.)
Copyright © 2007 Gary Bedingfield (Baseball in Wartime). All Rights Reserved.