Johnny Pesky
Date and Place of Birth: September 27, 1919 Portland, Oregon
Baseball Experience: Major League
Position: Shortstop
Rank: Ensign
Military Unit: US Navy
Area Served: Pacific Theater of Operations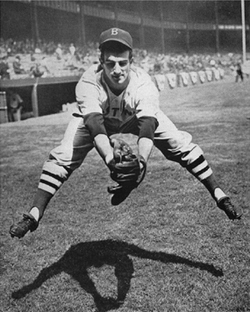 Johnny Pesky was born John M Paveskovich on September 27, 1919 in Portland, Oregon. He was signed by the Boston Red Sox as an amateur free agent in 1940. In 1942, Pesky's rookie season in the majors, he led the American League with 205 hits, but was in military service with the Navy before the year was out.
Pesky, whose father had been an officer in the Austro-Hungarian Navy before World War I, served at Amherst, Massachusetts in 1942. He was later at Chapel Hill, North Carolina, where he played shortstop for the Cloudbusters, and Atlanta Naval Air Station, where he met his wife, Ruth Hickey, who was also serving with the Navy.
On June 13, 1943, Pesky graduated as an ensign from the assistant operations officers' school at Atlanta.
In 1945, Pesky was in Hawaii, where he played shortstop and managed the Honolulu Naval Air Station baseball team. When the season closed in October 1945 he was runner-up Most Valuable Player in the 14th Naval District league.
Pesky later said, "I think that if I didn't have baseball to come back to, I'd have stayed in the Navy because it was clean and I kind of liked the atmosphere."
After three years in military service he returned to the Red Sox to again lead the league in hits for two straight seasons. In ten years in the majors Pesky played over 1200 games and batted .307. He later coached and managed in the minors and majors, managing the Red Sox in 1963 and 1964, and in September 1980.
In his 80s, he was still a spring training instructor with the Red Sox and hit ground balls to the Boston infielders before regular season games.
On his 87th birthday, September 27, 2006, the Red Sox honored Pesky by officially naming the right-field foul pole "Pesky's Pole."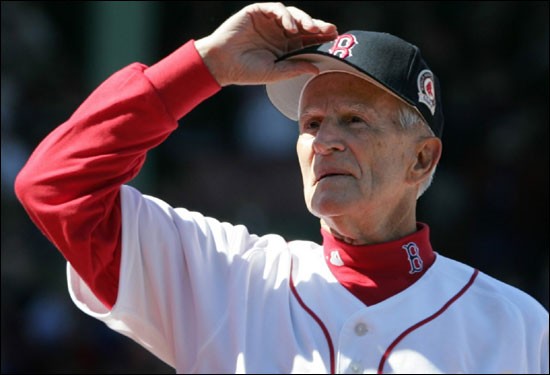 A longtime resident of Boston's North Shore, Pesky is a visible member of the community, making personal appearances for the Red Sox. For years, he has been a commercial spokesman on television and radio for a local supplier of doors and windows.
Johnny Pesky participated in the salute to baseball in World War II entitled Duty, Honor, Country: When Baseball Went to War on November 9 – 11, 2007 at the National WWII Museum in New Orleans.
Created May 27, 2007. Updated July 28, 2007.
Copyright © 2007 Gary Bedingfield (Baseball in Wartime). All Rights Reserved.