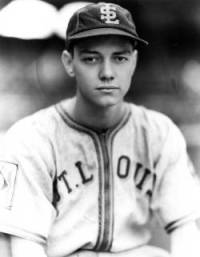 Robert O "Bob" Neighbors was born on November 9, 1917 in Talahina, Oklahoma. When he signed with the Siloam Springs Travelers of the Arkansas-Missouri League in 1936, he had never played baseball – only fast-pitch softball. However, he made the conversion easily and batted .278 in 118 games with 16 home runs and 86 RBIs.
Neighbors produced similar numbers with the Travelers in 1937, and joined Palestine of the East Texas League in 1938, where he hit .301 in 139 games. The young shortstop played for Springfield of the Three-I League in 1939, and his 14 home runs and 80 RBIs in 119 games earned him a late-season call-up to the St Louis Browns. The 21-year-old made his major league debut on September 16, 1939, and appeared in seven games, getting two hits in 11 at-bats.
Neighbors played for the Toledo Mudhens of the American Association in 1940 and was with San Antonio of the Texas League in 1941. Neighbors married his wife, Winifred Wilcox, in January 1941, but tragedy struck that summer Winifred hit by a car and killed. Bob was on the road with the team at the time.
Neighbors entered military service with the Army Air Force at Tulsa, Oklahoma on May 8, 1942. He served with the 22nd Air Transport Training Detachment at Sheppard Field in Wichita Falls, Texas, where he played baseball for the Sheppard Field Mechanics. The Mechanics team was led by Texas A&M star Lieutenant Marland Jeffrey, and featured Dave Short of the White Sox, Ray Poole of the Athletics, Bill Gray of the Hollywood Stars, Ray Murray, who would play for the Indians and Athletics after the war, and Pete Hughes of Spokane in the Western International League.
Neighbors later served at Maxwell Air Base in Montgomery, Alabama, where he met and later married Katherine Burke. He also served in California at Fairfield-Suisan Army Air Base and Hamilton Field, where he also had the opportunity to play ball.
Bob Neighbors didn't return to professional baseball after the war. He chose, instead, to remain in military service although he did manage and play for the Maxwell Air Base team.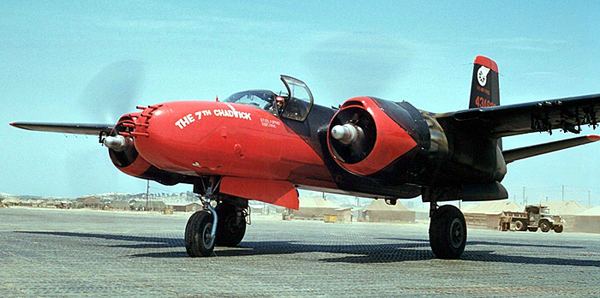 Douglas B-26B Invader "The 7th Chadwick" which Bob Neighbors flew in North Korea
Major Neighbors saw combat duty during the Korean War as a Douglas B-26B Invader pilot with the 13th Bomb Squadron of the 3rd Bomb Group. On August 8, 1952, during a night mission, Neighbors and his crew – First-Lieutenant William Holcom and Staff-Sergeant Grady Weeks – reported they had been hit and were bailing out. There was no further contact and the crew was reported missing in action after failing to return. All hope for Neighbors, Holcom and Weeks was lost after the fighting in Korea ended on July 27, 1953, and prisoners were repatriated.
Created March 4, 2008.