Date and Place of Birth: October 4, 1918 Houston, Texas
Died: July 23, 1996 Houston, Texas
Baseball Experience: Major League
Position: Pitcher
Rank: First Lieutenant
Military Unit: Third Army US Army
Area Served: European Theater of Operations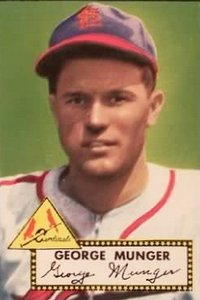 George D "Red" Munger was born on October 4, 1918 in Houston, Texas. The hard-throwing right hander was picked off the local sandlots by the Texas League's Houston Buffs in March 1937, along with outfielder Gilbert Turner. "They were the finest young players in Houston amateur circles last summer," Fred Ankenman, president of the Buffs told The Sporting News on March 18, 1937.
Houston sent the youngster to New Iberia of the Evangeline League where he had an excellent rookie season, and split 1938 between New Iberia and Houston.
Munger pitched for Springfield in 1939, and was with the Sacramento Solons of the Pacific Coast League in 1940 and 1941.
Munger made his major league debut with the St Louis Cardinals on May 1, 1943. He made 39 appearances for the Cardinals that year for a 9-5 record and 3.95 ERA.
Munger got off to an incredible start in 1944. As the all-star game approached he was 11-3 with a diminutive 1.34 ERA.
The 6-foot 2-inch, 25-year-old was selected for the all-star game but at the same time was selected for military service, entering on July 11, 1944. He was initially at Jefferson Barracks in St Louis, before moving to Camp Roberts, California, where he quickly rose to squad leader. After 17 weeks at Camp Roberts, Munger was shipped to Fort Benning, Georgia. On April 14, 1945, he was commissioned a second lieutenant after graduating from Officers Candidate School and served at the base prison camp.
In May 1945, Munger opened the baseball season for the Third Student Training Regiment Rifles at Fort Benning with a three hit, 5 to 0 win, striking out 13. On June 4, he set an Infantry School League record by striking out 16 in a 4-0 victory over the Columbus Foxes. It was his sixth win and fourth shutout of the season, allowing only one earned run in 58 and one-third innings. In September he struck out a further 15 and slammed a 375-foot home run in a 3-0 win over the Academy Regiment Profs. He finished the season with 14 wins and two losses.
In late September 1945, while on leave from Fort Benning, Munger pitched for Finger Furniture in the Houston Post semi-pro tournament, being defeated in the finals by Ellington Field.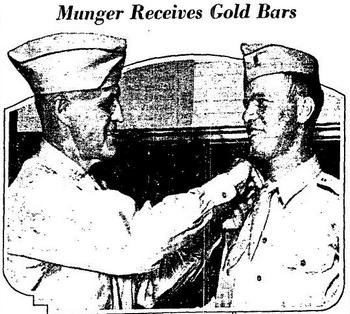 April 14, 1945. Munger receives the gold bars of a second lieutenant at Fort Benning, Georgia., from Colonel William B Yancey, commanding officer of the Third Student Training Regiment.
Towards the end of 1945, Munger was sent overseas to Europe. He was stationed in Germany. "I spent my entire seven months in Germany in Heidelberg," Munger told The Sporting News on September 4, 1946. "I was … in charge of the athletic program of the Third Army. Nearly all the GIs over there are kids between 18 and 20, who never had it so good in their lives.
"We had four leagues of six clubs each, and I played 38 games this summer. But I pitched in only half a dozen. The reason was this: We had no standout ball players. Just high school boys, some sandlotters. It would have been unfair, and certainly no fun for me, to have pitched against that type of hitter. The class of ball which we dished up in those four leagues, which were about on a par, may be appreciated from the fact that I hit .640. There was no real pitching. Just fast stuff, no curves, little pro hurling.
"Had I kept to pitching, there would have been no competition. As it was, my club, Third Army Headquarters, had won 30 straight when I left. It had taken 36 out of 38.
"In addition to the Third Army League, there were the First, Third and Ninth Division loops. We had a split season and our club won both halves. The only other pros in the four circuits were Cal McLish, the Dodger pitcher … and Carl Scheib, hurler for the Athletics, who still is over there with the 60th Infantry Devildogs.
In late July 1946, Munger returned to the United States. His return to the Cardinals was eagerly awaited but after two years away he lacked the stamina and control and seemed to possess in abundance before military service.
He made two appearances to finish out the 1946 season, with a 2-2 won-loss record and 3.33 ERA. He was back in fine form in 1947, winning 16 games (including six shutouts) against just five losses. But that was to be his best season. Munger did manage 15 wins in 1949, but by 1952 it was all over apart from a brief comeback with the Pirates in 1956.
After he retired as a player, Munger worked as a minor league pitching coach and worked as a private investigator with the Pinkerton Detective Agency in Houston during the off-season.
Red Munger passed away in his hometown of Houston on July 23, 1996. He was 77 years old.
Created May 26, 2007.
Copyright © 2008 Gary Bedingfield (Baseball in Wartime). All Rights Reserved.