Russ Meers
Date and Place of Birth: November 28, 1918 Tilton, Illinois
Died: November 16, 1994 Lancaster, Pennsylvania
Baseball Experience: Major League
Position: Pitcher
Rank: Unknown
Military Unit: US Navy
Area Served: Pacific Theater of Operations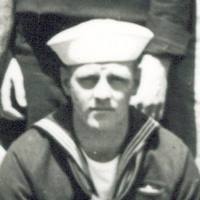 Russell H "Babe" Meers was born in Tilton, Illinois on November 28, 1918. A left-handed strikeout artist who would always be plagued with control problems, Meers began his professional career in 1937.
By 1940, he was with the Nashville Vols of the Southern Association, posting a 6-3 won-loss record as the Vols clinched the league pennant. In 1941 with Nashville he struck out 161 opposing batters to lead the league, although he also walked 167. The year's performance, however, was good enough for the Chicago Cubs to purchase his contract on August 1, 1941. Russ Meers made his major league debut in the Cubs' last game of the season. He put in a solid performance scattering five hits over eight innings and walked no one, but three fielding errors by the Cubs allowed the Cardinals to score two unearned runs in their 3-1 win.
Meers was farmed out to the Milwaukee Brewers of American Association in 1942, but in June 1942 he quit the team to join the Navy. Russ Meers was the first on the Cubs roster to enter military service and 48th in the club's organization to serve.
Meers served at Great Lakes Naval Training Centre in 1942. Under the guidance of manager Mickey Cochrane, he played alongside such major league stars as Johnny Rigney, Joe Grace, Frankie Pytlak and Benny McCoy. In 1942, the Great lakes Blue Jackets played 77 games and won 63 of them.
During 1944 and 1945, Meers was at Norfolk Naval Training Station. On March 30, 1945, he pitched for the Norfolk NTS ball team against the Philadelphia Athletics, hurling the opening six innings and allowing just two hits in the 2-1 win.
Meers spent the latter part of 1945 in Hawaii at Kaneohe Bay Naval Air Station and was discharged from the Navy on October 29, 1945 at Great Lakes. Manager Charlie Grimm was expecting great things of Meers in 1946, but the left-hander had been in military service for over three years and had missed three and a half seasons of organized baseball. Still, he made seven appearances for the Cubs with a 1-2 won-loss record and a 3.18 ERA.
In 1947, Meers pitched in 35 games for the Cubs as a relief pitcher. He had two wins with no losses and an earned run average of 4.48. The Cubs sold Meers to Shreveport of the Texas League in September 1947. He would not see the major leagues again. In June 1948 he was purchased from Shreveport by Buffalo of International League, where he ended his professional career.
Meers worked for the Ford Motor Company for 31 years, retiring in July 1981 as manager of the parts distribution center in Atlanta, Georgia. Living in Kitty Hawk, North Carolina, he was a member of the nearby Duck, North Carolina, United Methodist Church and taught Sunday School in various churches over the years as well as coaching Little League baseball.
In September 1994, Dorothy, his wife of 49 years, passed away. Russ Meers passed away two months later, on November 16, 1994, at Lancaster General Hospital following a brief illness. He was two weeks shy of his 76th birthday.
Created February 4, 2007. Updated April 3, 2008.
Copyright © 2008 Gary Bedingfield (Baseball in Wartime). All Rights Reserved.