Walter McCoy
Date and Place of Birth: February 20, 1924 San Diego, California
Baseball Experience: Negro League and Minor League
Position: Pitcher
Rank: Unknown
Military Unit: US Army
Area Served: United States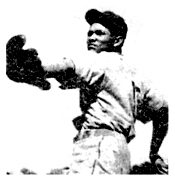 Walter McCoy grew up in San Diego and played for the Chicago American Giants and Kansas City Monarchs of the Negro Leagues. He entered military service in July 1942 and earned an MVP award as a pitcher with an Army team.

Following his discharge in January 1945 he returned to the American Giants. He entered organized baseball in 1949, playing for Visalia of the California League. In 1950 he became the first black player to play for Sacramento of the Pacific Coast League. He later played for Tijuana of the Southwest International League and ended his professional playing days with Nuevo Laredo of the Mexican League in 1955.

McCoy later worked as a building contractor and coached his grandson's Little League team.

He was "drafted" by the San Diego Padres in the Negro Leagues Player Draft, held prior to the Major League draft at Disney's Wide World of Sports Complex in Lake Buena Vista, Florida on June 5, 2008. Each Major League club drafted a surviving former Negro Leagues player, who represented every player who did not have the opportunity to play baseball in the major leagues.
Created June 16, 2008.
Copyright © 2008 Gary Bedingfield (Baseball in Wartime). All Rights Reserved.