Date and Place of Birth: September 22, 1920 San Bernardino, California
Died: January 11, 2000 Long Beach, California
Baseball Experience: Major League
Position: Pitcher
Rank: Unknown
Military Unit: US Navy
Area Served: Pacific Theater of Operations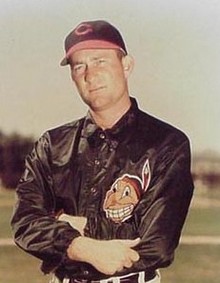 Robert G "Bob" Lemon was born in San Bernardino, California on September 22, 1920. He was signed by the Cleveland Indians as a third baseman in 1938, and played in their minor league system until entering military service with the Navy in 1943.
Lemon served at Los Alamitos Naval Air Station in California for the first two years of his service. In 1945, he was sent to Aiea Barracks in Hawaii, and it was there that he made the conversion from infielder to pitcher.
Lemon joined the Indians, mainly in a relief role in 1946. By 1948, he was a starting pitcher with a 20-win season under his belt and teamed with Bob Feller, Early Wynn and Mike Garcia to form one of the starting rotations in baseball history.
By the time his major league career came to and end in 1958, Lemon had seven 20-win seasons and two World Series victories. He was an all-star for seven straight years from 1948 to 1954.
Lemon played one season for the San Diego Padres in the Pacific Coast league after his major league career ended. He later managed the Royals, White Sox and Yankees and also served as a scout with the Yankees' organization.
Bob Lemon was inducted into the Baseball Hall of Fame in 1976. He passed away on January 11, 2000 in Long Beach, California, aged 79.
Created May 13, 2007.
Copyright © 2008 Gary Bedingfield (Baseball in Wartime). All Rights Reserved.

Baseball in Wartime Store

Visit the Baseball in Wartime Store for
t-shirts, sweatshirts and more...

click here