Walt Lanfranconi
Date and Place of Birth: November 9, 1916 Barre, Vermont
Died: August 18, 1986 Barre, Vermont
Baseball Experience: Major League
Position: Pitcher
Rank: Corporal
Military Unit: 12th Armored Division US Army
Area Served: European Theater of Operations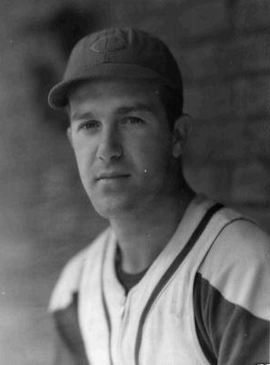 Walter O "Walt" Lanfranconi was born in Barre, Vermont on November 9, 1916. He was signed by the Chicago Cubs scout Clyde Engle in 1937 and joined the Smiths Falls Beavers of Canadian-American League that season.
Lanfranconi was with the Toronto Maple Leafs in 1938 and remained with the team until 1941. On September 8, 1941, the Cubs purchased Lanfranconi from the Maple Leafs. He made his major league debut in relief against the Philadelphia Phillies at Wrigley Field on September 12, 1941. Twelve days later he made his first start and was beaten, 2-0, by the Cincinnati Reds.
In April 1942, the right-hander was purchased from the Cubs by the pennant-contending Milwaukee Brewers of the American Association. It was to be his last pre-war professional season – on October 8, 1942 Walt Lanfranconi enlisted in the US Army. Corporal Lanfranconi served with the 12th Armored Division and was overseas with the unit in Europe. In May 1945, following the German surrender Corporal Lanfranconi, along with Sergeant Eddie Yount, conducted a highly successful four-day athletic school. Each of the four days of the school was divided into a lecture period in the morning and a period of practical work in teaching and playing games in the afternoon. Athletic certificates were awarded to 50 officers and enlisted men.
Lanfranconi returned to the Milwaukee Brewers in 1946. He was now 29 years old and had missed three seasons. He pitched well and was purchased by the Boston Braves in December. Lanfranconi pitched 36 games for the Braves in 1947. Predominantly a relief pitcher, he posted a 4-4 record and excellent 2.95 earned run average. In one of his best games, he defeated the Philadelphia Phillies, 7-1, in the nightcap of a 4th of July double-header at Shibe Park with 28,580 fans in attendance.
September 7, 1947 was 'Walt Lanfranconi Day' at Braves Field. Five hundred hometown fans made the journey to Boston from Barre, Vermont. Former Red Sox player Larry Gardner and Vermont Governor Ernest Gibson presented Lanfranconi with a cherry red Oldsmobile convertible purchased for the occasion by hometown contributions. After the presentation, all of the Braves relievers climbed aboard and Lanfranconi circled the field while the famous Braves' troubadours played In My Merry Oldsmobile.
Despite the good numbers, it was to be Lanfranconi's last season in the majors. He pitched for the Los Angeles Angels in the Pacific Coast League in 1948 and 1949, and ended his career with the Texas League's Beaumont Exporters in 1953 at the age of 36.
Lanfranconi operated a service station in Barre until 1978. Suffering from cancer he passed away at his home on August 18, 1986. He was 69 years old and is buried at Hope Cemetery in Barre.
Created March 3, 2007.
Copyright © 2007 Gary Bedingfield (Baseball in Wartime). All Rights Reserved.