Alexander R "Alex" Kellner was born on August 26, 1924 in Tucson, Arizona. The left-handed throwing Amphitheater High School pitching sensation signed with the Cincinnati Reds in 1941 at the age of 16 and pitched for Tucson of the Arizona-Texas League in 1941, making 22 appearances for a 13-6 won-loss record.
In 1942, he pitched for Muskogee of the Western Association where he was 11-7, and was expected to join Birmingham of the Southern Association for 1943, but his career was put on hold for the next three years as he entered service with the Navy. He joined the crew of the destroyer USS Callaghan (DD-792) which sailed from sailed from the west coast on February 5, 1944. The Callaghan immediately entered action in the Pacific Theater with the 5th Fleet in air raids on the Palaus, Yap, Ulithi, and Woleai from March 30 to April 1. The Callaghan later supported the Hollandia operation and provided screen for escort carriers softening up, and later supporting the invasions of Saipan, Tinian, and Guam.
Kellner left the Callaghan to return to the United States in December 1944. On July 28, 1945, the ship was sunk in a kamikaze attack with the loss of 47 crew members. Safely stationed at Camp Elliott in San Diego, then at Norfolk, Virginia, Kellner got a chance to pitch during the summer of 1945.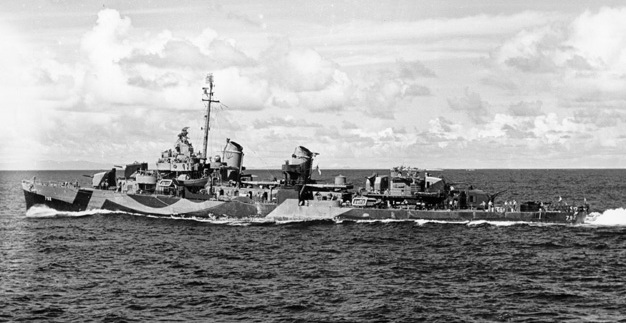 USS Callaghan (DD-792)
Discharged on May 4, 1946, Kellner was told to report to the Birmingham ball club but he was tired and decided to go home to Tucson that summer and pitch semi-pro. In 1947, he returned to Birmingham – now part of the Philadelphia Athletics organization - was 11-9 as a starter. In 1948, he joined the Athletics and made 13 appearances at the start of the season before joining Savannah of the South Atlantic League for the rest of the year.
In 1949, Kellner enjoyed a career-year winning 20 games for the Athletics and getting selected to the American League All-Star team. But in 1950 his fortunes were reversed as he lost 20 games for the last-placed Athletics.
Kellner remained with the Athletics until June 1958, when he joined the Cincinnati Reds – the club he originally signed with back in 1941. In 18 games he was 7-3 with the Reds but was traded to the Cardinals at the end of the year where he concluded his career.
Alex Kellner passed away on May 3, 1996 in Tucson, Arizona. He was 71.