Monte Irvin
Date and Place of Birth: February 25, 1919 Halesburg, Alabama
Baseball Experience: Major League
Position: Second Base
Rank: Sergeant
Military Unit: GS Engineers 1313th Battalion US Army
Area Served: European Theater of Operations
Major League Stats: Monte Irvin on Baseball-Almanac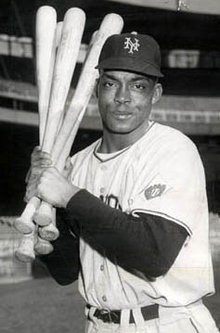 Montford M "Monte" Irvin was born in Haleburg, Alabama on February 25, 1919. Irvin earned all-state honors in four sports at East Orange High School, New Jersey, and became a four-time all-star with the Negro League Newark Eagles.
Irvin was drafted by the Army in 1942. He spent three years with the GS Engineers, 1313th Battalion. The battalion was first sent to England, then after D-Day to France and Belgium, where they built bridges and repaired roads. In late 1944, his unit was deployed in Reims, France, as a secondary line in case the Germans broke through at Bastogne during the Battle of the Bulge.

Irvin recently explained that black soldiers had a rough time in the Army because white soldiers treated them badly. "The black troops were treated better in Europe than they were in the US," Irvin said. "They got a taste of freedom over there."

He agrees, however, that many white American soldiers realized the incongruity of fighting in Europe to free oppressed people while blacks were oppressed at home, and that may have made things a little easier for the black soldiers when they returned.

In addition to the psychological trauma Irvin faced in combat, he also developed tinnitus, a ringing in the ears, that affected his dexterity. That and three years away from baseball made his return to the game difficult.

When he returned to the Negro Leagues in 1946, he was approached by Branch Rickey of the Brooklyn Dodgers, but having been away from baseball for three years, Irvin felt he was not ready and needed to get into shape. Had he accepted Rickey's offer he may have been the first black major leaguer.

Irvin led the Negro National League hitters in 1946 with a .346 average. In 1949, aged 30, he signed with the New York Giants. He spent eight years in the major leagues with the Giants and Cubs and finished with a lifetime batting average of .293.

A back injury forced Irvin to retire after the 1956 season. He became a scout for the Mets in 1967 and in 1968 he became Assistant Director of Public Relations on the Baseball Commissioner's staff.
Monte Irvin was elected to the Baseball Hall of Fame by a special Negro Leagues committee in 1973. Irvin is also an inductee in the Alabama Sports Hall of Fame.
Created May 13, 2007.
Copyright © 2015 Gary Bedingfield (Baseball in Wartime). All Rights Reserved.