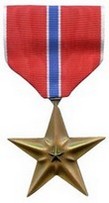 Gil Hodges
Date and Place of Birth: April 4, 1924 Princeton, Indiana
Died: April 2, 1972 West Palm Beach, Florida
Baseball Experience: Major League
Position: First Base
Rank: Sergeant
Military Unit: 16th Anti-Aircraft Artillery Battalion US Marine Corps
Area Served: Pacific Theater of Operations
Major League Stats: Gil Hodges on Baseball-Almanac
In 1993, Marine Corps veteran and first baseman Gil Hodges, who was the heart and soul of the Brooklyn Dodgers' lineup in the 1950s, fell one vote shy of being elected by the Veterans Committee to the Baseball Hall of Fame.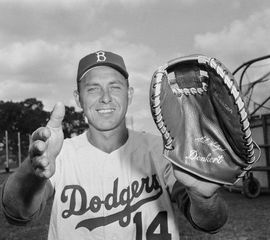 Gilbert R
.
"Gil" Hodges was born on April 4, 1924, in Princeton, Indiana, and grew up in nearby Petersburg. He was a four-sport athlete at Petersburg High School and turned down an offer from the Detroit Tigers to attend St. Joseph's College in Rensselaer, Indiana, where he played basketball and baseball.

As a sophomore he was lured by the Brooklyn Dodgers and signed with the team in 1943. Without playing a game in the minors, Hodges made his major league debut on the very last day of the season – October 3 – in a 6-1 loss against the Reds.

Eleven days later, Hodges entered service with the Marine Corps. He was stationed at Pearl Harbor and then Kauai in the Hawaiian Islands where he played baseball with the 16th Anti-Aircraft Artillery Battalion. From there he went to Tinian. In April 1945, Sergeant Hodges landed with the assault echelon at Okinawa and was assigned to his battalion's operations and intelligence section. His Bronze Star citation states that he "was entrusted with the safeguarding and stenographic preparation of highly classified documents" through "extensive periods of enemy aerial alerts and extensive bombing attacks."


Hodges remained on Okinawa until October 1945 and says that he started smoking "to have something to do sitting in those [fox] holes."

Aged 22, Hodges returned to the Brooklyn organization in 1946. He was converted to a catcher and played for the Newport News Dodgers of the Class B Piedmont League that year, batting .278 in 129 games. In 1947, he joined Brooklyn for 28 games as a back-up catcher and batted just .156, then underwent another transition the following year, moving from catcher to first base and allowing Jackie Robinson to shift over to second.

Hodges remained the Dodgers regular first baseman until drafted by the New York Mets in the 1961 expansion draft. During those years he was an eight-time all-star and three-time Gold Glove winner, and appeared in seven World Series.

In 1963, at the age of 39 and after getting off to a slow start with the Mets, Hodges was traded to the Washington Senators and managed the team for the next five seasons. Back with the Mets in 1968, he led them to their "Miracle Mets" season of 1969, defeating the Baltimore Orioles four-games-to-one in the World Series.

Gil Hodges was still at the helm of the Mets when he suffered a fatal heart attack during spring training on April 2, 1972 - two days short of his 48th birthday. He had just enjoyed a round of golf with coaches Joe Pignatano, Eddie Yost and Rube Walker.

Since his death, Hodges has had a great deal of support for enshrinement in the Hall of Fame but has always fallen short. Most recently, in 2008, he was named on 28 of the 64 ballots, 20 shy of the 75% needed for election.

Thanks to Sue Langley for the photo of Gil Hodges (above, right), taken when he returned to Indiana in 1948 to play for the local team at Winslow.
Created July 23, 2007. Updated March 27, 2010.
Copyright © 2015 Gary Bedingfield (Baseball in Wartime). All Rights Reserved.