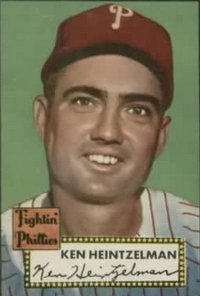 Kenneth A "Ken" Heintzelman was born on October
14, 1915 in Peruque, Missouri.
Heintzelman was signed by the Boston Braves in 1935. He was sent to the Pirates in 1936 and was pitching for Jeanette in the Class D Pennsylvania State Association before making the jump to Class A1 with Knoxville in the Southern Association for 1937. He was 4-16 that year with a 3.95 ERA and made an end-of-season appearance with the Pirates, pitching all nine innings of a 6-3 win against the Cincinnati Reds.
Heintzelman was back with the Pirates for a single game in 1938 and made 17 appearances in 1939. In 1940 he was 8-8, and had his best pre-war year in 1941, when he was 11-11 with a 3.44 ERA.
Heintzelman was 8-11 in 1942 although he did hurl three shutouts. He entered military serviced with the Army at Jefferson Barracks, Missouri on March 16, 1943. He served with the 65th Reconnaissance Troop (Mechanized) of the 65th Infantry Division and was stationed in Europe. They breached the Siegfried Line in mid-March, crossed the Rhine at the end of the month, the Danube in late-April and reached Austria in May 1945.
Heintzelman had served as a driver, radio operator, car commander and a mortar gunner. "I shot my share of Germans," he later recalled. "How many, I don't know. I didn't bother trying to keep score. It was too dangerous."
Heintzelman played for the 65th Infantry Division baseball team after the cease of hostilities in Europe. "Our baseball really started about June," he told The Sporting News on January 31, 1946. "We had to wait for most of our baseball equipment, and until it arrived, we had a German cobbler make our shoes and we fixed our own spikes out of steel.
"The fields weren't in such good shape. We could have used an expert groundskeeper. But I did find plenty of baseball interest. All the fellows wanted to talk baseball and I took a lot of ribbing, especially from Pirate fans from Pittsburgh.
He was later selected to play for the 71st Infantry Division Red Circlers team - Third Army rpresentatives in the 1945 ETO World Series. The all-professional team featured Ewell Blackwell, Bob Ramazzotti, Ancil Moore, Johnny Wyrostek, Garland Lawing, Ewell Blackwell, Russ Kern, Milt Ticco, Herb Bremer and Bill Ayres.
In front of crowds of 50,000 at Soldier's Field in Nurnberg, Germany, the Red Circlers won the first game of the series against the OISE All-Stars on September 2, 9-2. The Red Circlers were beaten by Negro League star Leon Day in the second game, and lost 2-1 in game three on September 6. In the decisive fifth game the Red Circlers were again beaten 2-1 on a combined effort by Sam Nahem and Bobby Keane.
In October, a baseball instructional clinic, sponsored by the 71st Infantry Division newspaper, The Red Circle News, was held at Augsburg in Germany for boys from 8 to 15 years of age. More than 350 kids turned out for the week long clinic with Heintzelman, along with Harry Walker, Maurice Van Robays and Ewell Blackwell helping out as instructors.
"I had a good experience pitching for Army teams," he recalled. "My Army service did something to me. I know I have more confidence in myself now.
"Another thing. If I ever did any complaining, I'll never do it again. Nobody had it too tough over here [in the United States during the war]. I remember one trip of 350 miles we took over in France. It took us two days and two nights. A bus ride over these roads in the United States we be a real pleasure now."
Heintzelman returned to the Pirates in 1946, and was 8-12 with a 3.77 ERA. In May 1947, he was purchased by the Phillies and had an outstanding season with the team in 1949, with a 17-10 record, 3.02 ERA, five shutouts and nine-game winning streak. On August 15, he came close to a no-hitter against the Giants. He won the game 8-1 and the only hit he allowed was a 7th inning triple to Whitey Lockman.
Unable to repeat the success of 1949, Heintzelman continued to pitch for the Phillies until being released in April 1953.
His son, Tom, born in November 1946, went on to play major league baseball with the Cardinals and Giants as an infielder between 1973 and 1978.
Ken Heintzelman passed away on August 14, 2000 in St Peters, Missouri. He was 84 years old.
Created June 7, 2007. Updated January 4, 2008.
Copyright © 2015 Gary Bedingfield (Baseball in Wartime). All Rights Reserved.