Date and Place of Birth: February 18, 1915 Los Angeles, California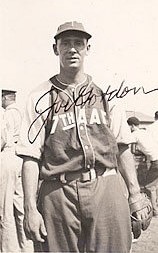 Joseph L "Joe" Gordon was born on February 18, 1915 in Los Angeles, California. A product of the American Legion baseball program, the gifted infielder attended the University of Oregon before signing with the New York Yankees in 1936.
Gordon played shortstop for the Oakland Oaks of the Pacific Coast League his rookie year and batted .300 in 143 games with 33 doubles, 6 home runs and 56 RBIs. The following season he was with Newark of the International League where he batted .280 and clouted 26 home runs. He joined the Yankees as a second baseman in 1938 and enjoyed an outstanding rookie season batting .255 with 25 home runs and 97 RBIs.
Nicknamed "The Flash", Gordon was an American League all-star for the next five seasons, appeared in five World Series and was the league's Most Valuable Player of 1942, when he batted .322 with 18 home runs and 103 RBIs. In six seasons, Gordon hit 142 home runs, batted .278 and stole 66 bases. Teamed with Frank Crosetti and then Phil Rizzuto, he made up an exceptional double play combination with his defensive wizardry.
The Yankee star entered military service at San Francisco on May 8, 1944, and was assigned to Camp Luna, New Mexico, where he promptly set about organizing the Camp Luna Airtrancos baseball team. "Since joining the Airtrancos," announced The Sporting News on June 15, 1944, "the Flash has been playing shortstop, fielding spectacularly and hitting like a demon. In a two-game series against the Santa Fe MPs on a recent weekend, Gordon, batting in the cleanup spot, collected eight hits in 11 trips. The ex-Bomber had three-for-six in the first game, won by the Airtrancos, 22 to 16, and boasted a perfect five-for-five in the second tiff, also won by Camp Luna, 16 to 6."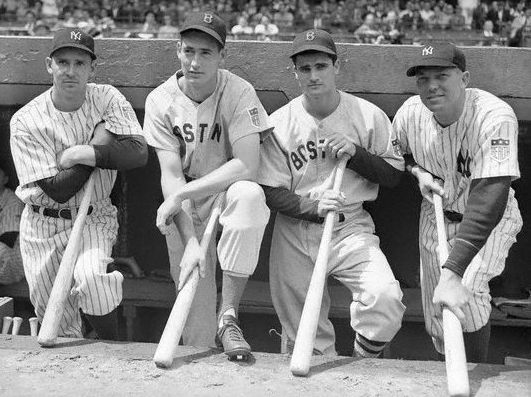 Joe Gordon (left) with Ted Williams, Bobby Doerr and Bill Dickey
Joy at Camp Luna was short lived, however, as Private Gordon was transferred to Camp Hamilton, near San Francisco in July 1944. He was soon on the move again, this time heading for the Hawaiian Islands, where he was stationed with the Seventh Army Air Force at Hickam Field. In between his duties working in the motor pool, Gordon found time to play with the Seventh Air Force ball team where he was reunited with Yankee teammate Joe DiMaggio.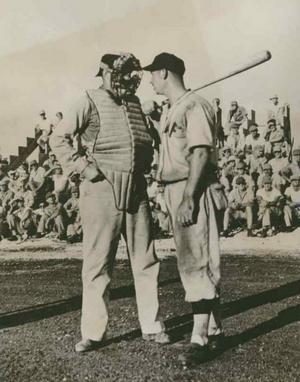 "After watching the Flash work out here at the Stadium," wrote the Honolulu Star-Bulletin on September 2, 1944. "It just isn't possible to believe that anybody can come close to carrying Gordon's shoes. Joe has showed that he can play either second or short with anybody in the game today. Joe has pulled plays here that people would swear are impossible unless they had seen them with their own eyes."
The Seventh Air Force was a powerhouse team. "We had Don Lang, Bob Dillinger, Walter Judnich, Dario Lodigiani, Mike McCormick and Red Ruffing on our club," Gordon told The Sporting News in March 1945. "At one point we had a streak of about 31 straight wins. I think we finished with about an .800 average. Then we played the servicemen's World's Series against the Navy. It was supposed to be a seven game series but the Navy took us in four straight games. However, they were mostly close, good games. Though our team won the pennant during the league season, the Navy was able to put a much stronger team on the field for the series. They brought in players from all parts of the Pacific. We could have had the pick of the other Army teams in Hawaii, but there weren't many outstanding players on the other Army clubs.
"The Navy had Virgil Trucks, Johnny Vander Meer, Schoolboy Rowe, Rizzuto, Reese, Mize, Casey, Ferrick, Grace and McCocky. And they were managed by Bill Dickey. The series was for servicemen only. I guess there were between 15,000 and 20,000 at each of the four games - all they could squeeze in. And during the whole season I think the attendance of servicemen at games in Hawaii was around two million. Many of these fellows were the wounded, those on shore duty after long spells at sea, and submarine crews resting up. Baseball is a wonderful tonic for them all."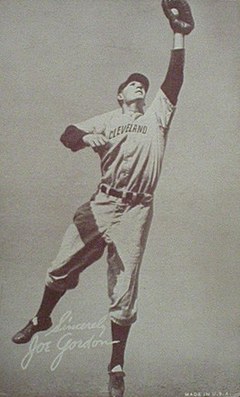 Gordon, however, neglected to mention his spectacular fielding play in Servicemen's World Series. In the first game, playing shortstop, Gordon grabbed Joe Grace's liner, doubled Virgil Trucks off second base and tripled his former teammate, Phil Rizzuto, off first.
In November 1944, Gordon was back in the United States at Hamilton Field. He enjoyed a 15-day furlough with his wife and two children in Eugene, Oregon in December, and then set about his duties as an organizer of intramural sports. On February 13, 1945, he was part of a group featuring Ty Cobb, Tony Lazzeri, Lefty O'Doul and Oscar Vitt, who visited the Naval Hospital at Mare Island, California. The group visited bedridden patients after appearing on a program at the auditorium.
When the spring came around Gordon set up an Air Transport Command baseball team. Joe Marty as the only other major leaguer on the team with the rest of the line-up featuring Bert Bonomi, a Sacramento sandlotter, Fred Meyers, a Cincinnati semi-pro and Julian Sowell, and Atlanta Crackers right-hander. The team had surprising victories against the Oakland Oaks, 7-2, and the San Francisco Seals, 7-5.
Gordon, by this time a private first class, was a firm believer that interest in baseball would soar after the war: "Baseball is being played in Army camps throughout the United States whenever possible," he told The Sporting News in March 1945. "They play at the Naval bases, and overseas, near the front lines, whenever they have enough time and equipment. There are all kinds of servicemen playing the game. But sprinkled among them are the major leaguers and the minor leaguers. These professionals help the other fellows. They show them how to improve their curves, how to pivot on a double play, how to steal bases, how to improve their hitting. This coaching is bound to help a lot of young players to a point where they will be able to make the grade in professional ball after the war."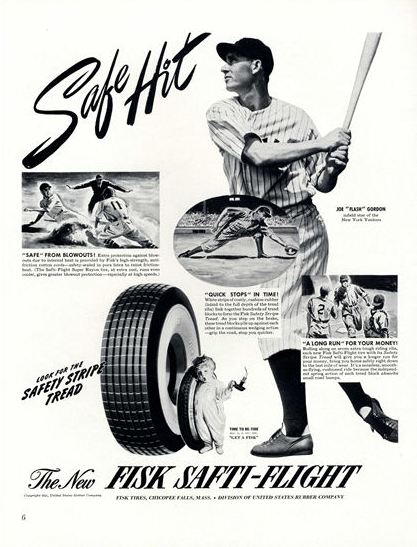 Gordon was back in Hawaii by mid-summer 1945. Based at Wheeler Army Air Field, he played ball for the Wheeler Wingmen and was one of the leading hitters in the Hawaii League. He was sent to the Marianas Islands in August, and played on Tinian and Iwo Jima with Birdie Tebbetts' 58th Wingmen as part of the Marianas Islands round-robin series along with Lew Riggs' 313th Flyers and Buster Mills 73rd Bombers. Gordon batted .333 and hit six homers in the series and was with the American League Stars, who played the National League Stars on Tinian and won, 3 to 2, but were beaten, 5 to 1, at Higashi Field on Iwo Jima.
In August 1945, Gordon somehow found time to be used as a ringer in a softball game between the Navy's press censors and a team of war correspondents at Guam. Introduced to the censors as "Joe Hollister of the Philadelphia Bulletin" he was used as a pinch-hitter at a crucial point in the game and teed off on the first pitch, which he drove foul, high upon the hill beyond the diamond. The censors stopped the game, investigated, and quickly had the Yankee star ejected.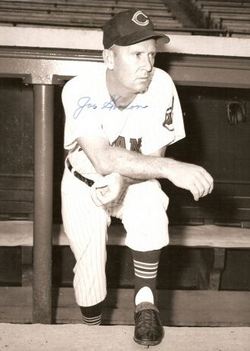 Gordon was discharged from service on November 14, 1945 at Hamilton Field, California. He returned to the Yankees in 1946 and made his sixth American League all-star appearance although his average plummeted to .210. He also had a run-in with Larry MacPhail, the Yankees' general manager at the time. "MacPhail didn't like me from the start," said Gordon. "He accused me of quitting on him. That's a damn lie. I never quit on anybody in my life. He called me in his office and insulted me all over the place.
"He ordered Bill Dickey (the Yankees' manager) to bench me and not play me again. Dickey refused and we just kept battling."
At the end of the season, MacPhail sent Gordon and infielder Eddie Bockman to the Indians for Allie Reynolds. He enjoyed four seasons with Cleveland – three as an all-star.
After hitting 253 home runs and batting .268 in 1,566 major league games, Gordon was a player-manager with Sacramento and San Francisco of the Pacific Coast League. In 1958, he became manager of the Cleveland Indians, leading them to a second-place finish in 1959. He managed the Detroit Tigers during the second half of 1960 and took over as skipper of the Kansas City Athletics in 1961. He later worked for the Angels as a scout and batting instructor until being named as manager of the expansion Kansas City Royals in 1969. He stepped down after one season but remained with the club in a scouting and instructional role until 1972.
Joe Gordon passed away from a heart ailment on April 14, 1978 in Sacramento, California, aged 63. he was elected to the Baseball Hall of Fame in 2009.
Created February 26, 2008. Updated November 2, 2009.