Those Who Died That Others Might Be Free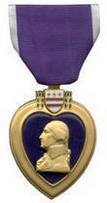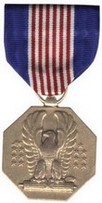 Elmer Gedeon

Date and Place of Birth: April 15, 1917 Cleveland, Ohio
Date and Place of Death: April 20, 1944 St Pol, France
Baseball Experience: Major League
Position: Outfield
Rank: Captain
Military Unit: 586th Bomb Squadron, 394th Bomb Group USAAF
Area Served: European Theater of Operations

"I had my accident. It's going to be good flying from now on," Elmer Gedeon told his cousin, Bob, in 1942. Less than two years later, Gedeon was killed in action when his bomber was shot down over the battlefields of Europe.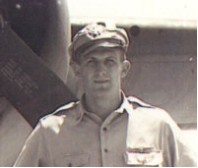 Elmer J Gedeon - nephew of former major league infielder Joe Gedeon,

University

of

Michigan

three-sport athlete and major league outfielder - was born in

Cleveland, Ohio

on April 15, 1917. He and cousin Bob used to ice skate together at Brookside Park in

Cleveland

. On one occasion the ice gave way and Bob plunged through. Elmer slid across the ice on his stomach and reached into the icy water to pull his cousin to safety. That's the kind of person Gedeon was. "A very fine guy," recalls Fred Janke, a

University of Michigan

football teammate. "A perfect guy. Everybody liked him."

At 6-foot-4, he was a naturally gifted athlete and played baseball and football at

Michigan

. Janke recalls how Gedeon could kick well. "They used to pull him back in serious situations and let him punt the ball because he could punt it a mile."

But it was in track that Gedeon really excelled. He was a two-time Big 10 champion in the 120-yard and 70-yard high hurdles. Despite his exceptional track talents, baseball was his first love and he signed with the Washington Senators following his graduation in the summer of 1939.
Elmer Gedeon at the University of Michigan
Gedeon played 67 games for the Orlando Senators of the Florida State League and batted .253 before joining the Senators at the end of the season. His first major league appearance was on September 18, 1939 as a late-inning replacement in Dutch Leonard's 19th win of the season against the Tigers. The following day, Gedeon was the starting centerfielder, collecting three hits in a 10-9 win against the Indians. He would appear in five games before the year was out – four in centerfield and one in rightfield –collecting three hits in 15 at-bats.

In 1940, Gedeon was with the Senators for spring training but spent the season with the Charlotte Hornets of the Piedmont League where he hit .271 in 131 games with 11 home runs. He was recalled to Washington at the end of the season but did not make an appearance and was expected to spend 1941 at either Greenville or Springfield.
Gedeon served as assistant football coach at Michigan during the fall, and received his summons for military service in January 1941. He went to spring training with Charlotte but joined the Army in March, taking induction at Fort Thomas, Kentucky.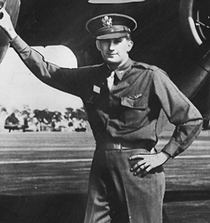 Gedeon reported to the Cavalry Replacement Center at Fort Riley on March 18, and was assigned to Troop B of the First Squadron, becoming an acting corporal the first day of the 13-week training program. Reno Simone, a young recruit who arrived at Fort Riley the same time as Gedeon, explains "I was assigned to the kitchens, and one morning Elmer showed up and said he was tired of his men being assigned kitchen detail so he put himself on KP.

"Shortly there after, two officers showed up and gave Gedeon orders to get ready to play baseball. Elmer asked to borrow my tennis shoes as he had not brought his baseball spikes with him."

Around Memorial Day, 1941, Gedeon transferred to the Army Air Corps. He earned his pilot's wings and a commission as a second lieutenant at Williams Field near Phoenix in May 1942, and trained with the 21st Bomb Group at MacDill Field in Tampa. Flight training was always a hazardous time and almost claimed the 25-year-old's life on August 9, 1942. Gedeon was the navigator in a North American B-25 Mitchell medium-sized bomber that crashed on take off and burst into flames at Raleigh, North Carolina. Despite suffering three broken ribs, he managed to free himself and crawl from the wreckage, then realized a crewmate – Corporal Barrat was still inside. Without a moment's hesitation, Gedeon went back inside the burning plane and pulled Barrat to safety. Two men were killed in the crash and the five other crew members all suffered serious injuries – Gedeon was hospitalized for 12 weeks. In addition to broken ribs he suffered severe burns, some of which needed skin grafts.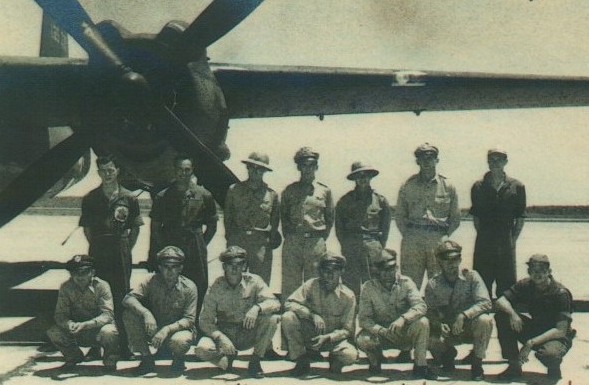 Gedeon at Ardmore Army Air Field in Oklahoma, 1943 (Gedeon is back row, second right)
With his wounds healed, Gedeon was promoted to first lieutenant and awarded the Soldiers' Medal for his heroics in a ceremony at MacDill Field that was conducted by Major General St Clair Streett, commanding officer of the Third Air Force. The citation stated in part: "After extricating himself, Lieutenant Gedeon, regardless of the fact that he had suffered broken ribs and severe shock, re-entered the burning wreckage and removed Corporal John R Barrat, a fellow crew member, who had been rendered helpless, due to having received a broken back and broken leg in the crash. Corporal Barrat would have been burned to death had it not been for the unselfish action of Lieutenant Gedeon, who, in addition to his other injuries, received severe burns on his back, right arm and right leg. The heroism displayed by Lieutenant Gedeon on this occasion reflects great credit upon himself and the military service."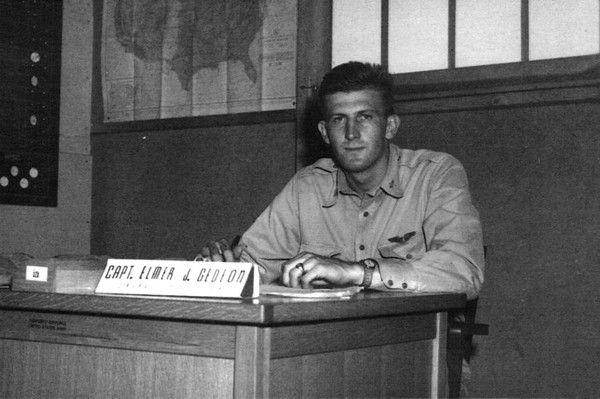 Captain Gedeon at Boreham Airfield in England, 1944

In July 1943, Gedeon began training on Martin B-26 Marauders at Ardmore Army Air Field in Oklahoma. The B-26 was a sleek, twin-engined bomber that had earned the nickname "The Widowmaker" - due to early models' high rate of accidents during takeoff. By the following month he was flying combat simulations and high altitude bombing practice in preparation for overseas duty with the 394th Bomb Group.

In February 1944, Captain Gedeon arrived at Boreham Airfield in England with the 586th Bomb Squadron of the 394th Bomb Group. "Gedeon was the Operations Officer for the 586th," recalls James Taaffe, his co-pilot at the time. "He had a delightful sense of humor and was a super gentleman."
The 394th Bomb Group's historian, J Guy Ziegler, later wrote that Gedeon "was one of the most popular officers in the group."
On April 20, 1944, just five days after celebrating his 27th birthday, Gedeon piloted one of 30 Marauders that left Boreham to bomb German construction works at Bois d'Esquerdes. It was the group's thirteenth mission. As they approached the target area, German anti-aircraft fire intensified and Gedeon's bomber was severely hit by flak. "We got caught in searchlights and took a direct hit under the cockpit," says Taaffe. "I watched Gedeon lean forward against the controls as the plane went into a nose dive and the cockpit filled with flames."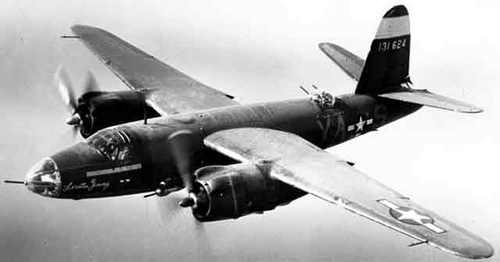 Taaffe was the only crew member able to escape the flame-engulfed airplane. As he descended by parachute and captivity at the hands of the Germans, he watched the bomber smash into the ground, carrying Gedeon and five others to their death.
Gedeon was reported missing in action, and it was not until May 1945 that his father, Andrew A Gedeon, received word from his son's commanding officer that Elmer's grave had been located in a small British army cemetery in St Pol, France.
On May 30, 1946, a memorial service was held before the Charlotte Hornet's game, to remember Elmer Gedeon and also Forrest "Lefty" Brewer, both killed in WWII.
Elmer Gedeon's body was later returned to the United States and rests at Arlington National Cemetery in Virginia. He was inducted in the University of Michigan Hall of Honor for track and baseball in 1983.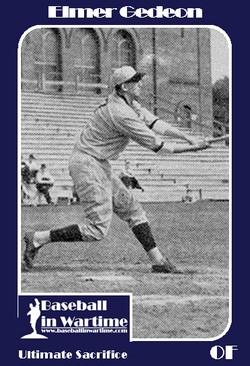 Thanks to James Taaffe, the University of Michigan and Pete Ridges for help with this biography.
Added August 17, 2006. Updated September 3, 2008.
Copyright © 2008 Gary Bedingfield (Baseball in Wartime). All Rights Reserved.