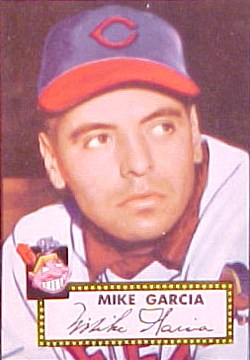 Edward M "Mike" Garcia was born on November 17, 1923 in San Gabriel, California. When he was two years old the family moved to Orosi, California where he became a standout pitcher at Orosi High School. He transferred to Visalia High School his senior year then pitched for a semi-pro team in Tulare.
The 6-foot-1 right-hander of Mexican-Indian ancestry signed with the Cleveland Indians in 1942 and was assigned to Appleton of the Wisconsin State League. He finished with an unmemorable 10-10 record, but on August 16, against Green Bay, he retired the first 21 batters he faced in 4-1 win.
Garcia's career was put on hold when he entered military service in 1943. He served in Europe with the Army stringing communication lines for the Signal Corps. Garcia was discharged on December 29, 1945.
He played for Bakersfield of the California League in 1946 and produced an incredible 22-9 record with a 2.56 earned run average. Garcia led the California League in strikeouts, ERA, innings pitched, complete games and won-loss percentage.
In 1947 he spent spring training with the Indians but was assigned to Wilkes-Barre of the Eastern League where he was 17-10. Again, he trained with the Indians in 1948, but was sent to Oklahoma City of the Texas League where he compiled a 19-16 record. Garcia was called up to Cleveland on September 13, but didn't make his major league debut until the last day of the season – October 3, 1948. He was the fifth of six pitchers used in a losing cause against the Detroit Tigers that forced the Indians into a playoff with the Boston Red Sox.
After a handful of relief appearances at the start of 1949, Garcia joined the Indians' starting rotation along with Bob Lemon, Early Wynn and Bob Feller. Nicknamed the "Big Bear" by his teammates, Garcia remained a Cleveland starter through 1957 and produced two 20-win seasons (1951 and 1952), was a three-time all-star and had probably his best season in 1954, when he was 19-8 with a 2.64 ERA as the Indians won a record 111 games.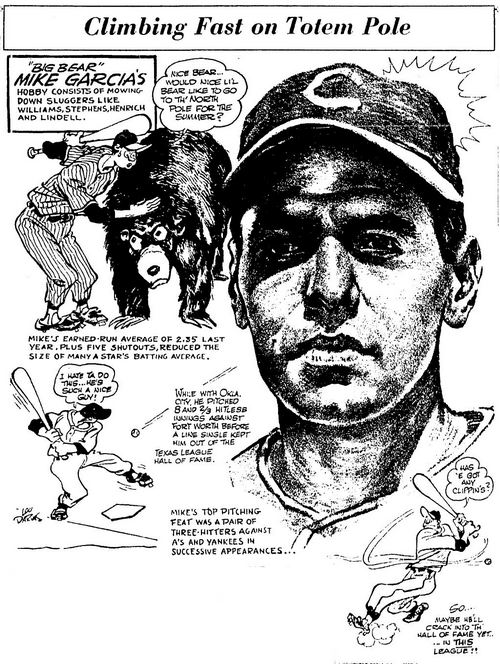 In 1958, Garcia suffered a back injury when he slipped on a wet field during spring training. The injury was diagnosed as a slipped disc and effectively ended his career. He made just six appearances that year and pitched in 29 games – mainly in relief - the following year.
Garcia pitched in relief for the Chicago White Sox in 1960 and ended his playing career as a reliever for the Washington Senators in 1961.
After his baseball career ended, Garcia concentrated on the dry cleaning business he had purchased in 1955 in the Cleveland suburb of Parma. Suffering from diabetes and a kidney ailment, Garcia was reunited on December 2, 1985 with former Indians' pitchers Feller, Lemon and Wynn, along with the manager Al Lopez, at a tribute to help defray some of Garcia's medical expenses.
He passed away at his home in the Cleveland suburb of Fairview Park, Ohio on January 13, 1986. It was the 35th wedding anniversary of Garcia and his wife, Gerda. Mike Garcia was 62 years old.
Created January 6, 2008.