Joe Gallagher
Date and Place of Birth: March 7, 1914 Buffalo, New York
Died: February 25, 1998 Houston, Texas
Baseball Experience: Major League
Position: Outfield
Rank: Unknown
Military Unit: US Army
Area Served: United States
Major League Stats: Joe Gallagher on Baseball-Almanac
"Big and fast, Gallagher has everything to make a major league star."
United Press June 14, 1939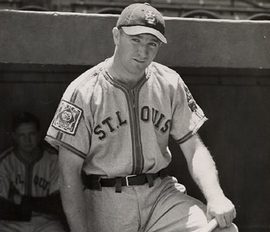 Joseph E "Muscles" Gallagher was born in Buffalo, New York on March 7, 1914. He attended Buffalo High School where he played baseball as a third baseman, and also played on a local American Legion team with future Yankees' catcher Buddy Rosar.
After graduating from high school, Gallagher played baseball and football at Manhattan College in Riverdale, New York in 1933-1934. He began his professional career with the Norfolk Tars of the Piedmont League in 1936 where he batted .348. With Binghamton of the New York-Penn League in 1937, he hit .271, and produced a .343 average for the American Association's Kansas City Blues in 1938. Writing in the Lowell Sun on August 1, 1938, Frank Moran referred to Gallagher as a "sensational youngster just about ready to start wearing a Yankee uniform."
His 1938 numbers were good enough for the Yankees to find a spot on their star-studded roster at the start of the 1939 season. His first hit in the major leagues came on April 20, in the Senators' home opener – an inside the park home run. Gallagher hit a hard line drive at the third baseman. "Maybe he should have grabbed it," he recalled in an Associated Press article on March 23, 1940, "but he didn't. It steamed on out to left field, struck an abutment and skittered through the left fielder's legs. I came into second watching the comedy and then slowed down to a trot. The home run was a cinch. The ball just kept climbing that wall in left field."

Gallagher batted .244 in 14 games with the Yankees and he was optioned to Newark. The big outfielder was not happy and threatened to quit baseball. On June 13, 1939, he was traded to the St Louis Browns for infielder Roy Hughes and $25,000. "I feel that inasmuch as my temperament and complexes aren't to the liking of the Yankee organization, I'm just where I belong," he told the Associated Press on
March 23, 1940.
Gallagher played 71 games for the Browns in 1939 and batted a very respectable .282 with 40 RBIs. He looked impressive in spring training at San Antonio, Texas in 1940, but played just 23 games with St Louis and was out for fifty days after being injured sliding into second base. He was traded to the Dodgers for Roy Cullenbine on May 27. Gallagher played 57 games for the Dodgers and batted .264.
On May 12, 1941, Joe Gallagher was inducted in the Army - one of only four major league players who lost the entire 1941 season to military service. He was to serve at Jefferson Barracks, Missouri, where he played baseball for the Reception Center Missions. His teammates included Johnny Sturm, George Archie and Emmett Mueller.
On May 24, 1942, Gallagher was selected by Bob Feller – along with fellow servicemen Cecil Travis, Zeke Bonura, Emmett Mueller, Ken Silvestri and John Grodzicki – to join Dizzy Dean's all-stars in an exhibition game at Wrigley Field against Satchel Paige and the Kansas City Monarchs.
Gallagher remained in military service until the end of 1945 – four and a half years. He reported to the Dodgers' spring training camp at Sanford, Florida in 1946, but the 32 year-old outfielder was out of shape and overweight. The Dodgers optioned him to Montreal. The following year, Gallagher quit baseball and took a job as head baseball coach at Stephen F Austin State College (now University) in Texas.
Joe Gallagher passed away in Houston, Texas on February 25, 1998. He was 83 years old.
Thanks to Amy Surak, Archivist at Manhattan College Archives.
Created February 21, 2007.
Copyright © 2015 Gary Bedingfield (Baseball in Wartime). All Rights Reserved.