Herman Franks
Date and Place of Birth: January 4, 1914 Price, Utah
Baseball Experience: Major League
Position: Catcher
Rank: Lieutenant (jg)
Military Unit: US Navy
Area Served: Pacific Theater of Operations
Major League Stats: Herman Franks on Baseball-Almanac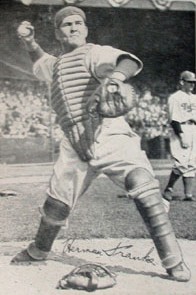 Herman L Franks was born in Price, Utah, on January 4, 1914. He attended the University of Utah and signed his first professional contract with the Hollywood Stars of the Pacific Coast League in 1932. In 1939 he played 17 games with the St Louis Cardinals. The left-handed hitting catcher was purchased by the Dodgers in February 1940 and played the next two seasons as a back-up receiver.
Franks was due to enter military service at the end of 1941 but received a temporary deferment by his draft board. However, by the spring of 1942, Franks was in the Navy. After completing an officer's course at Annapolis, Maryland, Ensign Franks reported to Pensacola Naval Air Station where he served as a physical education instructor and played on baseball team.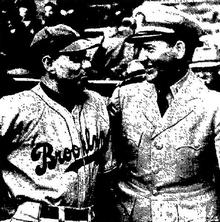 Lieutenant (jg) Franks (right) with
Leo Durocher in 1944
In 1944, Franks was transferred to Norfolk Naval Air Station where he managed the ball team. He was in Hawaii in 1945 and skippered the Barber's Point Naval Air Station team.
Franks was back with the Dodgers for spring training in 1946. He was 32 years old and had been in military service for almost four years. Brooklyn optioned Franks to Montreal for 1946. The following year he became the playing manager of the Brooklyn's St. Paul affiliate in the American Association. In August of that season, however, he resigned to resume his major league playing career with the Philadelphia Athletics. He would appear in eight games in 1947 and 40 in 1948.
In 1949, Franks became a coach with the New York Giants. He served through two National League championships and one World Series title thru 1955. From 1956 to 1964, Franks was a Giants' scout, general manager of the Salt Lake City Bees, then a Giants' coach before succeeding Alvin Dark as the club's manager after the 1964 season. He spent four seasons as manager of the Giants, stepping down in 1968.
After the 1976 campaign, Franks returned to the major leagues when he became manager of the Chicago Cubs. He resigned after the 1979 season and was the interim general manager of the team from May through November 1981.
Created February 24, 2007. Updated April 13, 2007.
Copyright © 2015 Gary Bedingfield (Baseball in Wartime). All Rights Reserved.